Tom Yum Soup Recipe (ต้มยำกุ้ง) – Authentic Thai Style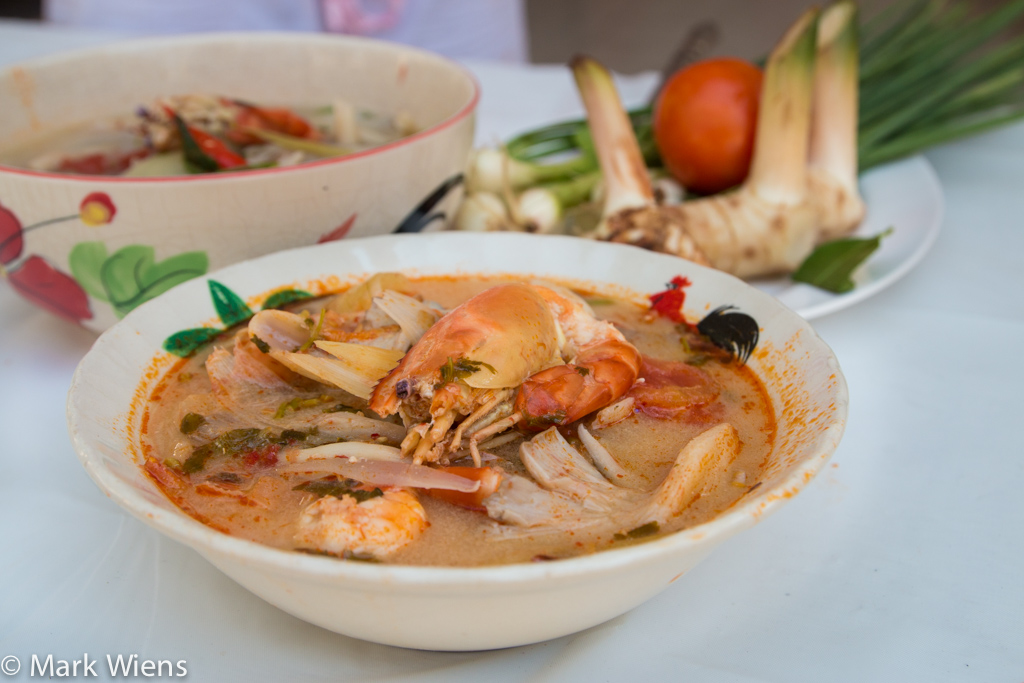 One of the most famous of all Thai foods, and what I think is one the best soups in the world, is Thai tom yum goong (ต้มยำกุ้ง).
What I love most about tom yum goong (ต้มยำกุ้ง) is the flavors of lemongrass, galangal, kaffir lime leaves, fresh Thai chilies, and fresh lime juice, that all combine to create a healthy and soothing broth that will light up your taste buds.
If you're looking to cook an awesome and authentic soup, try this tom yum soup recipe.
This recipe is for local Thai street food style tom yum soup – it's not the fancy kind – but follow this recipe for the authentic taste you'll find in Thailand.
Exclusive Bonus: Download a Free PDF version of this recipe. It's convenient to read and print. Enjoy!
[add_popup title="Where can I send it?" description="Enter your e-mail to download your PDF copy of this Thai tom yum soup recipe now." id="unique-id" button="Send it to me!"]
The Two Version of Tom Yum Soup
If you love to eat tom yum soup (ต้มยำ), you might already know about two main distinct variations of the dish.
Tom yum goong nam sai (ต้มยำกุ้งน้ำใส) is tom yum with shrimp in a clear broth, while tom yum goong nam khon (ต้มยำกุ้งน้ำข้น) is the creamy milky version.
Contrary that many people think tom yum is made creamy with coconut milk, it's actually nom kream tiam (นมครีมเทียม), which is canned evaporated milk (as opposed to sweetened condensed milk).
Note: If you're looking for a Thai coconut milk based soup, check out my tom kha gai recipe.
In this tom yum recipe, I'll be showing you how to make both versions, depending on which style you prefer (they are both common in Thailand).
Goong (กุ้ง), or shrimp is one of the most popular things to make this soup with, but you can also choose to make tom yum with a mix of seafood like squid, or with chicken, or fish (one of my favorite versions too).
When I went to the market before making this recipe, there was a nice supply of goong mae nam (กุ้งแม่น้ำ), or freshwater shrimp, so I had to go for them. But you can really use any kind of shrimp or other meat of your choice.
Essential Tom Yum Soup Ingredients:
The most absolutely essential ingredients for this tom yum recipe are the trio of Thai herbs:
This trio of Thai ingredients is what really gives tom yum its flavor, and without them you would not have a complete dish.
Other ingredients are still important though, especially Thai chilies (พริกขี้หนู), mushrooms (เห็ด), cilantro (ผักชี), tomatoes (มะเขือเทศ), sweet white onions (หอมใหญ่), lime juice (มะนาว), sugar (น้ำตาล), and fish sauce (น้ำปลา).
Full list of ingredients listed in the official recipe section below.
I like to use something called nam prik pao (น้ำพริกเผา) in my recipe for tom yum, and it's especially necessary if you make the creamy version.
Nam prik pao (น้ำพริกเผา) is basically a Thai roasted chili sauce that's packed with flavor and usually bought in a can these days.
Ok, so let's move on to the full recipe now.
But first, watch the video for exact detailed instructions:
(If you can't see the video, watch it here: http://youtu.be/lCmAvdvRC3U)
Thai tom yum soup recipe (ต้มยำกุ้ง)
Time: About 30 minutes
Recipe size: 1 pot of soup, probably about 5 – 6 bowls
Utensils: Large saucepan
Flavors: Salty and sour, amazing soup
Eat it with: Rice, and a spread of other Thai dishes
Authentic Tom Yum Recipe (ต้มยำกุ้ง) with Shrimp
Tom Yum Goong (ต้มยำกุ้ง) soup is one of the most well known dishes in Thai cuisine, and in this recipes you'll learn to make the authentic Thai street food style version. There are 2 different types of tom yum, the clear version and the creamy version, and there's directions on how to make both types. Enjoy this recipe for tom yum. Be sure to watch the
video here
.
Ingredients
2 liters of water
4 stalks of lemongrass
1 inch chunk of galangal
10 Thai chilies
5 cloves of garlic
½ kilo shrimp
300 grams of oyster mushrooms
2 roma tomatoes
2 white onions (medium sized)
2 teaspoons of sugar
8 - 12 tablespoons of fish sauce (depending on your taste)
8 - 12 tablespoons of lime juice (10 - 15 limes)
Handful of cilantro
Creamy tom yum version
3 tablespoons canned Thai roasted chili sauce (nam prik pao น้ำพริกเผา)
10 tablespoons evaporated milk
Taste test, you may need to add more lime juice or fish sauce as the milk and roasted chili sauce throws off the sourness and saltiness.
Instructions
First thing to do is put about 2 liters of water in a pot to boil.
Then I like to start by squeezing my limes. This is not the first step of the recipe, but it's best to have your limes squeezed so when you need them later, you don't need to rush to squeeze them all. Slice about 10 limes and juice them all into a small bowl, and set them aside for later.
Take your stalks of lemongrass, and first tear off the outermost leaf and throw it out. Then, I like to use a mallet to lightly pound the lemongrass to release the flavors. Then just slice it diagonally into 1 inch strips or so.
Take about 1 thumb sized chunk of the root part of galangal, and chop it into slices.
Coarsely break about 10 kaffir lime leaves - no need to cut them, just tear them - which is going to help release their flavor.
Peel about 5 cloves of garlic.
I used about 10 Thai bird chilies (prik kee noo) for this recipe, but you can use however many you'd like. First, take off the stem, and then you can either just slice them in two pieces, or give them a little pound on your cutting board like I did (just be careful of flying seeds). You can also remove the seeds if you'd still like the chili flavor but not as much heat.
Throw the lemongrass, galangal, kaffir lime leaves, garlic and chilies into the water. You can put on the lid just so it starts to boil and release all the herb flavors quicker.
Now prepare your shrimp (or whatever meat of choice you're making tom yum with). Since I used goong mae nam (กุ้งแม่น้ำ), freshwater shrimp, I first chopped off all the tentacles.
Boil your soup with all the herbs in it for about 10 minutes, and you can go ahead and toss in the shrimp and turn the fire to low.
Then add your mushrooms, which you should pre rinse beforehand.
Take two roma tomatoes and two small white onions and slice them into wedges - you want them to be big and chunky. Then go ahead and add them to the tom yum.
If you're using shrimp for this tom yum recipe, you might get some foam build up on top of your soup, in which case you can just lightly skim it off the top and toss it out.
Boil the tom yum for about 2 - 3 minutes.
Next, add about 6 tablespoons of fish sauce first, and 2 teaspoons of sugar. You may need more of each, but start with that.
Boil your tom yum for another minute or so and then turn off the heat. You don't want your tom yum to be overcooked. The mushrooms and onions should be soft, and then it's ready.
Once your heat is off, go back to your lime juice and add about 8 tablespoons of lime juice (depending on how sour you like it, I like it really sour).
Make sure you taste test until your tom yum is perfectly sour and salty. You might need to add more fish sauce, sugar, or lime juice.
Finally chop up a handful of fresh cilantro, throw it in the soup, and give your tom yum a final stir. The lime juice and cilantro taste fresher and more vibrant when not boiled, so that's why I turn off the heat before adding them.
You now have Tom yum goong nam sai (ต้มยำกุ้งน้ำใส), the clear version of tom yum.
For the creamy version of Tom Yum
For this recipe, I took out about ½ of the tom yum and set it aside as the clear version, and then made the other ½ as the creamy version.
Turn your heat back on low.
Add about 3 heaping tablespoons of Thai roasted chili sauce (nam prik pao น้ำพริกเผา) to your soup and stir it in.
Also about 10 tablespoons of evaporated milk.
Mix it all in and let your soup heat up for about 1 minute.
At this stage, you'll need to taste test and evaluate. The roasted chili sauce and creaminess from the evaporated milk will alter the flavors from the clear version, so you might need more lime juice and more fish sauce. Just keep taste testing until it's exactly how you like it.
And there you have the creamy version of tom yum.
Notes
Tom Yum Goong (ต้มยำกุ้ง) is a Thai soup that's meant to be eaten with a variety of other Thai dishes. It's not normally eaten as an individual bowl of soup, the way it would be in Western cultures, but instead it's a communal dish that goes together with other dishes and eaten with rice. See more of our authentic
Thai recipes here
.
Tom yum goong nam khon (ต้มยำกุ้งน้ำข้น)
Tom yum goong nam sai (ต้มยำกุ้งน้ำใส) – the version I prefer
For myself, I like both versions of tom yum, and it sort of depends on which mood I'm in.
Overall, 75% of the time I like tom yum goong nam sai (ต้มยำกุ้งน้ำใส clear version) because it's so pure and clear and tastes quite healthy. Also, the flavors of sourness and the the heat from the chilies are usually a little more pronounced in this version.
Tom yum goong nam khon (ต้มยำกุ้งน้ำข้น creamy version), can be excellent as well.
It's richer and creamier, and usually a little sweeter, and like I mentioned, the creaminess usually tones down the chili heat and sourness a bit.
I hope you enjoyed this tom yum soup recipe. Be sure to give it a try when you have a chance, and let me know what you think.
Do you like your tom yum clear or creamy?
Also, be sure to check out my of my authentic Thai recipes here.
Free Bonus: Click the button below to download a PDF copy of this tom yum soup recipe (for FREE). It's convenient to read and print.
[add_popup title="Where can I send it?" description="Enter your e-mail to download your PDF copy of this Thai tom yum soup recipe now." id="unique-id" button="Send it to me!"]