Interview: Vegetarian in Bangkok and Food Justice Discussion with Pooja Kishnani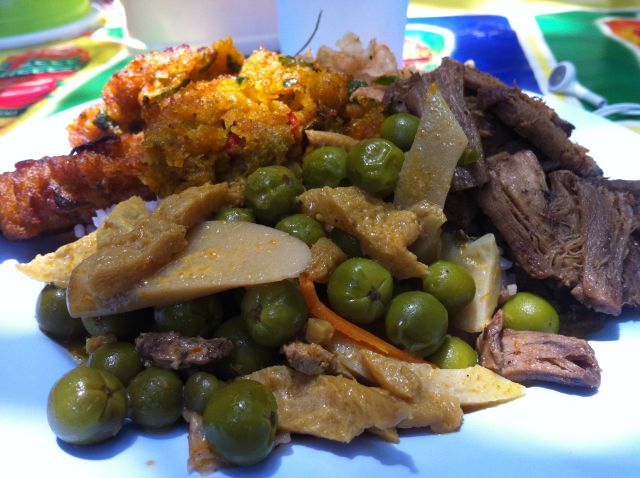 This month we're eating vegetarian Thai food to raise awareness and money for needy families. Subscribe for daily blog updates and read more about how to contribute here.
We recently discussed whether or not we thought being a vegetarian in Thailand was easy. BUT, since we've only been doing it for a month, we wanted to make sure you here from people who are more experienced. The last two weeks of our challenge we'll be featuring several interviews. The first of which is from Pooja, who has already tipped us off to one hidden vegetarian stand in Silom.
Is it easy to be a vegetarian in Thailand?
Thailand is probably one of the easiest countries to be a vegetarian. I've been a vegetarian for about two years and my family has been vegetarian for over 10 years. Although, there are many vegetarian options, they can be a bit hidden. Also, you can ask about any restaurant to replace their meat with mushrooms or tofu and serve the same dish. Different restaurants have specific dishes like hummus and falafels in Middle eastern places, nachos and tacos at Mexican and Indian food is even easier if you're vegetarian.
What recommendations would you give to people who are visiting or living here for a short time about being vegetarian in Thailand?
I have relied on the Happy Cow website. And when I started my last job, the first thing my manager did was take me to a vegetarian place near work. Soi Convent is chaotic, but this place is hidden away in soi phipat 2 and is my little haven.
What kind of work are you doing and how is it connected with your every day dietary decisions?
I work at Oxfam, and at the moment we are having a 4 year campaign called Grow. Grow is about making sure our world has enough food to eat in the future.
Currently, nearly 1 in 7 people regularly go hungry. 
This is unacceptable. The GROW campaign is about transforming the broken food system so that it works for everyone today.
My decision to be a vegetarian was to make a conscious decision to take control of what I eat, so I will not support the unhealthy farming practices. I decided to take a stand for it in my own way, but it's the same way consumers around the world are making a change. We're making a conscious decision to choose certain healthier foods over the others or to use fair trade products because they make a difference.
What can ordinary people do to help with the grow campaign?
Whether through leading low carbon lifestyles, buying Fair Trade goods, or spreading the word by forwarding this video to your friends. They can join Oxfam's global petition calling on G20 leaders to act now. Sign the petition and if you're a blogger then show your support for GROW by blogging about the campaign.
Pooja Kishnani (@poojakishnani) was born and bred in Bangkok. She's worked as a freelance photographer and web designer throughout university, then as an assistant on a documentary for a year. During that year, she worked on a documentary about sustainable living that I became a vegetarian. Before that she threw a fit every time she had to eat vegetarian food.  Later Pooja realized she wanted to make a positive change and is now the Digital Vision Producer with Oxfam, a ngo that works towards finding lasting solutions to poverty and injustice.