Day 9 Vegetarian Thai Food: Chamlong's, Jambada, Sutunthip Vegetarian Food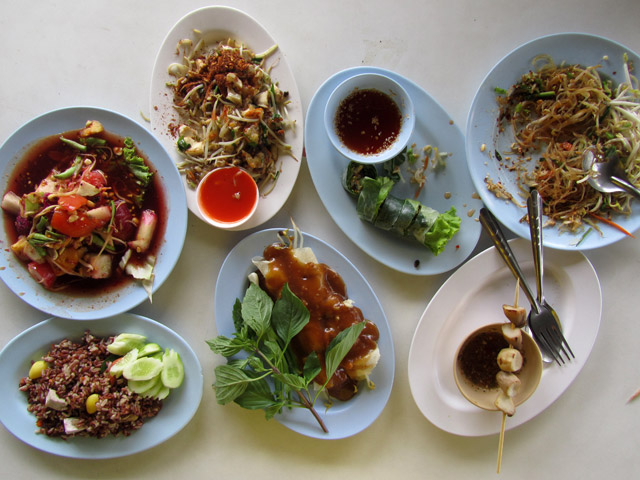 If you're joining us for the first time, we're attempting to eat vegetarian Thai food for the entire month of July 2011 in order to raise money for charity. Follow us for everyday blog updates and read more about the cause here.
Breakfast / Lunch
Ate at Chamlong's Asoke vegetarian restaurant near Chatuchak weekend market. The food was delicious and there was an extensive selection to choose from (restaurant review coming soon).
Chamlong's makes it real easy to order vegetarian food, you just point and order, everything is vegetarian and looks worthy of eating. Here's what I picked by pointing:
Tam ponlomai – fruit som tam
Por pia sot – raw spring rolls filled with vegetables
Het ping – skewers of grilled mushrooms
Pad woon sen – stir fried mung bean noodles
Het hoy tod – she called it "hoy tod," which is the Thai oyster omelet, but this version was made with mushrooms instead of oysters
Brown rice – great plate of brown rice with chestnuts and pieces of taro
Price – all dishes are 10 – 20 THB, all that food above cost 130 THB
Afternoon
This is a fruit called a Jambada.
It is normally only found in the South of Thailand, but I got extremely lucky to come across one near Victory Monument and scooped it up with little hesitation.
It's kind of a cross between a durian and a jackfruit, making it one of the world's best fruits. It tastes as though you are eating pure honey with a pungent tinge to it.
Dinner
Riding the bus down Charoen Nakhon Road, I had noticed a vegetarian restaurant that was packed every night called Sutunthip Vegetarian Food (review coming soon).
It was more of a Chinese Thai vegetarian restaurant and as predicted, the food was on par with the amount of local customers.
Here's what I ordered, clockwise from top-left:
Tao hoo tod pad ga pao – deep fried tofu stir fried with basil
Gai pad kee mao – they called it chicken (gai), but really it was the fake chicken made from some kind of soy product – not too enthusiastic about fake meats, but this was tasty!
Goong op woon sen – oven broiled mung bean noodles with shrimp (fake shrimp)
Pad het – a great plate of stir fried mushrooms
I'll get some restaurant reviews of these 2 fantastic places I ate at today soon.
I can honestly say that I'm still going strong on vegetarian Thai food after 9 days in, haven't even craved meat yet!