Day 5 Vegetarian Thai Food: Mushrooms with Basil, Suki, Morning Glory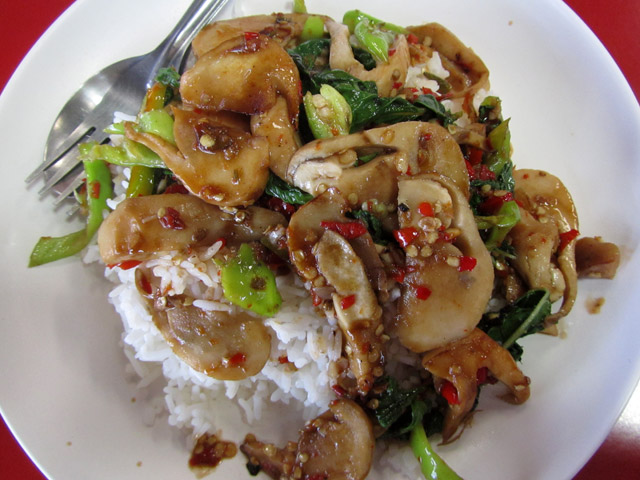 If you're joining us for the first time, we're attempting to eat vegetarian Thai food for the entire month of July 2011 in order to raise money for charity. Follow us for everyday blog updates and read more about the cause here.
Breakfast
Oatmeal this morning was spectacular as I got spoiled with some leftover passion fruit. Really made the difference to spruce up the oats, along with a handful of peanuts and some chopped up bananas.
Lunch
Lunch was a true hit today. I ordered the very common "Pad Ga Pao," but this time without pork or chicken and instead mushrooms. It was extremely good, so delicious I couldn't even detect that there was no meat in it. The mushrooms were bursting with flavor and the stir fried basil and chilies were fantastic.
You can order this dish at any stir fry street stall throughout Bangkok. It's called "Pad Ga Pao Het – mai sai neua."
Price – 30 THB
Dinner
Just went to a normal Thai neighborhood restaurant. This food is available anywhere in Bangkok that you go. Starting from the top:
Suki Haeng – stir fried mung bean noodles with vegetables and and egg thrown in, order "suki haeng, mai sai neua"
Pad Pak Bung Fai Daeng  (ผัดผักบุ้งไฟแดง)

 

– stir fried morning glory
Som Tam Thai (

ส้มตำไทย)

 

– green papaya salad without dried shrimp, order – "som tam thai, mai sai goong haeng"
Price – 30 THB each
The winning dish of the day went to lunch, pad ga pao het – mushroom stir fried with basil.
If you're new here, be sure to check out why we are vegetarian for the month of July!