Guest Recipe: Simple Formula for Ordained Banana Dessert By She Simmers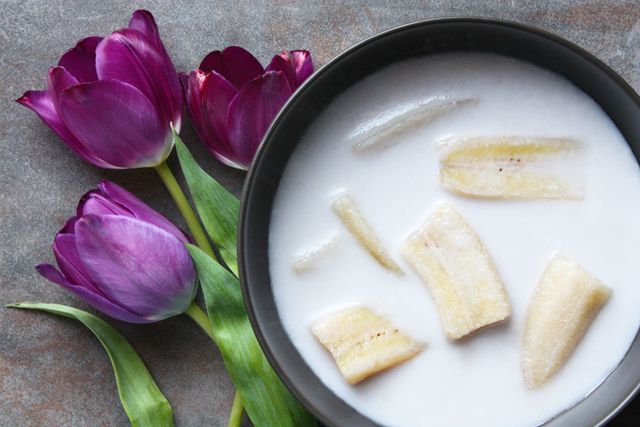 This month we're eating vegetarian Thai food to raise awareness and money for needy families. Subscribe for daily blog updates and read more about how to contribute here.
Here' s a guest recipe from Leela, who runs a cooking focused food blog called She Simmers. We're fan's of Leela's kitchen wizardry, and extra proud that she's taken time to contribute the recipe below to our vegetarian quest. 
When Dwight asked me to share with his readers a vegetarian or vegan Thai recipe, my mind went all over the place in search of a unique and creative dish. It wasn't so much because I wanted to impress people; I was just incredibly honored to be asked to contribute, and wanted to come up with something great that would justify its presence on my host's website.
Then I looked more closely into the reason behind this July Vegetarian Challenge, and I decided to go a different route. Though the desire to pull out all the stops and come up with an innovative dish was still there (vegan Mu Ping, anyone?), a bigger part of me yearned for something simple – something that holds more resemblance to what those needy families might actually eat on a daily basis.
The first thing – the only thing actually – that came to mind was this old-fashioned dessert featuring cut- up pieces of burro bananas (Kluay Nam-Wa กล้วยน้ำว้า) lightly cooked in sweetened coconut cream. You can't find anything as humble and as good as this.
It's hard to describe. But at a risk of sounding intoxicated, this dessert exudes simplicity, humility, and even strength. Simplicity, because this is a no-fuss dish that requires exactly four ingredients and less than 10 minutes to prepare. Humility, because this no-frills dessert calls for very affordable local ingredients (one of which is bananas, the equalizer of us all) and is presented – completely unadorned — in the most straightforward manner possible. Strength, not only because it's filling and satisfying but also because it is a national favorite that has withstood the competition from foreign desserts for generations.
Besides, there's something both stately and serene in equal measure about its (off) white-on-white appearance.
In fact, it is the whiteness of the coconut cream that has given rise to its Thai name Kluay Buat Chi (กล้วยบวชชี) which literally means, "ordained bananas" or, more precisely, "bananas that have entered nunhood." This, of course, would make sense only in the context of Thai Theravada Buddhism wherein nuns are robed in white.
To make about 2 servings of Kluay Buat Chi, all you have to do is peel 4 not-so-ripe burro bananas, halve them lengthwise, and cut each piece in half again crosswise. Put about 2 cups of coconut milk in a pot, and bring it to a very gentle boil over medium heat. Sweeten the coconut milk with either palm or white sugar to taste. Throw in a tiny, tiny pinch of salt. Then when the sugar is completely dissolved, add the bananas to the coconut mixture. Bring the whole thing to a gentle boil once more and let the bananas cook for one to two minutes (the cooking time depends on the ripeness of the bananas. You want to soften them, not stew them). Once the bananas have softened slightly, take the pot off the heat, and allow the dessert to cool, uncovered.
Kluay Buat Chi is most often served at room temperature. I prefer it slightly warmer than room temperature. But it's also great cold out of the fridge.
Though Leela (@SheSimmers) spends most of her time in Chicago, Leela is often seen slurping noodles on a stool in her hometown of Bangkok and talking to strangers with her mouth full in many other places in the world where food is found.
If you liked this recipe we recommend trying her sweet formulas for her baked sticky rice pudding and mock pomegranate seeds in sweetened coconut cream (Tab Tim Grob ทับทิมกรอบ).