Day 1 Vegetarian Thai Food: Fruit, Halloumi at Seven Spoons and Mixed Vegetables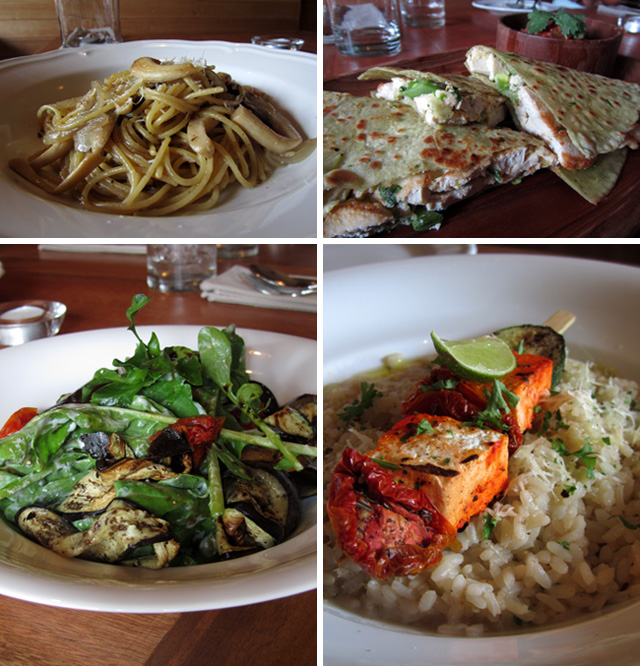 July 1st kicks off the month long challenge of eating vegetarian food in Thailand!
Putting aside the pork, we'll be taking you on a journey of Eating Thai Food for Good.
Here's what I ate for Day 1.
Breakfast
I went to the market in the morning and picked up some fruit to go with my oatmeal. I normally buy rolled oats, which cost around 100 THB ($3.25) per kilo at Tesco or Big C.
2 kilos of mangosteen: 40 THB ($1.30)
2 dragon fruits: 10 THB ($0.32)
About 8 bananas: 20 THB ($0.65)
Handful of peanuts: I buy raw peanuts and roast them myself (more info to come when I roast again soon).
I didn't eat all of this for breakfast, so there's still some fruit left for tomorrow.
Lunch at Bangkok's Soon to Open Restaurant, Seven Spoons
Had lunch today in the Lan Luang area at Seven Spoons, a friend's soon to open restaurants specializing in organic and wholesome food.
Clockwise from top left:
Mushroom pasta: Without any meat, the mushroom taste was pure and accentuated – excellent!
Tofu and egg quesadilla: Toasted on the outside and soft on the inside, with a light and sweet tomato salsa
Grilled eggplant salad: Simply delicious
Risotto with halloumi cheese kebab: It was my first time to ever taste halloumi cheese and this version marinated in tikka sauce was superb. Halloumi is similar to a paneer cheese and remains intact even after grilling.
The food was all excellent. Look for a restaurant review with many more details to come soon.
Dinner
It was raining so hard in Bangkok, I had to settle for a quick takeaway. I ordered just a simple street food mixed vegetables over rice (pad pak ruam mit ผัดผักรวมมิตร).
Price: 25 THB ($0.81)
So Day 1 of being vegetarian is complete. Feeling great so far!
Don't forget to follow the Eating Thai Food for Good challenge for the month of July 2011!