Day 10 Vegetarian Thai Food: South Indian Food, Bangkok Street Food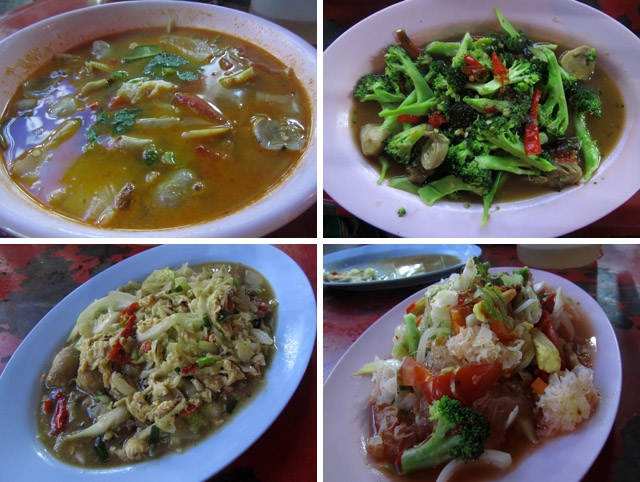 If you're joining us for the first time, we're attempting to eat vegetarian Thai food for the entire month of July 2011 in order to raise money for charity. Follow us for everyday blog updates and read more about the cause here.
Breakfast / Lunch
Kind of had a late breakfast / lunch. Did some snacking on a few fruits before I got into this lovely South Indian food for lunch.
We ate at a restaurant called Tikki Flavours of India in Bangrak, near Saphan Taksin BTS station. It was my first time to really indulge in the tastes of Southern India, and I came away delighted.
Here are are few of the dishes pictured, clockwise from top left:
Bhel Puri: a combo of beans and chick peas tossed with a sour spicy dressing
Masala Cheese Uttapam: almost a South Indian pizza , like a thick pancake caressed in masala spices and filled with cheese
Aloo Chaat: spiced potatoes
Papdi Chaat: fritter topped with a mild yoghurt hung curd and flavored with an intricate blend of spices
All dishes were exception, and I was happy after tasting Southern Indian food.
Dinner
Just hit up my local Thai street food stall on the main road. These dishes can be ordered at any street stall stir fry restaurant throughout Bangkok. Before you eat, you want to mention to the chef that you are eating vegetarian by saying – "gin mung-sà-wí-rát."
Here's what I ordered, clockwise from top left:
Tom Yum Pak Ruam – spicy sour soup with mixed vegetables
Pad Broccoli – stir fried broccoli with a few mushrooms and chilies
Yam Woom Sen Pak Ruam – mixed mung bean clear noodle salad
Pad Galam Blee Sai Kai (included egg) – stir fried cabbage with egg
Nothing too out of the ordinary for Bangkok, just a good solid meal and all vegetarian.