Day 12 Vegetarian Thai Food: Dragon Fruit, Santol, Yellow Curry, Brussels Sprouts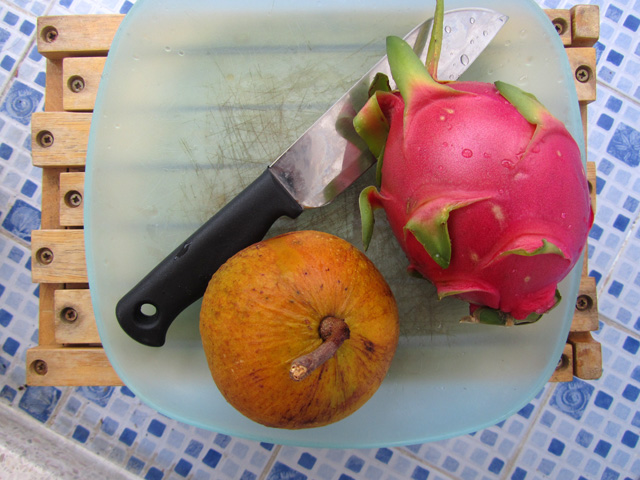 If you're joining us for the first time, we're attempting to eat vegetarian Thai food for the entire month of July 2011 in order to raise money for charity. Follow us for everyday blog updates and read more about the cause here.
It was a very simple day of Thai vegetarian food. Just some fresh tropical fruit and a few local Thai street food custom vegetarian orders.
Breakfast
For breakfast I just enjoyed a few fruits, dragon fruit and kraton (santol fruit).
Lunch
For lunch, I hit one of my favorite little street carts and ordered pad pongali pak ruam – which is Thai yellow curry with mixed vegetables (Note: it does include egg).
Price – 30 THB
Dinner
I ate dinner at just a normal Thai food stall.
Ate my standard plate of pad pak gachet, my all time favorite vegetable. Also ordered tom yum het nam sai (clear tom yum soup with mushrooms).
The last dish of the evening was pak kanaeng prik pao. Pak kanaeng is a green leafy vegetable that reminds me of brussel sprouts, cooked in a thick chili sauce that almost has a sweet barbecue flavor to it.
Have a great day and more vegetarian food tomorrow!