Day 22 Vegetarian Thai Food: Green Curry, Noodle Soup, Herbal Vegetable Stew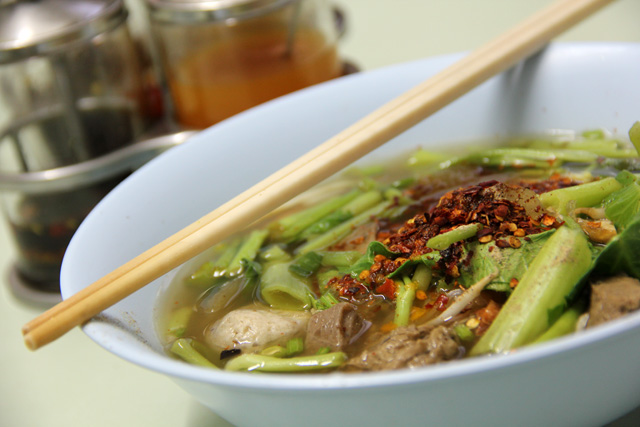 If you're joining us for the first time, we're attempting to eat vegetarian Thai food for the entire month of July 2011 in order to raise money for charity. Follow us for everyday blog updates and read more about the cause here.
I got going a little bit late today and missed out on my normal oatmeal feast.
Lunch
For lunch I happen to be in the Bangrak area running some errands so I stopped in at Tien Sin Jay restaurant opposite the Shangri-La hotel. Arriving early afternoon, unfortunately they were almost out of food for the day, however I managed to scrape up a few things.
Since starting the challenge on Day 1, I hadn't had gaeng keow wan (green curry), so when I saw the pot sitting in the cabinet I went for it! The creamy coconut concoction was fantastic, but I wasn't too big of a fan of the fake meat balls swimming around – a bizzarre texture.
As it was raining outside, I deemed it appropriate to order kuay teow jay (vegetarian noodle soup). It was spot on, another Thai vegetarian dish that didn't even make me miss meat to the least.
Dinner
For dinner I ate a takeaway bag of tom jap chai from the same restaurant.
It was a great combination of green vegetation mixed with the transparent fuk (gourd squash) and pieces of foo jook (bean-curds).
That's all for now, have a great weekend!