Day 11 Vegetarian Thai Food: Mixed Tofu, Mixed Vegetable Tom Yum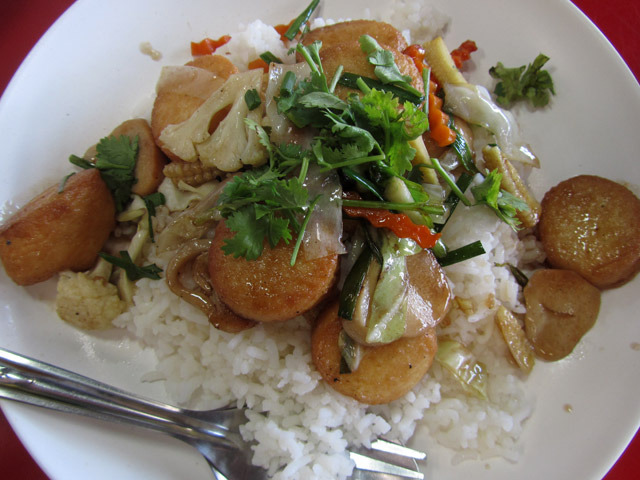 If you're joining us for the first time, we're attempting to eat vegetarian Thai food for the entire month of July 2011 in order to raise money for charity. Follow us for everyday blog updates and read more about the cause here.
Seems like ever since our Thai vegetarian food challenge began, I've been eating a lot of food – even though it's all vegetarian!
Today however I took a break from eating so much and just hung out at the neighborhood street food restaurants around my place in Southern Bangkok.
Breakfast
Just a bowl of oats and peanuts – solid and filling.
Lunch
For lunch I ordered "tao hoo song kreung – mai sai neua." A simple street food dish of tofu mixed with a few assorted veggies covering a plate of rice.
Price – 30 THB
Dinner
For dinner just had a plate of "som tam Thai – mai sai goong haeng (green papaya salad – no dried shrimp)." Unfortunately, the lady that made if forgot about my vegetarianism and I had to pick out the dried shrimp that she added.
One of the dishes that I eat almost everyday in Bangkok is "tom yum goong," or sour spicy shrimp soup – I love the flavor. I ordered "tom yum pak ruam," a sour spicy soup made with vegetable stock and filled with an abundance of vegetables.
Price – 30 THB, 40 THB
So that it for day 11! More vegetarian Thai food coming your way!