Lemon Farm: Organic and Macrobiotic Food, Petrochemicals Sold Separately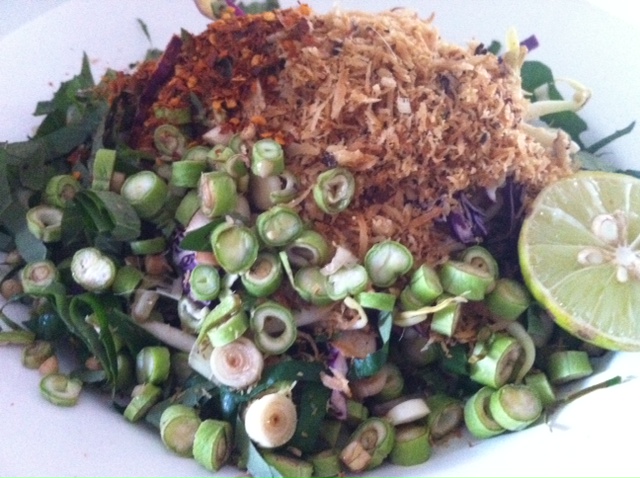 If you're joining us for the first time, we're attempting to eat vegetarian Thai food for the entire month of July 2011 in order to raise money for charity. Follow us for everyday blog updates and read more about the cause here.
I guess today you can have more than the usual serving of irony. Earlier today we posted a vegetarian street food stall that's hidden somewhere between a fish and chips restaurant and a smoky, meat grilling Issan place. Now here's an organic and macrobiotic store chain that I stumbled over in ummm… a gas station parking lot.
Ok, irony aside the store is all about natural food and macrobiotic eating. Macrobiotic is just a fancy way to say whole foods (think a diet heavy on grains and local produce— lots of whole grains and little to no meat or processed food).
The store had all kinds of products. I went home with some organic kidney beans and 500 gram pack of dried mango (170 THB and I ate it so fast!). I'm a dried fruit addict and really enjoyed some high quality dried mango, which can be found in local markets but often has fragments of grass or the baskets they use to dry the fruit. Pricier than the stuff in the market, but this was my favorite buy from Lemon Farm that day.
Also, important to note that all of the items in the store are fair trade items which I'm happy to support whenever possible.
In addition to the shop, there's a small corner with a handful of tables for people to order from the soups and a handful of Thai dishes like organic gravy noodles (lad nar – ราดหน้า, 50 THB). The food is simple and ideal for grabbing take home food or a quick lunch if the place isn't too crowded. I wish they had more options, but it's not really setup to be a restaurant. Also, I wasn't a big fan of soup during the hottest part of the day, but the noodles or the crunchy Thai salad with brown rice pictured above are good options. The good news is that the food they had was all cheap, with the average menu item between 35-50 THB (less than $2 a dish). Definitely good to know if you're trying to eat healthy on a budget or want organic, fair trade ingredients to use when you cook at home.
There's seven or more branches of Lemon Farm to meet your organic and macrobiotic needs, but most are scattered outside of central Bangkok. The one in the city center that we stumbled over is on Sukhumvit 39. You can take the BTS to Phrom Phong exit and walk down soi 39, turning right on Soi Phrom Si 1 and the gas station should be less than 100 meters down on the left.
For the other locations go directly to the Lemon Farm site.

View Eating Thai Food Map in a larger map