Day 28 Vegetarian Thai Food: Spicy Tofu, Durian Smoothie, Sesame Dumplings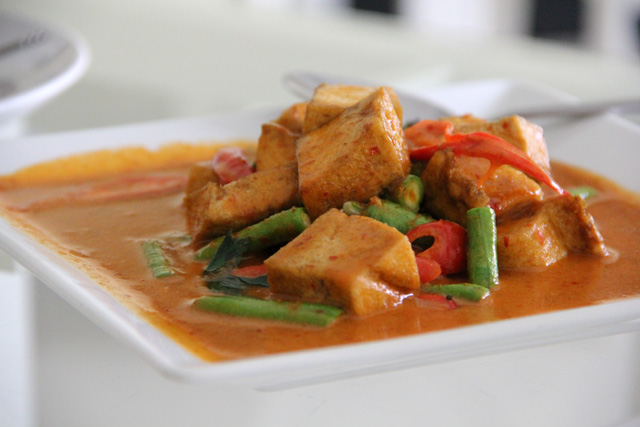 If you're joining us for the first time, we're attempting to eat vegetarian Thai food for the entire month of July 2011 in order to raise money for charity. Follow us for everyday blog updates and read more about the cause here.
Breakfast
No oatmeal today for breakfast, just a bowl of chopped mangoes and a few bananas thrown in.
Lunch
For lunch I decided to take a bus down to the Marriott Village shopping arcade on Charoen Nakhon road and try out the Loving Hut vegetarian restaurant. Despite it being a bit pricey, the food was decent (review and more info to come).
At the top is what they called spicy tofu, which was probably pad tao hoo prik pao. I was recommended by the waitress to try to the olive oil baked rice dish. It was really nice especially when accompanied by the chopped chilies, a few cashew nuts and a squeeze of lime.
From the moment I sat down, I was doomed, and though it was a full 80 THB, there was nothing I could physically do to resist ordering the durian smoothie. It was almost perfect, blended with that pungent overly ripe (= delicious) durian fruit.
Dinner
For dinner I went easy, a bowl of bua loy nam khing (ginger water with sesame filled dumplings) and a bowl of cantaloup and green tapioca balls covered in cool milk.
That's it for today. Only a few more days left in the vegetarian Thai food challenge.