Day 6 Vegetarian Thai Food: Jay Food, Tempeh Burger, Hummus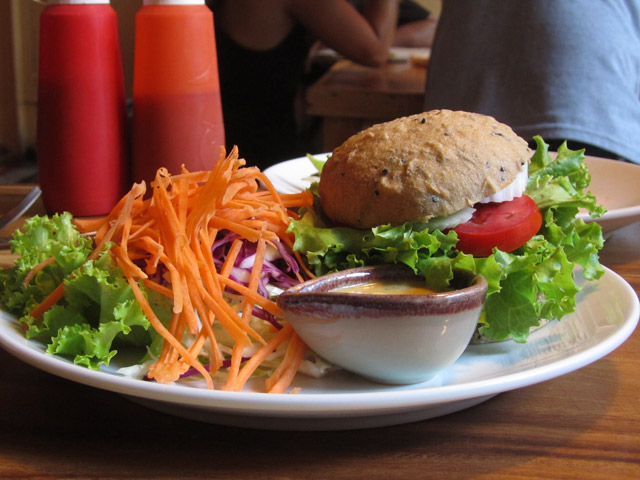 If you're joining us for the first time, we're attempting to eat vegetarian Thai food for the entire month of July 2011 in order to raise money for charity. Follow us for everyday blog updates and read more about the cause here.
Brunch
Started off the day with a brunch at a small "Jay" Chinese vegetarian restaurant on Charoen Krung 74/2 (restaurant review to come). The food was the normal array of Jay food, but it was all freshly prepared and non-oily.
I ordered just a mixed dish; a plate of rice with 3 accompanying items.
Price: 35 THB
Early Dinner
After having brunch at the Jay Chinese restaurant and walking around all day, I ended up near Khao San Road and decided to try out a popular Bangkok vegetarian restaurant called Ethos (restaurant review will publish this evening).
The food was delicious. I would highly recommend the hummus in particular, smooth with added spice for flavor.
Starting from the top:
Hummus and Tihina: 70 THB
Stir Fried Vegetables with Ginger: 80 THB
Brown Rice: 20 THB
Mushroom Pasta: 110 THB
Tempeh Burger (Indonesian soybean cake) with Salad: 120 THB
That completed Day 6 of the vegetarian Thai food challenge. Stay tuned for daily updates and restaurant reviews!