Day 20 Vegetarian Thai Food: Sweet Ginger Soup, Tofu Water, Water Mimosa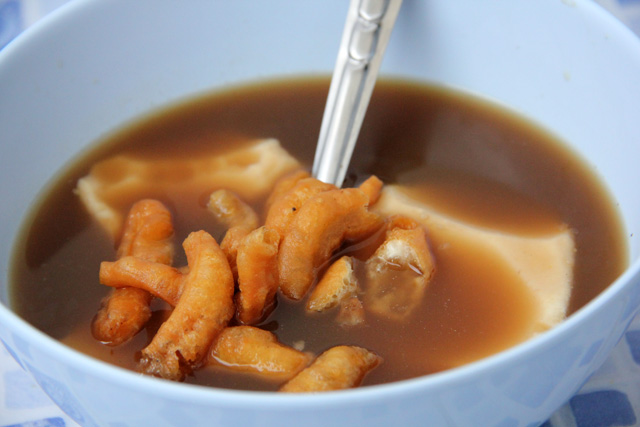 If you're joining us for the first time, we're attempting to eat vegetarian Thai food for the entire month of July 2011 in order to raise money for charity. Follow us for everyday blog updates and read more about the cause here.
It's amazing that 20 days as a vegetarian in Thailand have passed – and I have barely missed meat. OK, I have had a few cravings of pla pao (grilled fish) and moo ping (pork skewers) while walking around, but on a whole it's been great so far!
Breakfast
I sacrificed the oats today and went with some of the common Thai market breakfast snacks – a light bowl of nam khing tao hoo (ginger water with soft tofu) and nam tao hoo ruam mit (tofu water with a mix of ingredients).
Tofu water is a bit plain (though good), kind of tastes like a milk soup with some random floating ingredients. It's soothing for a light early morning snack.
Nam khing is a taste that I truly love, a pungently strong ginger soup with soft scoops of melt-in-your-mouth tofu. The little crunchy donuts on top soak up the ginger and make for a flavorful wake-up dish.
Also wanted to mention that I do drink a cup of black coffee every morning to jump-start the day. I have a stash of coffee from Vietnam.
Dinner
Around dinnertime, it was pouring pretty hard in Bangkok, so I couldn't venture too far, but luckily there's some great street food down the road from my apartment.
Pad pak gachet (stir fried water mimosa) is my go-to platter of veg – never fails me.
Also ate tao hoo song kreung pak ruam (mixed tofu and vegetables). It's not as healthy as some places, but because the cook deep fries the tofu, it really is sensationally tasty.