Day 23 Vegetarian Thai Food: Chocolate Ice Cream, Mushroom Salad, Eggplant Salad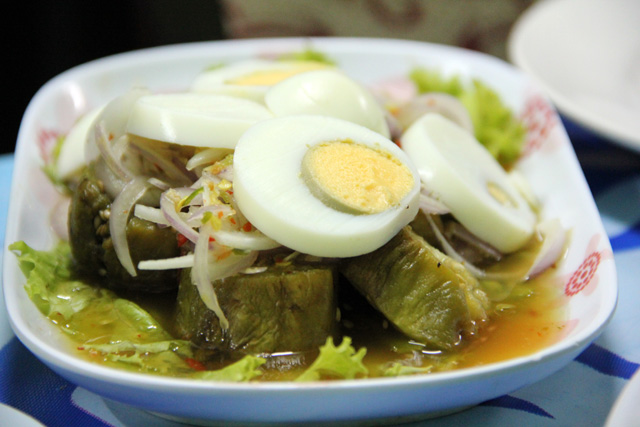 If you're joining us for the first time, we're attempting to eat vegetarian Thai food for the entire month of July 2011 in order to raise money for charity. Follow us for everyday blog updates and read more about the cause here.
Breakfast
For breakfast today I was a lucky man and had the privilege of enjoying a few incredible raw food chocolate treats from De-Hydrated Modern Living Cuisine (If you haven't seen their site, check it out now! – more info and photos to come soon). Imagine this – naturally rich nutty chocolate that's actually good for you!
Lunch
Out of conveniently being in Siam, I went back to MBK on the 6th floor food court to eat at the vegetarian restaurant. Though I've been there a couple times, I gaurentee that I will never be able to walk into MBK and just immediately find the food court – it's one of the most confusing places in the world.
Just got a mixed 3 item plate that runs 50 THB.
Dinner
Had a fantastic dinner meeting today with Gideon who runs Quivertree World Family Expeditions along with his family and wife who runs Dizzy Whisk cooking classes for kids.
I decided to go to one of my personal favorite Isan restaurants in Bangkok: Som Tam Boo Maa.
The top dish is larb het (mushroom salad), normally made with minced pork or fish, except this version was exclusively made with a variety of mushrooms. It had that fantastic larb seasoning but with chewy straw mushrooms!
The next dish did include a hard boiled egg, but below the egg was roasted egg plant in a dish called yam makua (eggplant salad). It was delicious, the taste of roasted eggplant covered in a sweet spicy dressing.
It's almost impossible to go to an Isan restaurant and not eat som tam, though it must be eaten without the dried shrimp (mai sai goong haeng) for it to be veg.
I had a wonderful day and I met some great folks!