Eating Thai Food For Good: Announcing our July Food Challenge For Charity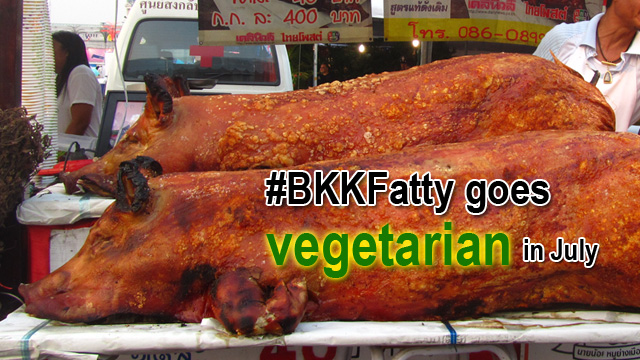 Watch the Video
From EatingThaiFood.com, the creators of the twitter hashtag #bkkfatty, comes a month long vegetarian challenge sure to contradict our usual method of indiscriminately consuming all things edible and finishing the heartiest buffets.
We're going into MEAT REHAB and we want you to tag along for the adventure, helping us raise money for needy families along the way.
That's right, Dwight and Mark are going vegetarian!
During the month of July when you purchase a copy of the Eating Thai Food Guide, we'll donate all the proceeds to needy families through In Search of Sanuk.
Before you complete your purchase you'll also have the option of giving an additional donation to charity and we encourage you to give what you can.
Support this great cause now, click below to purchase a guide and help a family:
Why vegetarian?
We agree this is a terrible idea for two guys who have made a sport of showing off meat littered food conquests. However, we assure you we have the best intentions.
Every day families in Bangkok forgo luxuries like meat in their diet in the hopes of saving money to pay their rent from month to month. By subjecting our voracious diet to the same restraints, we hope to not only highlight their plight, but to do so in a fun way that encourages people to reach out and help.
Why now?
Today, June 20th, is World Refugee Day.
All around the world people are taking time to recognize and remember the stories of those who have been affected by countless tragedies around the world, causing them to flee the country they call home.
We're mindful in selecting today to announce our new vegetarian adventure as the money we raise during the month of July will benefit struggling refugee families in Bangkok.
We also realize we could be doing this during the vegetarian festival later in the year, but we want to show how people with specialized diets not only cope in Bangkok, but find and enjoy great meals.
The Need
All of the funds raised will go to In Search of Sanuk, which supports ten families in Bangkok. Each of the families receives a monthly rent alleviation stipend ($30 – $100 / month). The rent alleviation fund is important because it means refugee families who have no source of income can spend less time worrying, knowing they will have help with rent – their biggest expense.
Without help, families often eat only one meal a day and rarely enjoy meat, because it's so expensive. This is the main reason we are pledging to become vegetarian for the month of July.
Through the entirety or our vegetarianism we will be blogging everyday on EatingThaiFood.com about our healthy meals and exploring vegetarian Thai food options to raise money for these families.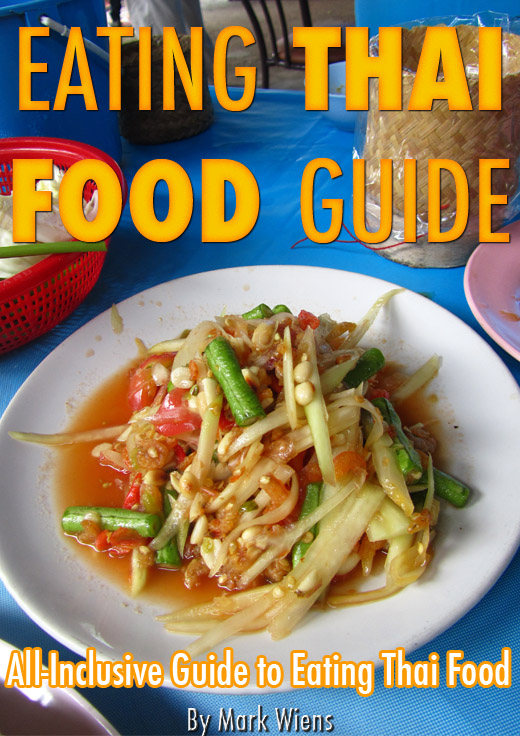 How You Can Help
On top of the vegetarian escapade, we are asking for your help in two ways.
Option #1 – Donate $7 by getting the guide
For the month of July 2011, the Eating Thai Food Guide (on sale for just $7 USD) will be entirely donated to the families, when purchased from this link.
Not only will YOUR money go directly to help pay rent ($70 per month) for refugees in Bangkok, YOU will get a fresh copy of the Eating Thai Food Guide!
NOTE: By clicking the banner below, you will be redirected to the landing page where you will purchase the guide.
Option #2 – Donate directly to families
We hope in addition to helping by claiming your copy of the ETF Guide, you donate directly to help families. Below you can click the button and choose to designate a donation in any amount.
| | |
| --- | --- |
| Option #1 | Option #2 |
That's NOT all.
In addition to your copy of the book, you can follow our journey through Bangkok's streets to find vegetarian food. We're going MEAT-FREE and we'll be sharing the experience everyday with you through a series of blogs, facebook and twitter updates.
We will need your help to share what we're doing and make the love of giving and eating a little more infectious.
You can start helping now, by using the buttons at the top of this post to share this article on the social networks you use.
We're excited to start this new journey with you!
If you have any questions contact [email protected]
–Mark & Dwight