Crispy Oven Fired Vegetarian Pizza at Peperoni Silom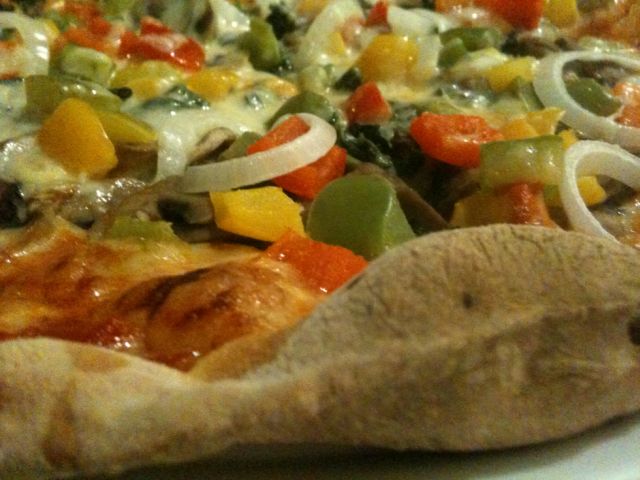 Here's a quick post about a vegetarian pizza we devoured and washed down with some nice desserts. Deciding what to order was an easy call, as the menu wasn't huge and there weren't many obvious vegetarian options. In addition to going out hunting vegetarian restaurants, we've also been out at restaurants of friend's choosing and finding out the hard way how friendly restaurants are to vegetarians and vegans. So we went along for the ride to a place called Peperoni Silom— a place so aptly named it's sure to be attracting health food eaters left and right. The onion, mushroom and bell pepper covered monstrosity you see above was the only vegetarian option on the pizza menu and after seeing they had a legit oven, we were craving pizza.
The staff at the restaurant offered to do the pizza without cheese and seemed pretty accommodating of special needs. That's not always the case with restaurants in Bangkok, but because this one was in a hotel they're probably used to making exceptions. We were just testing the waters for the benefit of our vegan readers and ended up with the cheesy version of this veggie pizza.
The next part of this meal wasn't optional.
How's dessert look? We've been indulging even more as vegetarians. In particular, the truffle cake was rich and delicious combined with a simple scoop of vanilla ice cream. In the end we were glad friends dragged us here, completely full, and surprised at how accommodating everyone was.
Here's the map to where you can find this place. Closest BTS stop is Chong Nonsi and it's about a fifteen minute walk from there to the restaurant which is in Narai Hotel on Silom Road before you reach soi 18.

View Eating Thai Food Map in a larger map