14 Exotic Food Photos from the Thai Vegetarian Festival 2011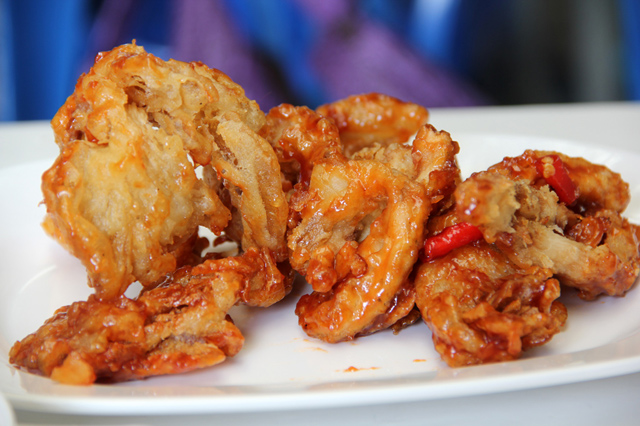 As you may know, the annual Thai Vegetarian Festival in 2011 lasted from September 26th until October 6th.
Due to finishing a month long vegetarian Thai food challenge back in July, I didn't "eat Jay" for the entire festival, but I was able to chow down on a few tasty vegetarian goodies.
Here are 14 mouthwatering food photos from the Thai Vegetarian Festival 2011. Enjoy!
1. Deep Fried Mushrooms
Extra crispy and deep fried, you can't go wrong with these vegetarian mushrooms from Baan Suan Pi food court.
2. Taro Sausage
It looked almost like a meaty bratwurst, but instead of greasy meat, these guys were loaded with taro. They were excellent when dipped in the sweet and sour sauce!
3. Meat Sausage
It was so close to meat, I could even see the speckles of pork fat sprinkled throughout this vegetarian version of Isaan northern Thai sausage.
4. Glutinous Nutty Rice
This blob of red glutinous rice was dotten with nuts and beans and served along with a few pieces of fake meat for flavor.
5. Larb Woon Sen and Bitter Melon
This lunch plate of rice was topped with Larb Woon Sen (mung bean salad) and some nicely stewed bitter melon. Again, this was from the Baan Suan Pi vegetarian food court at Ari BTS station.
6. Pumpkin and Protein Balls
As long as it's not those silky smooth fake meats, I'm ok with the texturized protein balls that taste a bit like bread. Mixed with pumpkin, this was a vegetarian hit!
7. Mixed (Blackened) Tofu
Though this tofu was probably loaded with unhealthy carcinogens (it was cooked over a fire), it was lip-licking!
8. Pad Prik Gaeng Jay and Bitter Melon
I liked the bitter melon stew so much that I went back another day for more. This time around I also ordered their Pad Prik Gaeng Jay which was bursting with flavor, but a little on the greasy side.
9. Pad Gra Pao Jay
This mixed dish of the famous Pad Gra Pao was cooked with an array of vegetables, mushrooms, tofu, and protein balls. When I asked her to make it spicy, she smiled and hooked it up nicely!
10. Yellow Noodles
As a popular Jay dish, stir fried yellow noodles are widely available and can be plain, but pretty good if you're hungry.
11. Cinnamon Rolls
That's right! Thai vegan Jay cinnamon rolls from Yaowarat (Chinatown).
12. Look Choop
Mung bean candy is one of those Thai desserts that looks pretty fake, but tastes pretty good!
13. Cotton Candy Wraps
One of my favorite treats during the Thai vegetarian festival are these little cotton candy wraps filled with peanuts.
14. Somtam Ponlamai
Fruit somtam (Thai fruit salad) is one of my all-time favorite dishes to devour during the Thai vegetarian festival! There's something about flaming hot chilies and fruit that just goes so well together!