Day 2 Vegetarian Thai Food: Oatmeal, Veggie Noodles, Sticky Rice Durian, Mung Bean Noodle Salad, Papaya Salad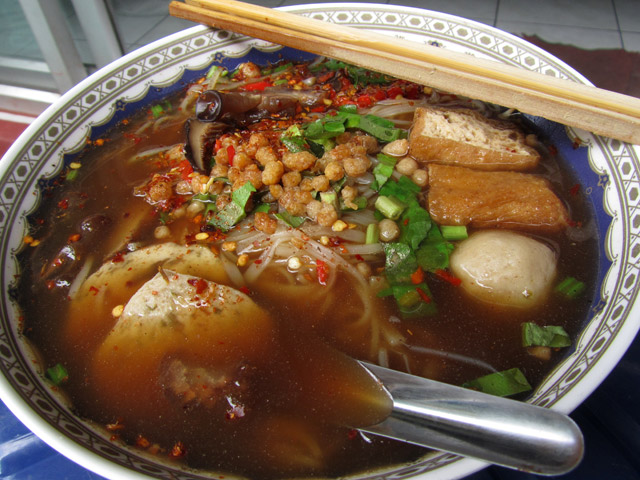 If you're joining us for the first time, we're attempting to eat vegetarian Thai food for the entire month of July 2011 in order to raise money for charity. Follow us for everyday blog updates and read more about the cause here.
Here's what I ate on Day 2
Breakfast
Quite a normal (but good) breakfast with leftover fruit that I had purchased yesterday. Whole oats, a handful of peanuts that I roasted, and a couple bananas sliced on top.
Lunch
There's a small Jay (Chinese vegetarian) Restaurant just down the road from my apartment. When I got there, all the normal rice and dishes were finished, but they still had kuay teow jay (vegetarian noodle soup).
The bowl first started off with sen lek rice noodles and toppings included pieces of fried tofu, various kinds of fungus, a few vegetable garnishes, and a slightly frightening imitation pork ball. Apart from the rubbery fake pork ball, the kuay teow jay was an excellent bowl of noodles, hardly being detected as vegetarian.
Price: 30 THB
Snack
The bowl of noodles was great, but my body was still craving something else. When I walked past the sticky rice and durian (khao neow durian ข้าวหนียวทุเรียน), I couldn't resist.
Price: 25 THB
Dinner
I'll admit that I was feeling quite hungry when dinner rolled around. Even so, I cut back on my normal 2 – 3 plates of rice and only ate 1/2 a white rice and 1 black sticky rice to accompany the dishes.
Yam Woon Sen – mai sai neua (Mung Bean Noodle Salad – with no meat)
I wanted something sour, so I ordered yam woon sen ยำวุ้นเส้น (which is a mung bean noodle salad) and substituted all seafood for extra vegetables. It was perfect, a big plate of mixed steamed vegetables with mung bean noodles and drenched in a sour lime juice dressing.
Price: 30 THB
Som Tam Thai – mai sai goong haeng (Green Papaya Salad – with no dried shrimp)
Note: This did include fish sauce
Lastly I ate an order of som tam Thai (green papaya salad ส้มตำไทย), but omitted the dried shrimp. As usual it was fantastic
Price: 25 THB
So that completes Day 2 of Eating Thai Food for Good! Stay tuned for daily updates!