Vegetarian Thai Food: Charity Update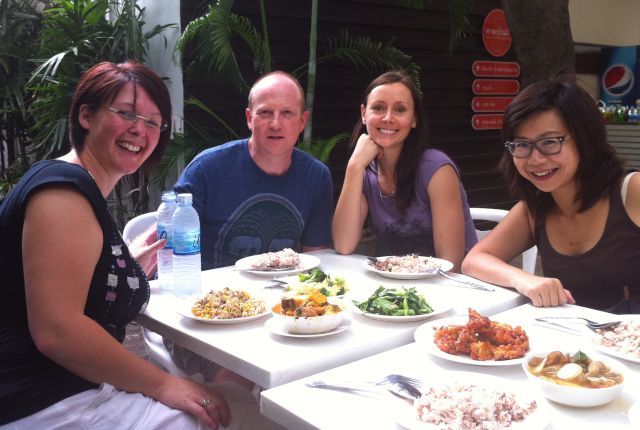 What better way to get people excited about giving than with FOOD?!
We're passionate eaters and also passionate givers. That's what's been driving us to go vegetarian in Bangkok all month long. We love both having an excuse to talk about food and what we're doing to support families who are struggling to feed themselves.
This past weekend we rounded up a few volunteers for a vegetarian feast at Baan Suan Pi, Bangkok's best vegetarian food court.
After eating ordering and eating more, we let the seconds sink in while we discussed ways to continue fundraising and raise awareness about the families we're reaching out to. After throwing some ideas around, we grabbed the groceries and toiletries people donated and took them to the families we're helping.
We met plenty of big smiles and people were appreciative of the gifts. We want to pass on their gratitude!
We need your help to support this worthy cause. Make a donation or purchase a copy of the Eating Thai Food Guide below to help.
| | |
| --- | --- |
| Option #1 | Option #2 |
If you can't give, you can still help by sharing our project with friends. For more on this month's challenge and about the families we're helping go to our Eating Thai Food For Good Announcement.
Thanks for your support!