Bkkfatty Diary Day 2: Send Tareq to Culinary School in Bangkok, Your Place, and Kimchi Time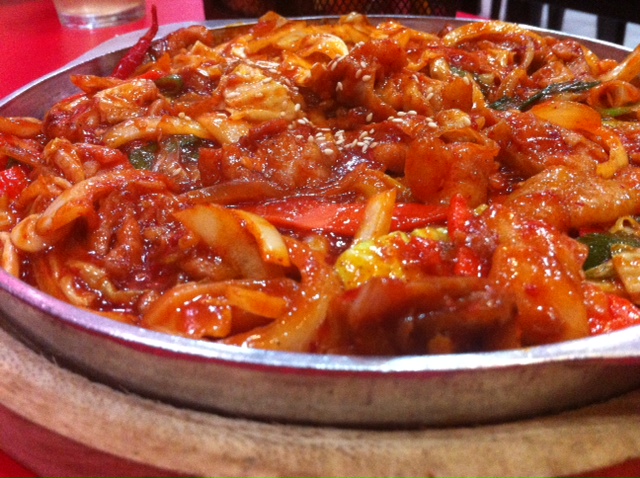 Welcome to Bkkfatty Diary Day 2! The day was spent mostly planning for the week and killing some Korean food. But I've got a pretty important story to mention to you before we get to the edibles.
Stop 1: Visit HopeMob.com and send Tareq to Culinary School in Bangkok
Meet Tareq from Bangladesh who has always dreamed of going to college. So much so that his family took out loans from to send him. They didn't know the agent who was "helping" to get Tareq into school had other plans.
Tareq was brought to Kuala Lumpur, Malaysia, his passport was taken and he was forced to work at Pizza Hut. He didn't realize immediately that he wouldn't have the chance to study and when he did realize he was heartbroken.
[Sidenote: This isn't the whole story, read more on HopeMob.]
Now a few years later, people who made friends with Tareq have helped to get him back to his country safely and now they're working on trying to help him study for real this time. They've submitted his story to HopeMob, a crowdfunding website where anyone can give, and Tareq is next to be featured and eventually funded!
When the story becomes featured people will be able to give and spread the word. Tareq is just one of many people who fall victim to human trafficking every year. We can give him a new start and have the opportunity the spread the story about what happened to him around the world to keep it from happening again to others.
Keep your eyes on THIS HopeMob story and we'll remind you when he becomes featured!
Stop 2: Coffee and Dessert Break: Your Place on Sukhumvit 39
Now let's get to the food. I wanted to feature Tareq because I've been busy planning to spread the word about him and I had been crashing in a cafe while I was working instead of doing some of the exploring I'm planning for later this week. The name of the cafe is called Your Place and is walking distance from the Phrom Phong BTS down Sukhumvit 39.
I have been to Your Place to work more than once. You can tell because I get the fatty treatment with the extra cup of mango coconut smoothie!
Now I had a sandwich there and a few bananas for lunch, but what's even better is that Wan, the girl who runs the shop, occasionally interrupts me from working to taste her baking. And you KNOW I'm not one to turn down a friend in need! Chocolate muffin for the win!
Sandwich, smoothie, two bananas and a free muffin cost around $4 or 150 THB.
Stop 3: Kimchi Time in Asoke
I've been friends with Mark for a long time. We always hang out in Bangkok and have traveled around Asia together.
One of the things that sucks about being friends with Mark is when he goes somewhere without you and brings home 29 crazy South Korean food photos like these.
So, of course I had a bad craving and went out trying to find something Korean and tasty to grub on. That's what lead me to the Korean cuisine at Kimchi Time which I saw was pretty affordable after a quick glance at the menu. Bangkok has no shortage of Korean food and much of it can really hurt your wallet if you're not careful.
I quickly ordered the soft tofu stew. Not bad! And look's just like the one in Mark's article (except mine was much cheaper).
But while the soup cooled down, I worked on a spicy chicken hot plate that was much bigger than I thought it would be. Yeah, yeah I know. It's not really as sumptuous as Mark's spicy stir fried octopus in South Korea, but honestly it was so big this could have been the only dish that I ordered.
Probably shouldn't have ordered this. But when I saw it on the menu, I needed it and I needed it JUMBO sized which wasn't much extra. Sorry, call it a bibibap weakness.
If you do go to Kimichi Time I also highly recommend their chicken wings which are covered in honey BBQ sauce.
How much did this set me back? A whopping 530 THB including the chicken wings and drinks not pictured. That's about $17 for two people to eat and leftovers to take home.
Tastes like victory to me! See you tomorrow for day 3.
Once again all of these places have been added to our Bangkok Eating Thai Food Map which is becoming giant. Don't forget also to check the Bkkfatty Foursquare for more maps and lists.