Last Minute Meat Loving at the Bei Otto German Bakery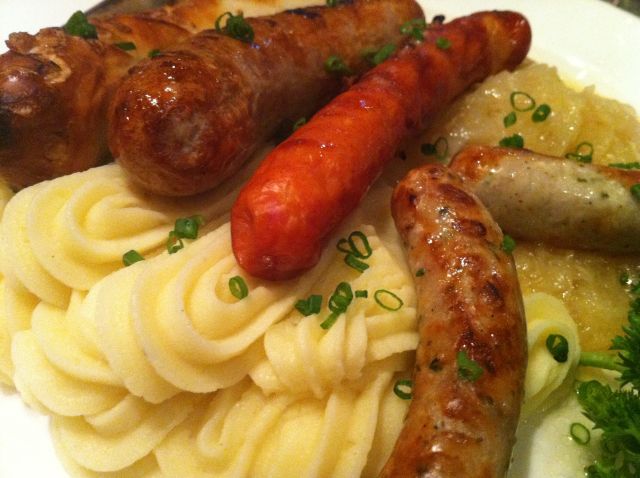 We told you we're going vegetarian next month to raise money for charity, where we'll be showing you every meat less meal. But before the first of the month, we're not going to lie about a little gorging we did at a German Bakery in Bangkok called Bei Otto.
We'll have 'half a Hef' for starters — or our foodie slang for a half liter of Hefeweizen draft beer.
On to the appetizer with three types of liver sausage. One of these three varieties may be Spam (not really, but we couldn't help getting all nostalgic). But if you enjoy a good pâté you'll dig this appetizer.
Three magic words: deep fried cheese. Here's the deep fried French camembert cheese with a splash of cranberry sauce that we fought over.
Now on to some graphic photos from the main German sausage filled dishes that we tackled as main courses.
Just when we thought enough damage had been done, we took a look at the dessert menu. I ordered an amazing dessert described on the menu as, "baked fresh mango wrapped with French fillo pastry on strawberry sauce and coconut ice cream." I'm not completely sure what that means, but who cares—LOOK below.
This may be one of our last protein filled outings for a while so we're glad to share this place with you. Tip: If you're needing good European style bread, cheese or pastries that there's a small deli and shop in front of the restaurant.
This place is a short walk from the Asoke BTS, but as always here's the map:

View Eating Thai Food Map in a larger map