Big Bite Bangkok: The July Return of the Tasting Fest!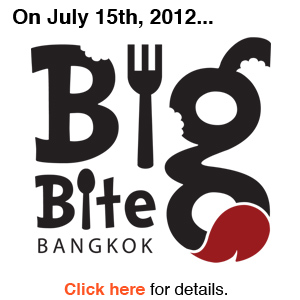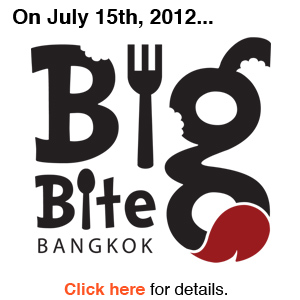 Big Bite Bangkok, the free tasting market we hosted this past January is back and you're invited!
We haven't announced the event yet, so you ETF fans are the first to know and you can add yourself to the Big Bite invitation on our Facebook page.
When: Sunday the 15th of July, 11am-2pm
Where: Maduzi Hotel Parking Lot, Asoke
Cost: Free, Donation Suggested
Food: Birds in a Row, Bkk Bagel Bakery, Pigwit, Bo.lan, Quince, Pizza PALA, BKK Urban Pantry and more!
If you don't know about the event, it's a tasting market where you can try food from different places from all over the city. Foodies in Bangkok come to support their favorite vendors and see what else tasty is being made in Bangkok. There will be Thai food and International food. PLENTY to taste, photograph and take home.
Tell your friends and mark your calendar now! 
We have more food than before and we're happy to include some vendors who were affected by the flooding before. Also the market will have tents, so it's happening rain or shine (hint: we prefer the latter).
It's free to get in, but of course we're raising money for charity. Bring a donation and help us raise as much as possible!
Remember the last Big Bite Bangkok? This may refresh your memory: