Day 17 Vegetarian Thai Food: Vietnamese Noodles, MBK Vegetarian Food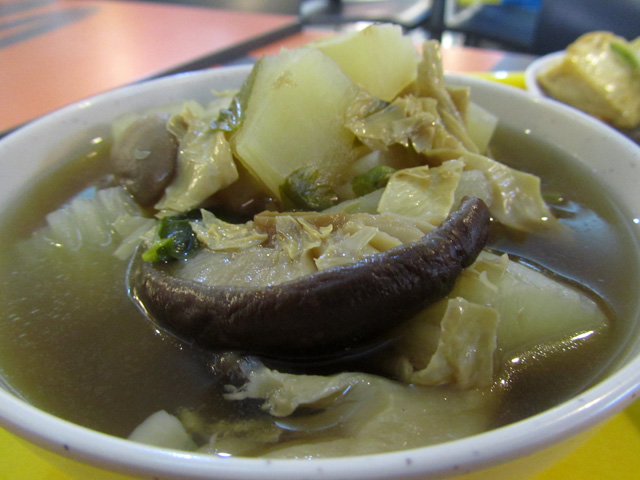 If you're joining us for the first time, we're attempting to eat vegetarian Thai food for the entire month of July 2011 in order to raise money for charity. Follow us for everyday blog updates and read more about the cause here.
Breakfast
A good ol' bowl of oatmeal loaded out with peanuts, dragonfruit, bananas, and a mango.
Brunch
Went to church today and was lucky to find Vietnamese food made by a good friend of mine. The pork filled spring rolls tantalized me, but I resisted and stuck it out with the vegetarian version.
Lunch
It's not the original vegetarian restaurant that gained the positive reputation in the MBK food court (that has since re-located), but the vegetarian stall now still serves decent food.
I got a 2 item combo over rice along with a side of tom jap chai soup.
Dinner
It was down pouring in Bangkok so I just grabbed some street pad pak ruam prik pao – stir fried mixed vegetables with burnt chili sauce. Good vegetarian simple dinner.
Thanks for following us on this Thai vegetarian food challenge!