Panta Video Store – Serving Indian, Nepalese and Burmese Food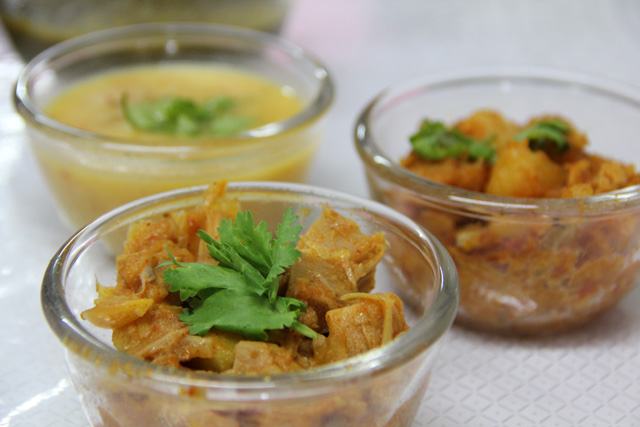 It was the video store that first caught my attention as I walked past this little hole in the wall restaurant in the Phra Khanong area of Bangkok.
Note: The restaurant might also be referred to as Sadabahar Restaurant
Panta Video store was clearly written all over the sign, but beneath and surrounding it were the familiar writings of "Indian Food, Burmese Food, and Nepalese Food," – the type of signs that draw me closer.
With no plans, and the Vegetarian Sign (I was in the midst of a vegetarian food challenge), I decided to head in and give it a try.
The menu is mostly vegetarian, but there are also a handful of non-vegetarian options if you so desire.
The best thing I ordered was the Thali Khana, the three little vegetarian dishes served with a plate of rice. One of the dishes was simple daal, another was a potato and cauliflower curry, and the last was an awesome artichoke curry.
I would recommend the Thali Khana as the best thing I ate!
Price: 50 THB
I had a craving for Palak Paneer, which is an Indian dish that consists of pureed spinach mixed with spices and chunks of paneer cheese cooked within.
It was actually pretty tasty, the sauce was nicely spiced and the chunks of paneer were rich and meaty.
Ever since visiting Yangon, the pickled green tea leaf salad known as Laphet Thohk has been something I thoroughly seek out.
Burmese cuisine is delicious, but it all comes down to those lovely hand mixed salads that really take the prize.
Their version of Laphet Thohk was a little over salted, but it had the fantastic flavor and that contrasting array of textures and crunches from the fried chick peas.
I prefer the version they make over at Toney Restaurant in Pahurat, Little India, Bangkok.
Price: 60 THB
The Bottom Line
Overall the food was good. I would highly recommend the vegetarian Khana Thali, but the Laphet Thohk wasn't the best I've had. The food is pretty cheap by Indian food standards in Bangkok.
Panta Video Store and Restaurant
Address: Sukhumvit Soi 71, Phra Khanong, Bangkok, Thailand
Phone: 085-060-6892
Hours: For Lunch and Dinner
Prices: Dishes are around 50 – 100 THB
How to Get There
You can walk from the Phra Kkanong BTS Station.

View Panta Video Store and Restaurant in a larger map