Bkkfatty Diary Day 4: The Local, Bangkok's Food Museum and Sri Nuan's Thaidashian Sisters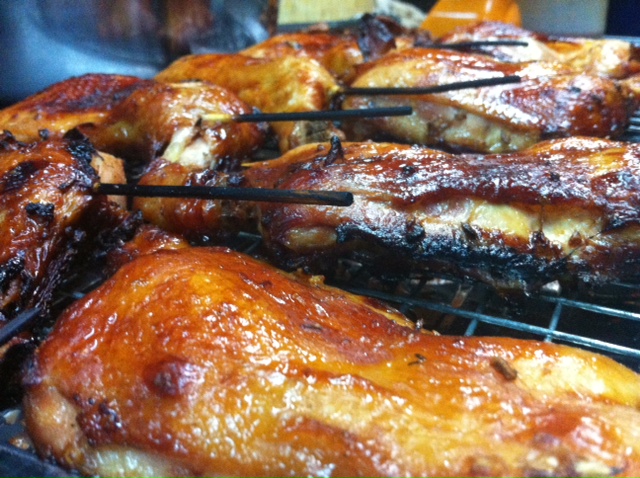 Well, well.
Look who made it to day 4, huh?
I gotta admit, I didn't think you were going to be able to keep up.
I bet you expect some prize for hanging out with me this long, right?
Well, you got it.
Two new restaurants, and they're opposite styles similar to yesterday's time traveling adventure.
One brand spanking new, the other could collapse at any minute.
Stop 1: New Bkkfatty Facebook Page
But before I forget, here's  a new facebook page for you. As you see we like to eat more than Thai food and there may be some bacon related things on the new page haha. Most importantly we want to interact with you there, so we'll be posting your twitter photos and maybe even doing some small events in the future.
Go be a part of the first crew to LIKE our new Bkkfatty page!
Stop 2: The Local by Oam Thong Thai Cuisine's Tasting Museum on Sukhumvit 23
"The Local" is kind of an odd name, but what you need to know is this is pretty much a living, tasting museum. The owners of the restaurant have done everything the could to evoke the past both with the decor and the food.
Even though they're still in their soft opening phase, lunch time can be quite busy. I recommend you book ahead and if you have a group then try and get into one of their uniquely decorated VIP rooms.
In the VIP room, feeling VIP and all super fancy until I just about drooled all over the menu. Thank God for those cloth napkins they keep nearby.
The menu has some ancient recipes, some restored from Thailand's archives. There are familiar items on the menu, but I could tell pretty quickly that The Local is best enjoyed by people who really love and know Thai food already. This is a place which will most likely be very popular with Thais, but I'm not sure how people new to Thailand and Thai food's complexity will like the food. The servers will have to be very good at introducing and explaining the recipes which each seem to have an interesting story behind them.
First out the door was a complimentary appeti-teaser with watermelon lightly flavored with a mixture made of salt, sugar, onions, dried fish and more (แตงโมปลาแห้ง).
Honestly if you're new to Thai food, I have a feeling you'll think this is bizarre. But this type of appetizer dates back to pre-air conditioned Thailand and is meant to both cool you off and prepare the palate for the coming dinner. Which is exactly what it did for the coming lemongrass salad with wild betal leaves (ยำตะไคร้สามเกลอใต้). Many of the flavors that were subtle on the watermelon, came full force in the salad.
I loved this dish and had to actually have the waitress to bring more betal leaves because I ran out. When I come back, I'm definitely having this salad again and I recommend it to you to get things started.
Next we had a curry the waitress recommended and seemed to get my Thai friends excited when she suggested this dish. The curry was slight soupy (not nearly like yesterday's episode) and in the center was a pile of tender, thinly sliced beef.
We would have fought over the curry, had not this fish been served shortly after. Now, if you're not too familiar with Thai food, this is the first dish you may recognize, called three flavors fish (เนื้อปลาสามรส). I've had so many interpretations of this dish, but this by far was the best. At The Local, it's presented using the fish carcass as decoration, with all the meat the fish on the side in the sticky, tangy sauce.
Last but not least! An ice cream platter which is a three scoop train of mango, coconut, and Thai tea ice cream with a tamarind stick, cantaloupe and sticky rice! Good thing I brought back up!
Honestly, I will have to go back the Local to try more of their food. Most of the dishes, save the fish, were on the exotic side because it was exciting to try and taste them.
Everything was good, but some of the dishes like the fish and the lemongrass salad overshadowed the others. While it was more expensive than most of my Thai meals at about $40 (1,300 THB) for three dishes and a dessert, it was worth it and I'll be back with some other curious foodies in tow next time. It's located on Sukhumvit 23, see the map below.
Stop 3: Sri Nuan Everything Stall, Starring the Thaidashian Sisters
Late night was supposed to be a street food tour down Rama 4 road, but the rain meant I had to stay near home. That's no problem because there's a special place I love for great, cheap food called Sri Nuan ศรีนวล ตามสั่ง which is a short walk from my house.
Unlike The Local, Sri Nuan's not that pretty to look at. The same is true of the food. But as is usually the case, what this "Everything-Stall" lacks in eye candy, it makes up for in character, taste and price.
For starters there's twin sisters and a helper that are really bubbly and excited about making me try EVERYTHING. I refer to them secretly as the Thaidashian sisters because I'm pretty sure they could talk me into eating anything they make.
At the top of that list is their grilled chicken, which I like to have them put in their made to order dishes.
I call it an everything stall because they're catering to so many tastes all at once. There's Northeastern Thai food, Southern Thai food, and plenty of made to order items.
The flavors are strong and unadulterated. But everything else I'm about to show you is ugly AND delicious. Keep an open mind fatties, you're in the advanced class now!
First up the vomity dish known as "nam prik bla yang" which is a sauce with grilled fish and Thai's favorite strong sauces (which includes a dump truck of chilies). You eat this with a ton of veggies because it's so spicy. So I tried to dress it up and make it look better, so you'll know what to eat it with.
Any better?
Nah, didn't think so. But it's still a must try.
Sigh. Ok, only one more ugly dish for you. We'll have to revisit this place when your heart's a little stronger.
Eggs and crispy pork soaked in 'paloe' sauce! Hideous and tasty! ไข่พะโล้
If the place above is The Local, this place should probably be called The Super Local. The neighborhood is obscure, they don't close until about 3AM. There's beer and karaoke inside and Thai whisky sold not to far away. Anyway, put it on your radar and if you're really feeling like exploring some place new, the Thaidashian girls will be happy to see you.
The grab and go curries are usually around 20 THB and there's snacks around 10 THB each. I ordered three dishes, plus had them put their grilled chicken in drunken noodles (not a normal order) and I spent less than $5 (120 THB).
STUPID CHEAP.
Here's the slice of our Bangkok Food Map that you need to find both places!

View Bangkok Eating Thai Food Map in a larger map
We're sneaking in someone's house tomorrow! See you then.