Day 7 Vegetarian Thai Food: Mixed Tofu, Nam Prik, Bamboo Shoot Stew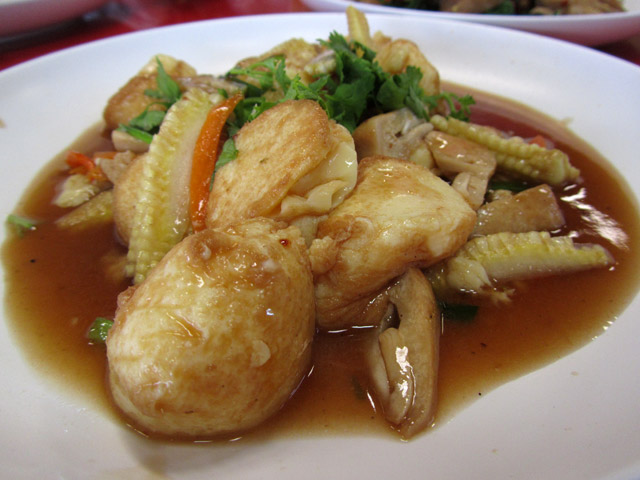 If you're joining us for the first time, we're attempting to eat vegetarian Thai food for the entire month of July 2011 in order to raise money for charity. Follow us for everyday blog updates and read more about the cause here.
Breakfast
Just a normal average breakfast, hope it's not getting too boring. I'll try to mix in some Thai breakfasts in the future, but I think oatmeal, nuts, and fruit is a real solid breakfast – especially when vegetarian!
Lunch
Went a little bit crazy for lunch. Ate all of these dishes at just a normal street stall serving stir fried dishes. You should be able to order all these same vegetarian Thai dishes at Thai street food stalls.
Starting from the top:
Pad Prik Gaeng Pak Ruam – just mixed vegetables stir fried with red chili curry, it was most excellent
Tao Hoo Song Kreung (mai sai neau) – mixed tofu (with no meat)
Pad Ga Pao Het – stir fried mushrooms with basil, you may remember that I at this dish on Day 5 and loved it so much I had to order it again
Price: all dishes 40 THB
Dinner
For dinner I went almost as street food as you can get, and still all vegetarian Thai food. I ventured into the market and ordered some take-away to eat back at the apartment.
Starting from the top:
Nam Prik Het – There's a lady in the market that sells the common "nam prik pla too," which is a spicy chili pounded blend that includes mackerel – almost like a Thai tuna salad. I talked to her and she was able to make a special version of spicy chili sauce that included roasted chilies, roasted onions, roasted mushroom and garlic. Then I hand selected a giant bag of steamed veggies to go with the sauce she pounded up. It was superb. This dish can be ordered from a vendor on a cart that will be loaded with steamed vegetables, probably hanging off the cart. Price – everything was 50 THB
Soup Nor Mai – It's called soup, but it's really more like a spicy bamboo shoot stew. Sliced bamboo shoots mixed with onions, herbs, and chili flakes was absolutely delightful! Price – 25 THB
Completes Day 7 of the vegetarian Thai food challenge! Thanks for following along with us as we eat our way through Bangkok!