Day 4 Vegetarian Thai Food: Durian, Stir Fried Noodles, Tropical Fruit Buffet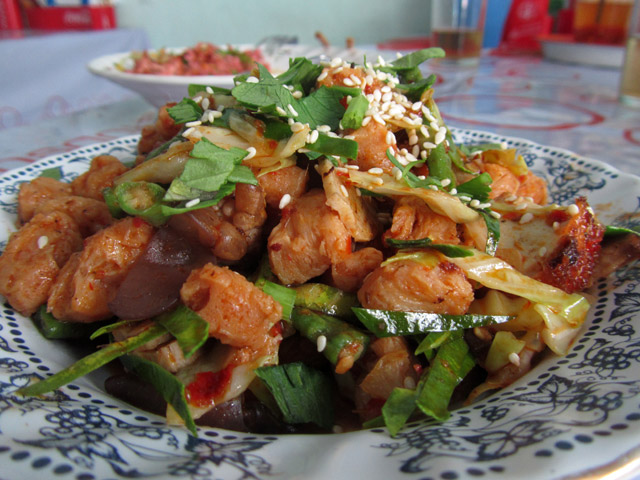 If you're joining us for the first time, we're attempting to eat vegetarian Thai food for the entire month of July 2011 in order to raise money for charity. Follow us for everyday blog updates and read more about the cause here.
Thailand is a paradise for tropical fruit lovers, and I consider fruit to be one of the best things to eat – even when I'm not vegetarian!
Breakfast
I steered from the normal routine of oatmeal on Day 4 (this being the American Independence Day), and decided to just go fruit crazy. Here are the prices of the fruit I got in the market today:
Mangosteen – 20 THB per kilo (bought 2 kilos)
Pineapple – 20 THB
Durian – 60 THB per kilo
Watermelon – 10 THB
Bunch of Bananas – 30 THB
Passion Fruit – 40 THB per kilo (Note: Very rare at markets in Thailand, but a guy happens to sell passion fruit right by my apartment, Bangpakok Market).
Lunch
I will write a review soon of this restaurant that I ate ate at for lunch, but it's basically a strictly "Jay" Chinese family that lives and operates a tiny vegetarian restaurant right near my apartment, Bangpakok Market.
Kuay Teow Sen Mee Leung Jay – Sen mee yellow stir fried noodles (NO egg in the noodles, he told me) with a few pieces of tofu and bean sprouts. I really liked how he sprinkled sesame seeds and black pepper on top – really made for a nice touch – no one uses those spices too much with normal Thai food.
Khao Pad Jay – A great plate of stir fried brown rice. To be honest, I'm not really sure why it was pink, but whatever it was, it was delicious!
Pad Proteen Prik Pao – I'll admit, I was a little scared of this dish at first. I'm hesitant when something looks like meat, but isn't. I was pleasantly surprised at how good this was. It was little chunks of soy protein and tofu stir fried up with string beans in a "prik pao" burnt chili paste. Again, I love the way the cook added some toasted sesame seeds to the top – very nice flavor addition.
Price – Each dish is 30 THB
Dinner
You won't believe it, but I continued to nurse on that fruit from breakfast and I also went out and purchased 2 more durians. Indeed on this 4th of July it was a Durian Invasion!
Day 4 of Vegetarian Food, and still feeling great!
You can follow along right here at EatingThaiFood.com for daily blog updates – don't miss it! If you enjoy these posts, I'd also encourage you to "Sign Up," for the Free Eating Thai Food newsletter (at the bottom of this post).