Day 14 Vegetarian Thai Food: Mixed Mushrooms, Vegetable Noodle Rolls, Sen Lek Tom Yum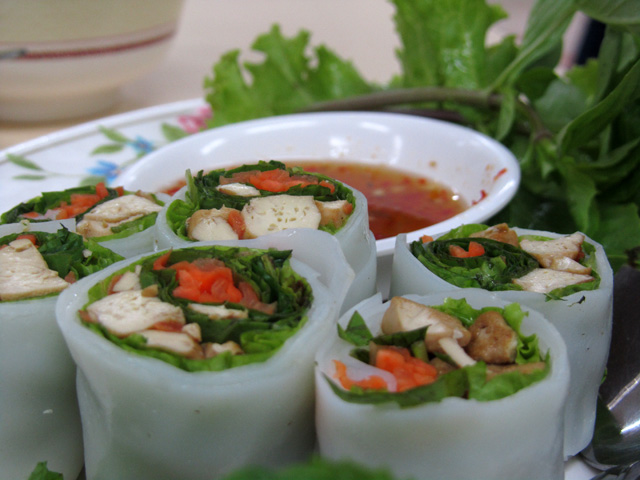 If you're joining us for the first time, we're attempting to eat vegetarian Thai food for the entire month of July 2011 in order to raise money for charity. Follow us for everyday blog updates and read more about the cause here.
Lunch
Just ate a few fruits in the morning for breakfast on my way out of the house. For lunch, I ate plain som tam Thai (green papaya salad).
Afternoon Snack
Ate some kanyao durian in the afternoon after walking through Yaowarat (Chinatown). Delicious as can be!
Dinner
I went back to Sutunthip restaurant, the place I ate at on Day 9. It was good solid freshly cooked Thai vegetarian food (restaurant review coming soon).
This is what I ate, starting from the top:
Pad het ruam – mixed mushrooms over a plate of rice
Kuay teow lui suan – fresh noodle rolls filled with vegetables and tofu
Kuay teow sen lek tom yum – sen lek rice noodles in spicy sour soup
Thanks for reading today!