Day 31 Vegetarian Thai Food: Ending with Grilled Mushrooms and Black Sesame Rice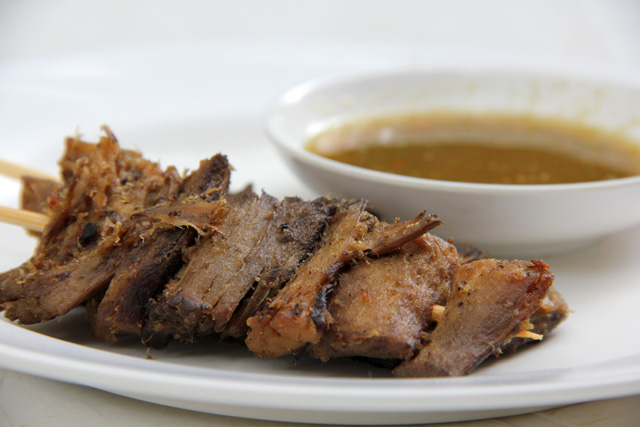 If you're joining us for the first time, we're attempting to eat vegetarian Thai food for the entire month of July 2011 in order to raise money for charity. Follow us for everyday blog updates and read more about the cause here.
Welcome to the last day of the vegetarian Thai food challenge in Bangkok!
One of the best vegetarian Thai food courts in Bangkok is Baan Suan Pi, just off the Ari BTS station. That's exactly where I headed to get my final vegetarian fix and complete the challenge.
Probably one of my favorite things to order is the skewers of grilled mushrooms sticks that are served with a lime infused dipping sauce. This is a pretty bold statement, but in my opinion, they are as good (if not better) as beef!
I also really enjoyed the rice mixed with black sesame seeds, a few kernels of corn and some chunks of pumpkin. The black sesame seeds really took it away and added a lovely fragrant flavor to the rice.
Also tried the larb woon sen, clear mung bean noodles mixed with the usual larb ingredients. It was excellent!
Lastly, I ate a plate of gaeng som, which unfortunately was way to sweet and not exactly the way I like it. All the other dishes I had were superb, especially those grilled mushrooms!
In the evening Dwight and I both met with the families we helped through the vegetarian challenge and I'll admit that I had a few first bites of chicken!
Thanks to everyone that followed this Bangkok eating challenge and please check out the round-up page for Vegetarian Thai Food!
– Mark