Day 15 Vegetarian Thai Food: Passion Juice Man, Wide Rice Noodles, Straw Mushrooms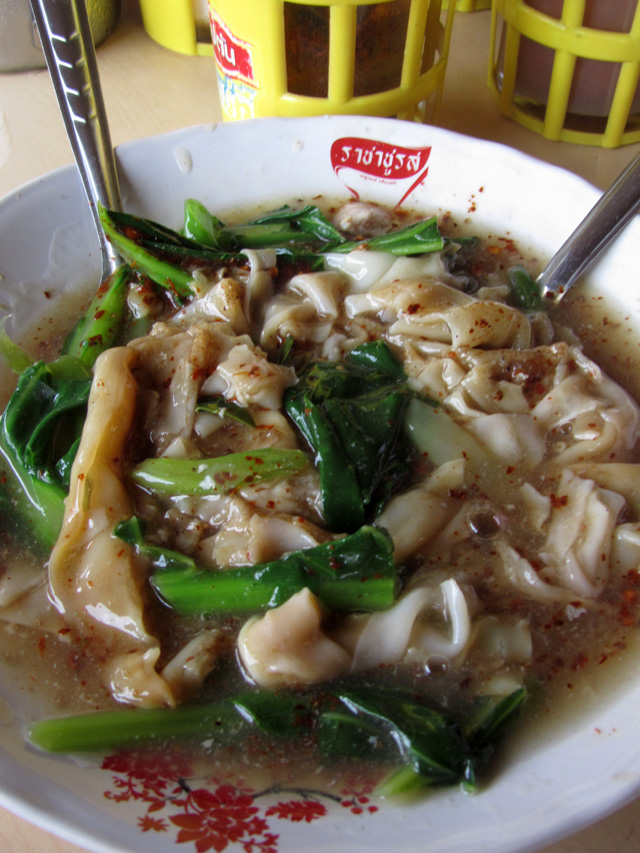 If you're joining us for the first time, we're attempting to eat vegetarian Thai food for the entire month of July 2011 in order to raise money for charity. Follow us for everyday blog updates and read more about the cause here.
Breakfast
For breakfast I was just able to grab a bottle of passion fruit juice from the man that sells his prize possession just outside the steps of my apartment.
Lunch
For lunch I ate a bowl of sen yai radna – mai sai moo, wide rice noodles and kale vegetable cooked and submerged in thick gravy. Pork is usually included in the mixture, but I ordered it without.
Price: 35 THB
Dinner
I apologize for the poor photos as the street stall near my place was quite dark.
First dish at the top is tom yum pak ruam, a mixture of vegetables in a spicy sour soup. I really like this version as it includes a dab of prik pao, burnt chili sauce.
The chef recommended that I eat pad het kemthong, a big plate of stir fried straw mushrooms. I'm a lover of all mushrooms, but this particular variety is approaching the top of the lengthy list of awesome shroom varieties. The unique springy spongy texture is unbeatable.
Lastly, just went with a plate of pak pak ruam prik pao, mixed vegetables stir fried in burnt chili sauce.
Today, Day 15 is the half-way mark on the month long vegetarian challenge! 
This is your chance to win!
Remember that we are having a competition on Facebook. Post one of your favorite Thai food photos on our Facebook Fanpage and you'll have a chance to win an incredible prize! Don't forget to post a photo! Click here to do it now!