Super Salad at Cafe Tartine on Soi Ruam Rudee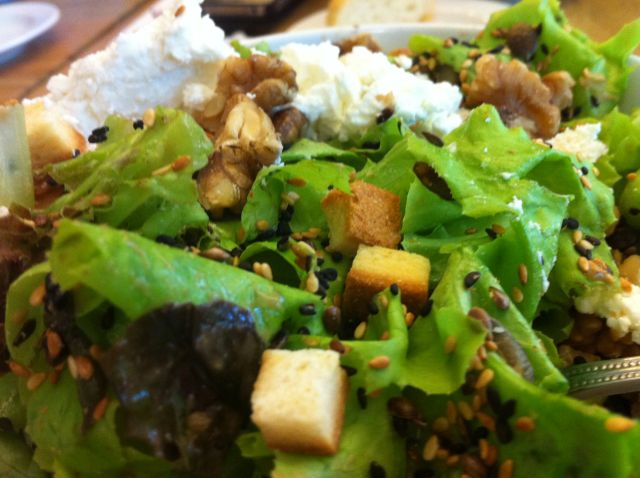 Cafe Tartine, not far down Soi Ruam Ruedee (BTS Phloen Chit) seems to specialize in pleasing soup, sandwich and salad hunters around lunch time. There were plenty of things that looked tasty on the menu, but I chose their giant salad since July's the month of our vegetarian challenge.
I ordered a custom salad and had I not been struck with a craving for goat cheese on top it would have been vegan approved. I was really pleased with the filling, grown-man-sized salad. The price starts at 75 THB ($2) and goes up as you add ingredients. After you add everything you want, the average salad will probably cost you about 150-250 THB ($5-$9). Don't be surprised if you get carried away, there are more options on the list that want you can see in the photo above.
You may not choose the same ingredients in your salad as I did. I wanted to get some protein and the walnuts were a great decision. Again, the goat cheese just sounded too mouth watering to pass up. I hope you can almost taste them in the next photo.
The salad was great. My only complaint was that I needed more of their tasty dressing. I'll be requesting a little extra next time.
Overall this is a great place for whatever your diet. Prices are reasonable and it's easy to get to. Bonus points for the free wifi :-).

View Eating Thai Food Map in a larger map