Day 19 Vegetarian Thai Food: Papaya, Green Mango Salad, Sweet and Sour Vegetables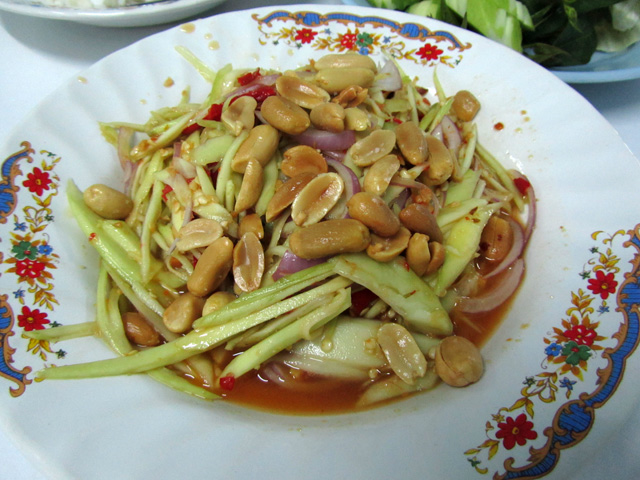 If you're joining us for the first time, we're attempting to eat vegetarian Thai food for the entire month of July 2011 in order to raise money for charity. Follow us for everyday blog updates and read more about the cause here.
Breakfast
The usual oatmeal and peanuts, but today I was able to find an orange papaya. It was perfectly ripe and had that sweet meatiness to it.
Dinner / Lunch
Backed up with a lot of online work, I had to combine lunch and dinner into a single afternoon feast at my local Bangkok street food stall in Bangpakok.
The yam mamuang (green mango salad) was particularly delicious today, a glorious combo of sour mango with sweet dressing and spicy chilies. Roasted peanuts are another great addition to the dish.
I also ordered pad preow wan pak ruam (sweet and sour mixed vegetables). It wasn't the best dish I've had, but it was a plate full of wholesome vegetable goodness.
Have a great day!