Day 29 Vegetarian Thai Food: Tofu Larb, Stir Fried Ivy Gourd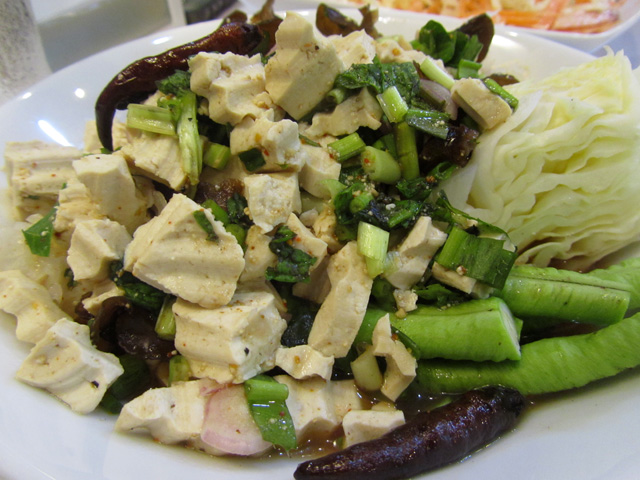 If you're joining us for the first time, we're attempting to eat vegetarian Thai food for the entire month of July 2011 in order to raise money for charity. Follow us for everyday blog updates and read more about the cause here.
Missed out on breakfast apart from a couple of bananas in the morning.
Lunch
For lunch I tried pad cha pak ruam, which is mixed vegetables with some sort of root spice that is reminiscent of a cross between ginger, cumin and galangal. It added a little extra flavor to pak ruam prik gaeng.
Dinner
For dinner I went to Koko Restaurant which is a vegetarian and non-veg restaurant located on Siam Square Soi 3. It's in a convenient location if you are looking for vegetarian Thai food in the Siam district.
Along with pak gachet and pak yord mala, pak tamlung (ivy gord leaves) is among my personal favorite vegetables. It's a bit like spinach, but it doesn't give off that strange chalky feeling like normal spinach does at times. Normally I've eaten pak tamlung in clear gaeng jude soup or stir fried up with egg. This was really good as it was mixed with chunks of garlic and assorted mushrooms.
The bottom dish is larb tao hoo, a nicely spiced tofu salad.