Day 27 Vegetarian Thai Food: Red Curry Vegetables, Snakefruit, Bamboo Shoots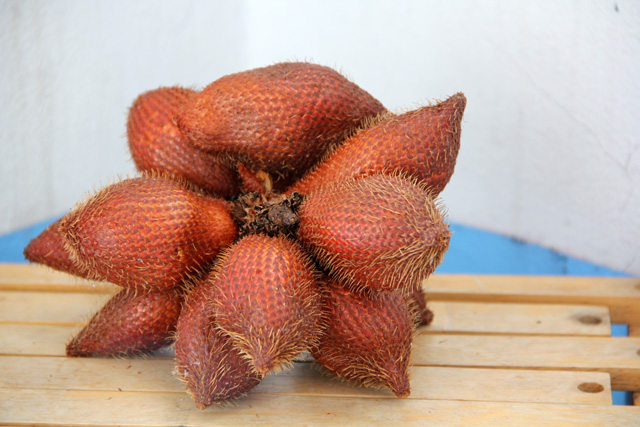 If you're joining us for the first time, we're attempting to eat vegetarian Thai food for the entire month of July 2011 in order to raise money for charity. Follow us for everyday blog updates and read more about the cause here.
Had a pretty uneventful day. I had a lot of work to do online, so I didn't even venture further than a couple hundred meters from my apartment.
Here's what I ate.
Breakfast
A fantastic bowl of oatmeal supplemented by mangoes and peanuts.
Mangoes were selling in the market today for 15 THB per kilo.
Lunch
At lunch I headed over to my favorite little market food court and ordered pad pak ruam prik gaeng, which is probably the tastiest form of stir fried mixed vegetables.
Afternoon Snack
Do you like snakefruit?
I do really like it, though I try not to eat too much of it in a single setting.
It was about 3 years ago in Indonesia when I started munching on snakefruit like they were a bag of potato chips. After scarfing down about 30, my Indonesian friend casually mentioned, "hey, don't eat too many, you know they cause constipation." I've been a bit hesitant and eaten them sparingly ever since…
One sale for 15 THB per kilo.
Dinner
Back to the street cart that knows me so well. Today I ate a simple dish of pad nor mai (stir fried bamboo shoots) and galam blee pad kai (stir fried cabbage with egg).