Day 13 Vegetarian Thai Food: Papaya Salad with Noodles, Isan Herbaceous Stew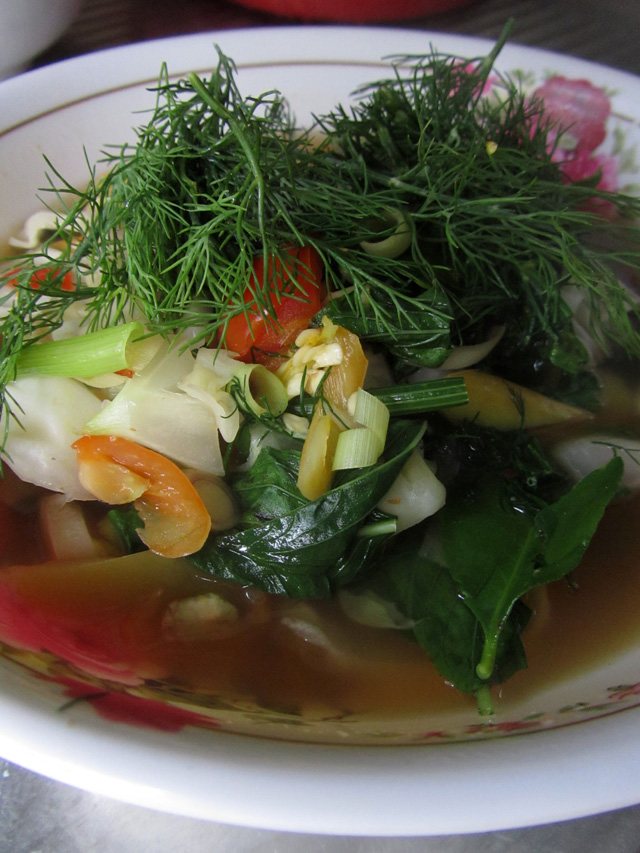 If you're joining us for the first time, we're attempting to eat vegetarian Thai food for the entire month of July 2011 in order to raise money for charity. Follow us for everyday blog updates and read more about the cause here.
Breakfast
Did the classic oatmeal breakfast supplemented by a handful of peanuts and a dragon fruit.
Lunch
When lunch rolled around, I was ready for a mid-sized feast so I ordered 2 dishes for myself.
The top dish is known as tam sua (ตำซั่ว), a som tam papaya salad mixed with soft rice noodles. The noodles sop up a bit of that wonderful tasting som tam dressing and make it a little more filling. In order for it to be vegetarian, you must order tam sua – mai sai pla rah, mai sai goong (tam sua without fermented crab or shrimp).
I also ordered a normal plate of khao pad sai pak (fried rice with veg) and doctored it up with a few spoonfuls of chili peppers.
Dinner
After a heavy lunch, I went easy on dinner, just eating this tasty bowl of gaeng aom – an Isan herbaceous veggie stew. There are so many herbs and leaves that go into the production of gaeng aom, that's even hard to follow along as the chef cooks it. Make sure to order this "mai sai neau," as the normal version includes some pieces of pork.
Have a great day today!