Day 30 Vegetarian Thai Food: Bangkok's Vegetarian Buffet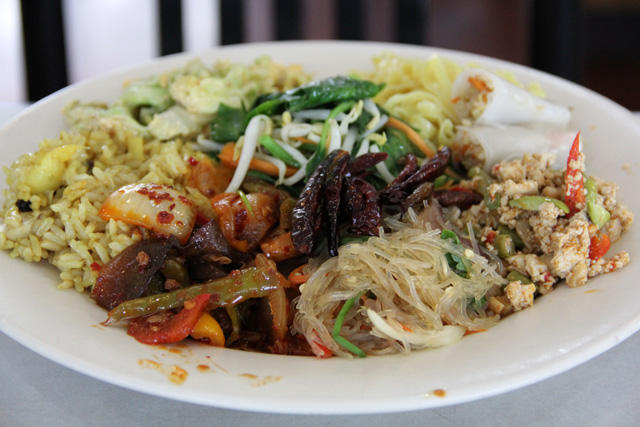 If you're joining us for the first time, we're attempting to eat vegetarian Thai food for the entire month of July 2011 in order to raise money for charity. Follow us for everyday blog updates and read more about the cause here.
Here's what I ate on the eve day of the vegetarian Thai food challenge. There's only 1 day left to go!
Breakfast, Lunch, Dinner
That's right!
What's pictured is not all! You'll have to stay tuned for the restaurant review of lunchtime buffet at Khun Churn's for more lip-licking Thai vegetarian food.
Before leaving my house all I had was a quick cup of coffee. Lunch was at 12:30 pm and I managed to push down about 4 heaping plates of food and a few bowls of kanom jeen (soft rice noodles) covered in mushroom curry sauce.
Though the restaurant is located a ways away from central Bangkok, near The Mall Ngam Wong Wan, if you are a serious vegetarian foodie it's worth a day pilgrimage. The food is delicious and you'll have an opportunity to get that good stuffing that everyone needs every now and then!