Day 26 Vegetarian Thai Food: Watermelon, Spicy Noodle Soup, Curry Katsu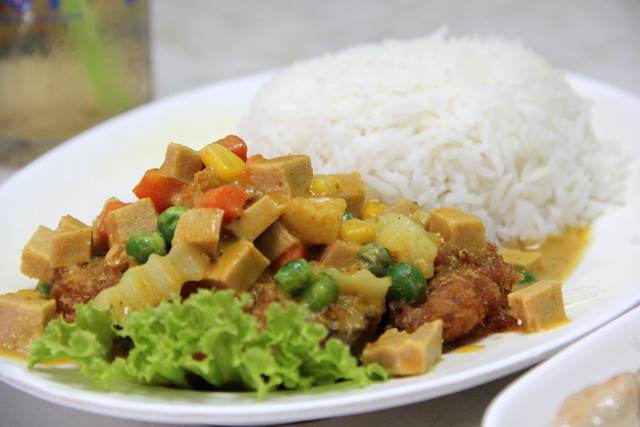 If you're joining us for the first time, we're attempting to eat vegetarian Thai food for the entire month of July 2011 in order to raise money for charity. Follow us for everyday blog updates and read more about the cause here.
Breakfast
I was able to find some yellow mangoes in the market for my oatmeal in the morning. Since we are out of mango season now, they are hard to come by. These were alright, but a little stringy. I also ate a papaya, pictured in the background.
Price: Mangoes – 15 THB per kilo, Papaya – 15 THB
Lunch
For early lunch I just ate a baby little watermelon.
Price: 10 THB at the market
Late Afternoon Dinner
Tried a Jay vegetarian Chinese restaurant located just a 5 minute walk from Hua Lamphong Train station (or MRT) called Su Ki Jeh Ru Yi. I might have to say this is a contender for the best vegetarian restaurant I've been to so far in this month-long challenge. The food was incredible and I could have easily been fooled that there was real meat within the dishes.
The kuay teow tom yum (noodles in spicy soup) included soft noodles and a sour soup that was nicely creamy.
I also ordered khao gaeng gali, rice with a deep fried cutlet covered in yellow curry sauce. This dish tasted very similar to a Japanese curry katsu.
I promise there will be a restaurant review coming soon.