Day 3 Vegetarian Thai Food: Oatmeal, Arawy Vegetarian Restaurant, Mangosteen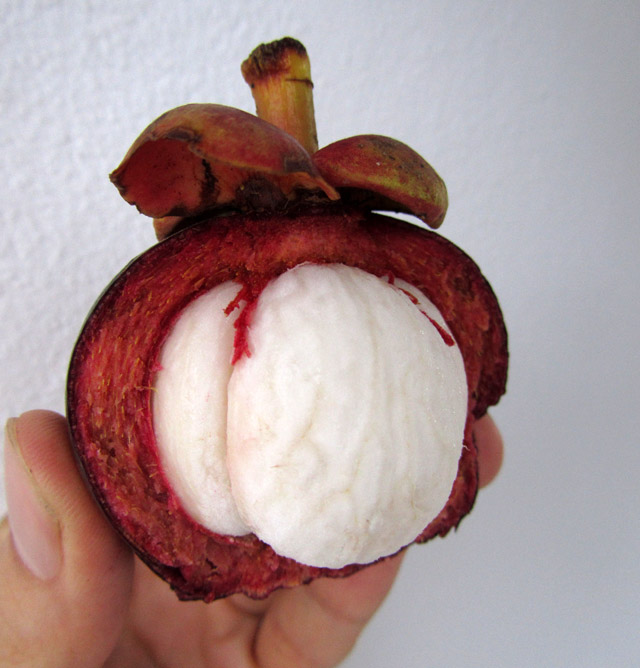 If you're joining us for the first time, we're attempting to eat vegetarian Thai food for the entire month of July 2011 in order to raise money for charity. Follow us for everyday blog updates and read more about the cause here.
Breakfast
Ate the same basic meal for breakfast. It's cheap, healthy and filling.
I promise we'll get more into some Thai vegetarian breakfast options in the days to come.
Lunch
For lunch I tried out Arawy vegetarian restaurant. I was excited, so ended up ordering much more food than I should have, but it was indeed all vegetarian!
Clockwise from top-left:
Gaeng taypo: Morning glory stewed in coconut milk curry
Saeng som chai tao: Sweet and sour soup

Makua yao: Stir fried eggplant

Pad nor mai: Stir fried bamboo shoots
Pak gatdong sai kai: Stir fried pickled mustard green with egg
Brown rice
Price: 270 THB for 7 dishes and 6 plates of rice, split by 3 people
Dinner
After the huge Sunday lunchtime feast, I took it easy for dinner and decided to only eat fruit.
Ate a big pile of mangosteen and a few bananas – enough cover me for Day 3!