Bkkfatty Diary Day 1: Eating Bangkok Food Tour, Vegetarian Lunch and Soi Yotse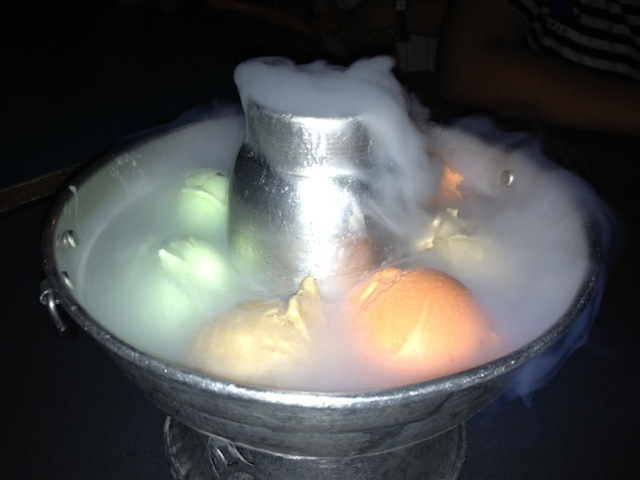 This is an exciting week for Eating Thai Food. For starters, we're going to be bringing you updates EVERYDAY this week.
Follow me, Dwight, around and see what I'm binging on this week around Bangkok. I'll take you to restaurants we've hardly had a chance to write about, introduce you to new foodie friends, and even sneak you in with me to some private parties.
While you're touring Bangkok virtually with me, Mark's off this week preparing to launch a premium tour for Thai food lovers who are in Bangkok.  The new tour is called the Eating Bangkok Tour and if you sign up early you can take advantage of a special introductory price!
[Sidenote: I'm not supposed to tell you about the food tour yet, but Mark's been working his butt off to make the tour awesome and I'm not the best at keeping tasty secrets to myself. I hope whether you would just like to add some new dishes to your repertoire or need the remedial class on Thai food that you'll hang and taste the city with us.]
We want to encourage you to get lost with us this week!
Ready for an appetizer? Here's the Bkkfatty Diary Day 1:
First stop: Kuan Im Jay กวนอิมเจ 觀音齋
You're not gonna find this hard to believe, but I overate last night. So today I skipped breakfast and by lunch time I was starving all over again.
The remedy? Tasty Thai-Chinese vegetarian food. Kuan Im Jay is located very conveniently on the half-a-soi (small street near Suk 26) on Sukhumvit 24/1, making it a short walk from the Phrom Phong BTS. This vegetarian restaurant is an anomaly in the neighborhood because it's surrounded by sketch massage parlors.
Nevermind the neighborhood because the food's good. I had three dishes; suki soup, Thai style gravy noodles and an eggplant salad. When I asked the waitress before ordering she said their serving size wasn't large, but without fail she has underestimated her compatriots in the kitchen.
When the dishes arrived they were good sized portions. The noodle dishes had fake seafood and bbq faux pork in them which wasn't bad. The dishes were a little lacking in flavor, but there was seasoning on hand to get them up spiced up. That was true of every dish except the eggplant salad. This dish was exceptional and I think I would come back again and order it again.
3 Dishes Cost $9 (270 THB)
Next Stop: Elvis Suki on Soi Yotse เอลวิสสุกี้ ยศเส
Once lunch evaporated, it was back on the hunt. This time to Soi Yotse (which is ยศเส and pronounced yot-say) a tiny strip of eating in the older part of Bangkok that has been famous for a long time.
This is a place you want to adventure to in the evening because there's not too much going on in the daytime. When you arrive at night, it's packed! I prefer to call the strip, Soi Suki since the dish appears at many of the vendors, the most famous of which being Elvis Suki (เอลวิสสุกี้) where I ate dinner.
Above is a double dose from Elvis Suki. I really enjoyed having the dried suki. It didn't seem anything like the bland veggie suki I had earlier in the day. However, when they brought the kua gai noodles out, I was immediately disappointed. The noodles were messly clumped together and the much of the dish hardly had flavor outside of the spices on the eggs.
I'm picky about this dish especially, so I was grumpy they hadn't done it well. Oh well, next time I'll have scallops and wrapped fish as Bangkok Glutton commanded.
The two plates cost about $3 (100 THB).

Final stop: Tongue Fun Ice Cream ทังฟันไอศกรีม
Here's a place just a few steps down from the street food madness that's consistently crowded. Lots of people eat in groups, choosing the 7-scoop smoking dry ice cauldrons to share with friends. Tongue Fun also has some entertaining flavors such as vodka, beer and red bull! Eerrr, um… what was I grumpy about again?
As a warning, the ordering can be problematic if you don't read Thai, but if you get one of the staff that's not running around to help you should get ice cream before it runs out or they close at 11pm.
We've added all of these places to our Eating Thai Food Map!