Next Level Thai Tendon Meatballs at Bangkok Hospital (ร้านลูกชิ้นอนามัย)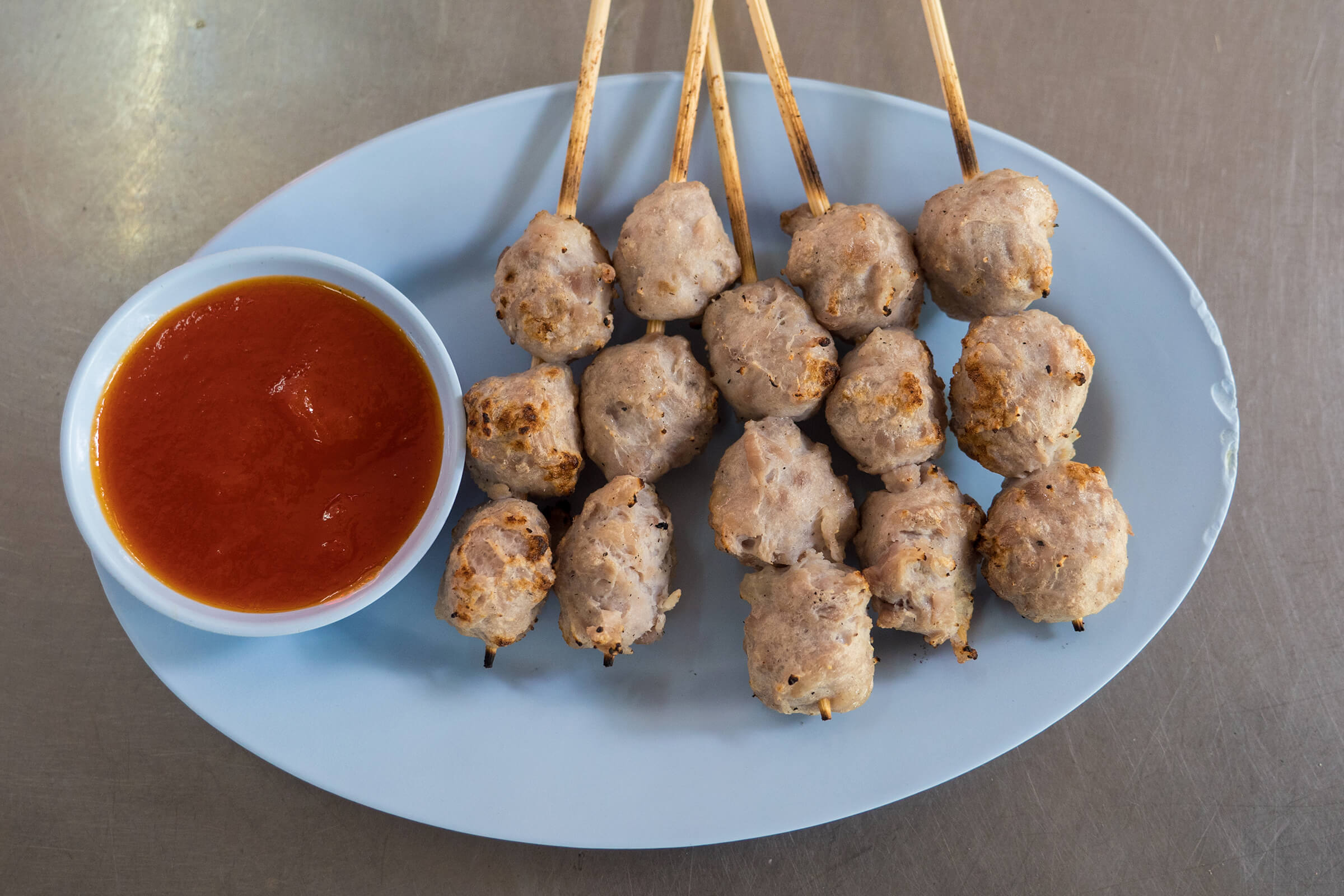 When you eat at Lookshin Anamai (ร้านลูกชิ้นอนามัย) in Bangkok you'll immediately know they take their meatballs to the next level.
Located within the Bangkok Hospital neighborhood, come here for great Thai beef noodles, and especially their unique meatballs.
I'll just start off this blog post by saying that when I first came to Thailand, I wasn't really all that thrilled with Thai meatballs.
Something about the smooth texture with the bounciness, didn't really cut it for me.
But the longer I've been in Thailand, and discovered fresh hand-made, and different varieties of Chinese influenced Thai meatballs, the more I've grown to enjoy them; Granted not the street meatballs that are factory produced and 90 percent flour, but the all meat, handmade meatballs can be excellent.
I think my turning point was the legendary beef meatballs in Lampang.
Lookshin Anamai (ร้านลูกชิ้นอนามัย)
Bangkok Hospital is a huge and modern hospital campus in Bangkok.
Lookshin Anamai (ร้านลูกชิ้นอนามัย) is located in an assuming classic wooden Thai style home, just down the lane from heart institute of the hospital.
The appearance from the outside of the restaurant is exactly what I hope for in a good Thai restaurant – food served in an old Thai house, open air, good food that's hand-made, and friendly family service. And this place fits all the right criteria.
Menu
I didn't notice a printed menu, or a menu in English, but all the dishes they serve are up on a huge menu posted on the side of the wall.
They also have a few small snacks (khanom) that are on display on a variety of tables around the dining room area, which you can grab to eat in house, or buy and take away.
Lookshin ping (ลูกชิ้นปิ้ง)
Let's begin with the meatballs, since I think that was really the most special thing about eating here.
I have to tell you that before taking my first bite, I didn't know these were special meatballs. But as I took my first bite, I immediately knew something was different and wonderful about them.
Rather than being smooth and mushy like most Thai lookshin (ลูกชิ้น), these had some excellent texture to them, while being extremely bouncy (I guarantee they would bounce if one fell on the ground).
After devouring a few skewers, I finally asked the owner, and he said that they were beef tendon meatballs (lookshin aen ลูกชิ้นเอ็น). I'm not sure of the percentage of tendon, but whatever their recipe, they were outstanding.
Cooked over hot flaming charcoal, fueled by a fan, the meatballs also had an excellent smoky charred flavor to them. To be honest, I barely even needed any of the chili sauce to dip them in, they were so good on their own.
They tasted a little like breakfast sausage, with with more bounce.
Price – 50 THB per plate (10 THB per stick)
Kuay teow sen mee neau buay pisayt (ก๋วยเตี๋ยวเส้นหมี่เนื้อเปื่อยพิเศษ)
It's a pretty long name for the first dish I ordered, but let's just break it down; kuay teow sen mee (rice vermicelli noodles) neau bauay (long braised tender beef) pisayt (the special bigger size), and in Thai (ก๋วยเตี๋ยวเส้นหมี่เนื้อเปื่อยพิเศษ).
To go along with the Thai meatballs, you have a choice of all the different variety of Thai noodles, from thick to thin, with either fresh beef, or braised tender beef.
This was an awesome bowl of Thai beef noodles. The beef, which I think was beef shank similar to the bowl of beef noodles I ate in Taipei, was awesomely tender and flavorful.
And somehow their broth was incredibly flavorful with a depth of umami, and I'm not just talking about MSG, there was some real good depth of flavor.
Price – 70 THB for the big size
Kuay teow sen mee haeng neua buay pisayt (ก๋วยเตี๋ยวเส้นหมี่แห้งเนื้อเปื่อย พิเศษ)
Ying ordered almost the same beef noodles I got, except she got the dry version – rice vermicelli noodles, tender beef, and soup on the side.
The noodles were coated in a quite a bit of sweet soy sauce, so they were on the sweet side compared to the noodles in soup already. So I preferred the soup noodles.
Chili powder (พริกป่น)
Most of the time when you eat Thai noodles, on the table there is something called prik bon (พริกป่น), which is dry coarse chili flakes.
But at Lookshin Anamai (ร้านลูกชิ้นอนามัย) they had a much finer chili powder, which I found to be amazingly spicy, and full or dry chili flavor, without the seeds getting stuck in your teeth. I loaded up my noodles with this amazing chili powder!
Kuay teow sen yai neau buay pisayt (ก๋วยเตี๋ยวเส้นใหญ่เนื้อเปื่อยพิเศษ)
We didn't want to stop eating.
So we ordered another bowl of beef noodles, this time with sen yai (เส้นใหญ่), which are the wide flat rice noodles. Again, it was delicious, same beautiful beef and flavorful broth.
We also ordered a bowl of kao lao neau pisayt (เกาเหลาเนื้อสดพิเศษ), just a bowl of beef with soup, without noodles.
Again, is is a different style from other types of beef noodles in Bangkok, but excellent.
Price – 70 THB each
Finally, I just couldn't leave Lookshin Anamai (ร้านลูกชิ้นอนามัย) without one more plate of lookshin aen ping (ลูกชิ้นเอ็นปิ้ง).
It was as good as the first plate. I especially enjoyed it when I made my own dipping sauce of chili powder and vinegar on the table.
Conclusion:
Lookshin Awnamai (ร้านลูกชิ้นอนามัย) is a Thai beef noodle and meatball restaurant in Bangkok located next to Bangkok Hospital.
Their beef noodles are excellent, but what they really take to the next level are their beef tendon meatballs (ลูกชิ้นเอ็นปิ้ง).
And along with awesome meatballs, the owner and staff are nice too.
Lookshin Anamai (ร้านลูกชิ้นอนามัย)
Address: 3 Soi Soonwichai 7, Thanon Petchaburi Dadmai (Petchaburi 47 Yaek 9), Bang Kapi, Huai Kwang, Bangkok 10320
Phone number: 02 318 1606
Open hours: 9:30 am – 6 pm (but closed at 4:30 pm on Sundays), and closed every 2nd and 4th Monday
ที่อยู่ 3 ซ.ศูนย์วิจัย 7 ถ.เพชรบุรีตัดใหม่ ( เพชรบุรี 47 แยก 9 )บางกะปิ ห้วยขวาง กรุงเทพฯ 10320
โทร. 02 318 1606
เปิดบริการทุกวัน 9.30-18.00 (วันอาทิตย์ปิด 16.30) หยุดทุกวันจันทร์ที่ 2 และ 4 ของเดือน
How to get there: Lookshin Anamai (ร้านลูกชิ้นอนามัย) is located right in the back of Bangkok Hospital and the Heart Hospital, just off Petchaburi Soi 47 Alley 9. Easiest way to get there is by taxi.