Lengendary Beef Meatballs (Lookshin Neua) in Lampang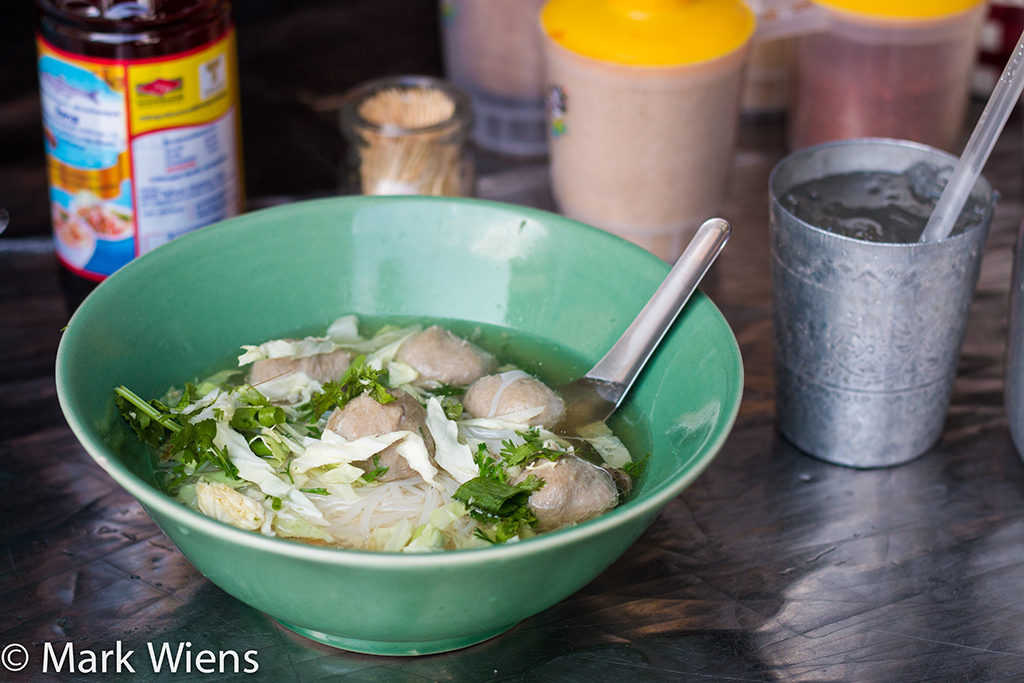 Lampang is one of my favorite northern Thai cities.
It's calm and peaceful, but it's still big enough to have great restaurants and offer plenty of things to do and see.
The northern Thai food in Lampang is wonderful, but there's also a restaurant that many Thais claim you haven't arrived to Lampang unless you've eaten there (ถ้าไม่ได้กินก๋วยเตี๋ยวปู่โย่ง ถือว่าไม่ถึงลำปาง)…
…And that restaurant goes to Kuay Teow Boo Yong (ก๋วยเตี๋ยวปู่โย่ง), specializing in simple bowls of noodle soup with beef meatballs.
Meatballs, known in Thai as lookshin (ลูกชิ้น), are an outrageously popular thing to eat.
They are often served on snack carts, loaded onto skewers and either grilled or deep fried, or served in bowls of noodles.
However, I have to admit, as much as I devoutly love just about everything Thai, I've never been a huge Thai meatball fan.
But since Kuay Teow Boo Yong (ก๋วยเตี๋ยวปู่โย่ง) is one of the places you just have to eat at when you visit Lampang, I decided to check it out.
And so, onward my wife and I went to sample one of the most legendary restaurants in Lampang for a bowl of Thai beef meatballs, and so we could say we had arrived in Lampang.
Niyom Ocha (Kuay Teow Boo Yong) นิยมโอชา (ก๋วยเตี๋ยวปู่โย่ง)
The actual name of the restaurant is called Niyom Ocha (นิยมโอชา), but nobody really knows or refers to the restaurant by that name.
Instead everyone calls it Kuay Teow Lookshin Boo Yong (ก๋วยเตี๋ยวปู่โย่ง).
Kuay teow is noodle soup in Thai, and Boo Yong (ปู่โย่ง) literally means "tall Grandfather," a nickname given to the restaurant as the owner was known for his height (he wasn't short!).
The restaurant is now operated by the son, but the legendary Tall Grandfather name remains.
The restaurant itself is a little on the rustic side…. my kind of restaurant.
It's positioned at the back of a temple, yet tucked away into the neighborhood in the alleys of Lampang.
But despite it's quiet location in the neighborhood, it comes alive and buzzes during lunchtime.
The restaurant could almost be considered a Lampang community center.
I knew it would be busy going, so we arrived by 11 am to try and get an early lunch start. When we arrived it was already pretty full, with everyone from monks from the temple to Lampang police, all happily slurping down noodles and meatballs.
The menu
Other than what's written on the side of the wall, I don't think I saw a menu at Kuay Teow Boo Yong (ก๋วยเตี๋ยวปู่โย่ง). But that's because they really only serve noodles and meatballs, and just a few combinations of each.
Your first choice is to choose which size of noodles you prefer, I almost always get sen lek, the medium sized rice noodles.
But you could also get sen mee (angel hair vermicelli) or sen yai (wide rice noodles).
You next choice is to either order normal size (tamada ธรรมดา) for 30 THB per bowl, or the special (pisayt พิเศษ) for 35 THB.
Alternatively, you can order gao lao (เกาเหลา), which is just the beef meatballs (lookshin ลูกชิ้น) without the noodles.
Kuay teow lookshin neua (ก๋วยเตี๋ยวลูกชิ้นเนื้อ)
I ordered pisayt, the larger bowl size, and it came with a nice bed of noodles on the bottom, five signature beef meatballs, and a garnish that included cabbage, green onions, and cilantro.
The soup was very plain, just a simple stock that wasn't too salty, so it's really up to you to dress your noodles according to your taste.
For Thai noodles I normally go in with a couple scoops of chili flakes and a couple spoons of chili vinegar.
The noodles and soup I would say were pretty average, not outstanding, but similar to other noodle restaurants in Thailand.
But the meatballs were the highlight.
Lookshin neua (ลูกชิ้นเนื้อ)
Without doubt, the reason so many Lampang locals and Thai visitors love Kuay Teow Boo Yong (ก๋วยเตี๋ยวปู่โย่ง) is not because of their soup broth or the noodles, but because of their beef meatballs.
My wife read in Thai that many companies and individuals have attempted to pay for their meatball recipe, and even after being offered a ridiculous amount of money, the owner family wouldn't share their secret.
That's pretty cool, that's another reason to try this place out.
Like I've already mentioned, I'm not a huge Thai lookshin fan. But these I'll admit, were quite good.
One of the reasons I typically dislike lookshin is because on the streets of Thailand they often add flour or filler substances to make them cheaper.
The good thing about Kuay Teow Boo Yong (ก๋วยเตี๋ยวปู่โย่ง) is that they say their meatballs are 100% beef, and you can really tell when you taste them.
The texture was firm, bouncy and smooth, while the flavor was definitely all beef, with little seasoning other than maybe some salt and pepper.
Gao lao lookshin neua (เกาเหลาลูกชิ้นเนื้อ)
To get a better taste of the meatballs, after I finished off my bowl of noodles, Ying and I ordered an extra bowl of gao lao, just the meatballs and vegetables without any noodles.
It was very enjoyable, and though it's still not the most flavorful thing to eat for me, this was a very good version of the dish.
Conclusion
Kuay Teow Boo Yong (ก๋วยเตี๋ยวปู่โย่ง) is one of the most well known local restaurants in Lampang, Thailand, a place so famous, many agree that you haven't actually been to Lampang unless you've eaten here.
The restaurant, which has some serious character to it, specializes in serving beef meatballs (lookshin neua ลูกชิ้นเนื้อ), and they sere a huge quantity everyday to hungry customers.
I'm not typically a big Thai meatball eater, but I'll admit, these were some of the best I've had in a long time.
Niyonm Ocha (Kuay Teow Boo Yong) นิยมโอชา (ก๋วยเตี๋ยวปู่โย่ง)
Address: Thanon Charoen Muang, Tambon Suandok, Amphoe Muang Lampang
Phone: 081 765 9055  or 054 218 251
Prices: 30 THB for normal bowl, 35 THB for bigger bowl
ที่อยู่ : 14/12 ถนนเจริญเมือง ตำบลสวนดอก อำเภอเมืองลำปาง จังหวัด ลำปาง.
โทร. 081 765 9055  or 054 218 251
เปิดบริการ เปิดทุกวัน เวลา 10.30 – 16.30 น.
ก๋วยเตี๋ยว ธรรมดา 30 พิเศษ 35
How to get there: The restaurant is located in Lampang, next to Wat Muang Sat temple. For the map, scroll down to "Northern Thailand," then click on "Kuay Teow Boo Yong (ก๋วยเตี๋ยวปู่โย่ง)" to see its location.