Thai Beef Noodles at Wattana Panich, Ekkamai (วัฒนาพานิช-ก๋วยเตี๋ยวเนื้อ)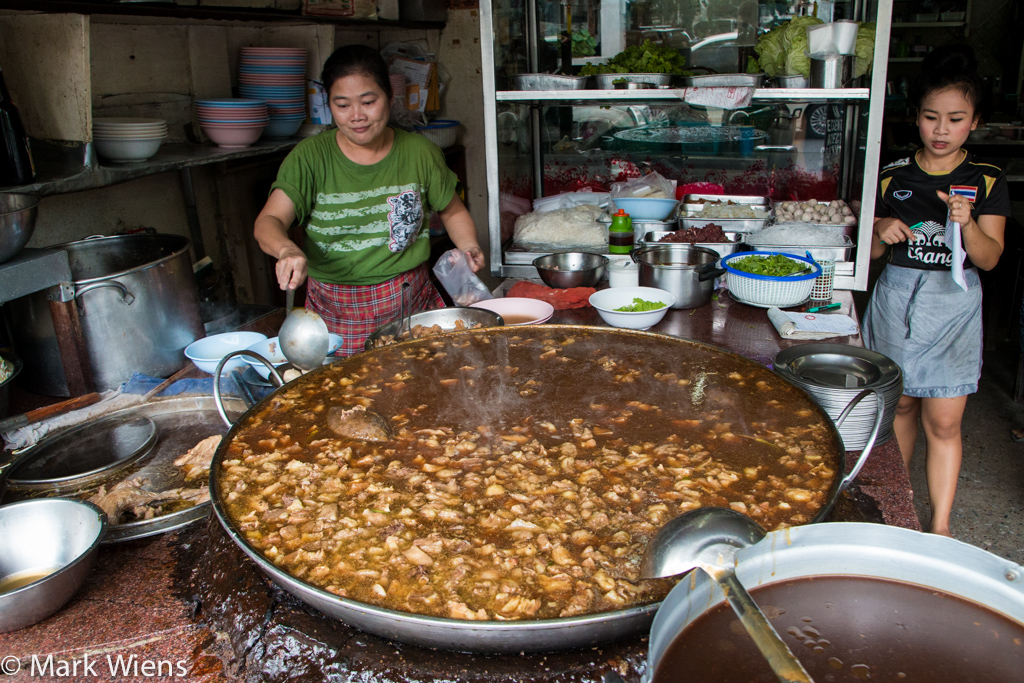 No words are necessary here…
I'm just going to give you a moment to dwell upon one of the most beautiful swimming pools of slow bubbling cubes of beef you may have ever seen…
It was one of the most amazing I had seen.
Just look into the face of that jacuzzi of tenderly stewed beef love, of meat, fat, spices, and juices that looks like they've been boiling in the same cauldron for centuries.
Wattana Panich (วัฒนาพานิช-ก๋วยเตี๋ยวเนื้อ
(NOTE: Wattana Panich seems to be the most common English spelling, but really the Thai pronunciation would be more like "paneed" with a very soft d ending)
It's a jaw dropping pan of meat that greets you as you enter Wattana Panich (วัฒนาพานิช-ก๋วยเตี๋ยวเนื้อ), one of the most famous beef noodle restaurants in Bangkok.
Just walking in, and seeing the beef, is enough to make you  realize why it's such a famous restaurant to eat beef noodles in Bangkok.
Actually, years ago, I had written an article and made a video about a beef noodle spot on Udom Suk. Someone had commented, saying I need to try the restaurant on Ekkamai, and it took a few years to finally get here, but I'm thrilled I did.
Wattana Panich (วัฒนาพานิช-ก๋วยเตี๋ยวเนื้อ) is most famous for kuay teow neua, or Thai beef noodles.
They are located in the Ekkamai area of Bangkok, housed in an old-school Chinese shophouse that has fantastic character to it.
The interior of Wattana Panich (วัฒนาพานิช-ก๋วยเตี๋ยวเนื้อ) is exactly what you should be looking for in a good restaurant in Bangkok.
I'm talking about well used tables and chairs, antiques on the walls, clutter everywhere, and just ancient looking everything – there was a stash of beer under my table, so I couldn't sit straight in the table, and that's exactly the type of little sign I love when eating a top-notch restaurants.
Wattana Panich (วัฒนาพานิช-ก๋วยเตี๋ยวเนื้อ) attracts some pretty cool, stunna shades rockin' customers too – everyone from Chinese men to foreigners, ready to get their fix of tender beef and goat.
Alright, so moving on, after drooling all over the place while admiring their prize of beef sitting over their stove oven, which looked like it had some influence from a tandoor, I finally decided to order.
What can you order?
Before I share what I ate and ordered, let me just explain a few things.
The beef is what Wattana Panich (วัฒนาพานิช-ก๋วยเตี๋ยวเนื้อ) is so famous for. You can either order the beef in a bowl with noodles (kuay teow neua ก๋วยเตี๋ยวเนื้อ), or you can order the beef and soup without noodles and instead get it with a bowl of rice on the side (gao lao neua เกาหลา).
Along with beef, and what I was even more thrilled about than the beef (if that is possible), they serve braised goat noodles.
Ok, let's get into the goods stuff…
Kuay teow neau buai sen lek (ก๋วยเตี๋ยวเนื้อเปื่อยเส้นเล็ก)
First I got a bowl of kuay teow neau buai sen lek (ก๋วยเตี๋ยวเนื้อเปื่อยเส้นเล็ก), Thai beef noodles, and I ordered "pisayt (พิเศษ)," which is the special, mostly meaning that it includes more meat, and a slightly larger portion of everything.
You could order a bowl of kuay teow neua with "sen yai" or "sen mee" (two types of rice noodles), but my go-to Thai noodle for soups is usually sen lek, the medium sized noodles.
Price – 100 THB
The broth was ridiculously good, so wonderfully flavored from those tender cubes of slow braised beef, and spiced with star anise and hints of cinnamon.
There was a nice layer of oily goodness on top, and the noodles, located at the bottom, were blanched, and went so well with the beef.
I didn't get a picture of it, because I was so deep into the noodles, and making a video, but I did doctor up my bowl of kuay teow neau (ก๋วยเตี๋ยวเนื้อ) with a couple scoops of chili and some chili vinegar as well.
Kuay teow pae sen lek (ก๋วยเตี๋ยวแพะเส้นเล็ก)
Like I mentioned, if it's possible, I was even slightly more excited to try their kuay teow pae (ก๋วยเตี๋ยวแพะเส้นเล็ก), Chinese style braised goat.
Goat isn't overly common in Bangkok, it is available sometimes at restaurants like Yusup Pochana, but it's not common at typical Thai restaurants. Being a goat lover, I HAVE to order it every chance I get.
Price – 200 THB
The kuay teow pae sen lek (ก๋วยเตี๋ยวแพะเส้นเล็ก) was more of a stew, like a thicker gravy, rather than a liquid soup.
Spice wise, it had a similar flavor, including the wonderful aroma of star anise and cinnamon, and then additionally some extra Chinese herbs and spices like the little red goji berries, astragalus root, and some of the other Chinese herbal soup ingredients.
Again, just like the beef noodles, I ordered my bowl with sen lek (เส้นเล็ก), the medium sized Thai rice noodles used for soups.
I have to say, the chunks of goat were so tender, after eating some bites of the goat meat and then returning to the beef, the beef didn't even feel tender (although the beef was extremely tender as well) – just to prove the unbelievable softness of the goat chunks.
I know I've shared a lot of photos and different angles of the swimming pool of beef at Wattana Panich (วัฒนาพานิช-ก๋วยเตี๋ยวเนื้อ), but here's just one more.
What a beautiful thing.
Watch the full video here…
(If you can't see the video, watch it here: http://youtu.be/NR74br4VTAk)
Conclusion
If you are a Thai beef noodle lover, or even if you're just ready for a beef treat, Wattana Panich (วัฒนาพานิช-ก๋วยเตี๋ยวเนื้อ) is a restaurant you shouldn't miss when you're in Bangkok. The beef noodles are wonderful.
Additionally, as if Thai beef noodles couldn't be outdone, they also offer braised goat noodles. It's like a goat stew with noodles on the bottom, and it's outrageously good if you need a good dose of meat.
The only downside I can think of is that the prices are a little on the high side, but I think it's a combination of the good quality ingredients, and the location, being at Ekkamai – which is a high-end area of Bangkok.
Wattana Panich (วัฒนาพานิช-ก๋วยเตี๋ยวเนื้อ
Address: 336-338 Ekkamai Soi 18, Thanon Sukhumvit, Bangkok, Thailand
Phone number: 02-391 7264, 02-392
Open hours: 10 am – 8:30 pm daily
Prices: About 80 – 100 THB for beef noodles, 200 THB for goat noodles
ที่อยู่ 336-338 ซอยเอกมัย 18 ถ.สุขุมวิท 63 (ซอยเอกมัย 18) คลองเตยเหนือ กรุงเทพ
โทร. 02-391 7264, 02-392
เปิดบริการทุกวัน 10:00 – 20:30
How to get there:
The restaurant is located in the Ekkamai area of Bangkok on Ekkamai Soi 18. It's a few kilometers from the Ekkamai BTS station, so from the BTS, you can either take a taxi, a bus, or a motorbike to Soi 18 and then look for that yellow and red sign (picture above).

View Bangkok Eating Thai Food Map in a larger map