Thai Street Food of Your Dreams at Nhong Rim Klong (ร้าน หน่องริมคลอง)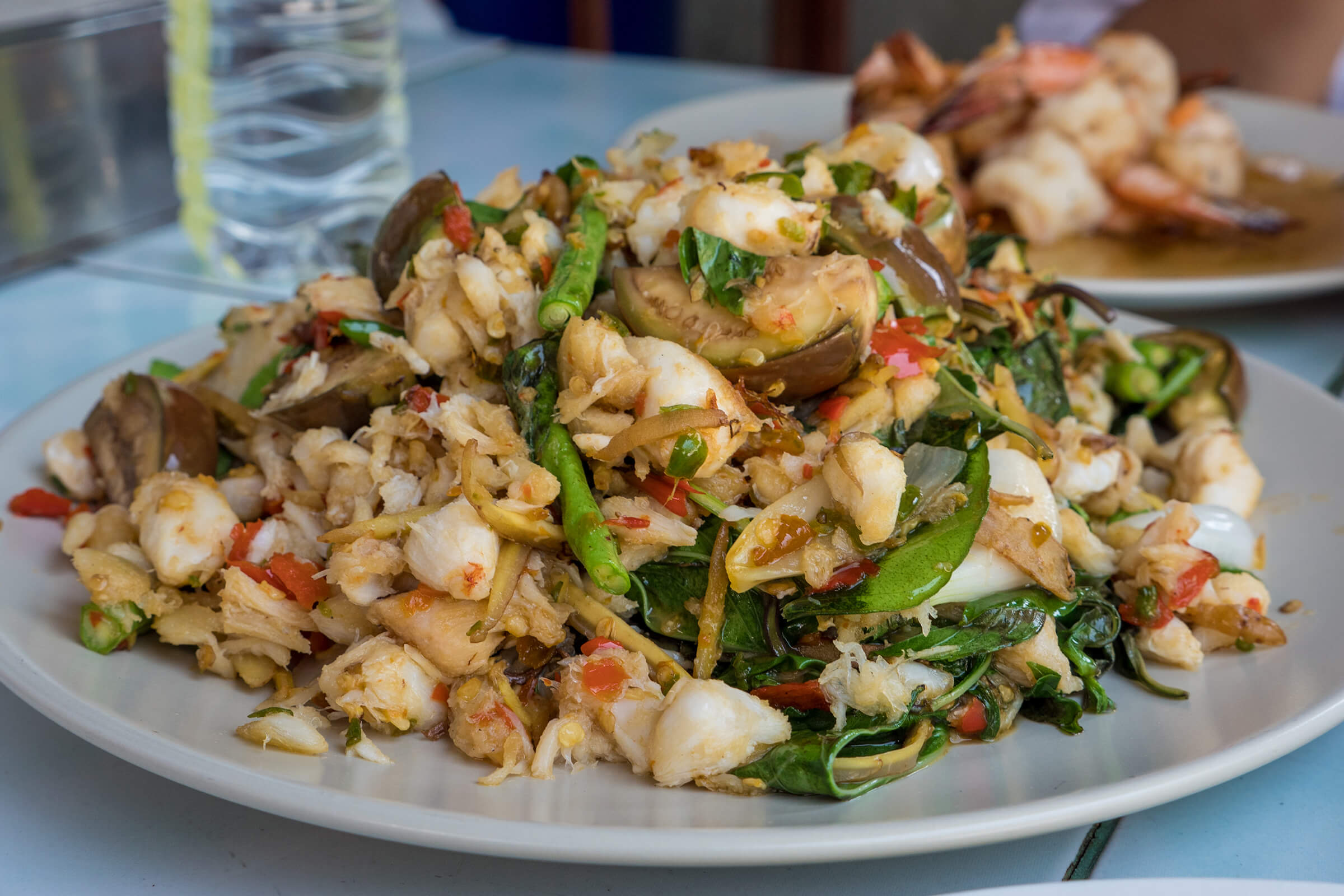 I think you and I agree:
Bangkok has some amazing street food.
But along with amazing street food, there are some epic street food stalls as well, that serve up dishes that you can only dream about.
Nhong Rim Klong (ร้าน หน่องริมคลอง) is a place that serves Thai street food of your dreams, and I'm going to share with you all the details in this blog post.
Watch the video
If you have a few minutes, first press play below to watch the full video of this meal:
(Or you can watch it on YouTube here)
Nhong Rim Klong (ร้าน หน่องริมคลอง)
Located on Ekkamai Soi 21, Nhong Rim Klong (ร้าน หน่องริมคลอง) is a place that's been around for a long time, but it's recently gotten really popular on Thai social media. And rightfully so, because the food looks original and sensational.
As a Thai food lover, I had to eat here as soon as possible.
Again, Nhong Rim Klong (ร้าน หน่องริมคลอง) is located about 50 meters from the corner of Ekkamai and Soi 21, almost all the way to Petchaburi, rather than Sukhumvit.
The street food stall sits literally over the top of the canal — the kitchen is perched on the bridge, and the tables of seating run down the left side of the street food stall.
There's no doubt you'll get some whiffs of the canal while you're dining here, but luckily the aroma of sizzling chilies and garlic usually overpower the smell of the canal!
Be prepared to wait
One more thing I want to mention to you before we get into the incredible food.
This street food stall is quite famous throughout Bangkok and for lunch it gets extremely busy. Even though there aren't that many seats, they get many call in orders for takeaway, and lots of offices in the area even send motorbike drivers to order 20 meals to go.
My wife and I knew they were going to be busy, so we arrived for lunch on a weekday at about 10:45 am. We still ended up having to wait about 1 hour before our food was served — that's a long time by Bangkok standards.
When we left at 12:30 pm or so, they were telling people it was a 2 hour wait for their food.
Tom yum seafood (ต้มยำทะเลน้ำใส)
Let's start with the seafood tom yum (ต้มยำทะเลน้ำใส tom yum talay).
I won't deny my love for an amazing bowl of tom yum, and what I loved immediately is that they tossed on a handful of cilantro, not even chopped — beautiful. The tom yum was full of seafood including squid, shrimp, and fish.
When I tasted my first bite I immediately thought of Tom Yum Goong Banglamphu, one of my favorite spots for tom yum in all of Bangkok.
This was a little different though, because rather than using freshwater prawns to get that creamy butteriness, they used ocean prawns keeping the broth pure and herbal. But it was sour to perfection and spicy, packed with seafood.
Price – 200 THB
Fried shrimp with garlic (กุ้งทอดกระเทียม)
Next we ordered shrimp fried with garlic (กุ้งทอดกระเทียม goong tod gratiem). The shrimp were pretty good size, and they came curled up from being fried in hot oil, with toasted fried garlic all over them.
The shrimp were amazingly firm and muscular, and they had an overwhelming toasted garlic taste. If you love shrimp, there's no way not to love their goong tod gratiem (กุ้งทอดกระเทียม).
Price – 200 THB
Cabbage fried with fish sauce and crab meat (กะหล่ำผัดน้ำปลาเนื้อปู)
One of their signature dishes is cabbage which is stir fried fish sauce and then topped in a mixture of egg, crab meat, and shrimp, which they call galam bee pad nam pla neua boo (กะหล่ำผัดน้ำปลาเนื้อปู).
It's was so beautiful at first it reminded me of one of those fancy Japanese or Korean shaved ice treats with all the toppings.
Price – 200 THB
Using sheets of big cut cabbage, it was first fried in oil and I think fish sauce. Then it was topped in a goopy mixture of crab meat and bits of shrimp wrapped up in a half cooked scrambled egg mix.
Sheets of cabbage piled with egg and crab
Pad kee mao crab
It was absolutely awesome, and like a pure comfort dish. The combination of the richness of the egg with the crisp cabbage worked well also.
Pad kee mao crab (ผัดขี้เมาปู)
On to the final dish, and for me personally, this is the dish that did it for me. The dish that lifted Nhong Rim Klong (ร้าน หน่องริมคลอง) to a Thai street food worthy of dreams.
Pad kee mao (ผัดขี้เมา), translating to drunken stir fry, is a stir fry mixture that's good with any meat of choice, but with nuggets of crab, that takes it to the next level.
The giant pile of pad kee mao crab (ผัดขี้เมาปู) included all the crab, with eggplant, chilies, garlic, fingerroot, onions, and a bunch of sweet basil.
Taking a bite, I could first taste the huge flavor of all the sweet basil, followed by the gingery taste of the fingerroot, and then came in the nuggets of crab.
This dish was just out of control good!
Price – 300 THB
If there's one thing to complain about I would say the food was a little heavy on the MSG. I couldn't get enough cold water the rest of the day.
But that being said, the food was marvelous. And I also loved how they are unique and original, doing something different and standing out from your typical Thai street food stir fry stall on the corner.
Conclusion
Nhong Rim Klong (ร้าน หน่องริมคลอง) is a Thai street food stall in Bangkok, located on Ekkamai Soi 21, that serves stir fry made to order dishes.
They are especially well known for their seafood, and most notably for their giant piles of crab meat, cooked in a variety of different ways (pad kee mao crab ผัดขี้เมาปู was my favorite).
If you're willing to wait in line, this street food stall serves some spectacular, full flavored, and unique Thai dishes, and plates of crab that you're unlikely to ever forget.
Note: When you're in the Ekkamai area, also don't miss out on the braised beef jacuzzi, or the Thai chicken noodle bicycle cart.
Nhong Rim Klong (ร้าน หน่องริมคลอง)
Address: Ekkamai Soi 21, Khlong Tan Nuea, Kate Wathana, Bangkok, Thailand
Open hours: 8:30 am – 4 pm on Monday – Saturday
Phone: 086-0449478
ที่อยู่ เอกมัยซอย 21 แขวงคลองตันเหนือ เขตวัฒนา กรุงเทพ
เปิดบริการ จันทร์-เสาร์ 8.30-16.00 น.
โทร. 086-0449478
How to get there: The stall is located on Ekkamai Soi 21. The easiest way to get here is by private taxi, as it's a few kilometers from Ekkamai BTS station. If you drive your own car, there is a condo across the street where you can park and they charge 50 THB.