Thai Street Food Chicken Noodles at Ekkamai Soi 12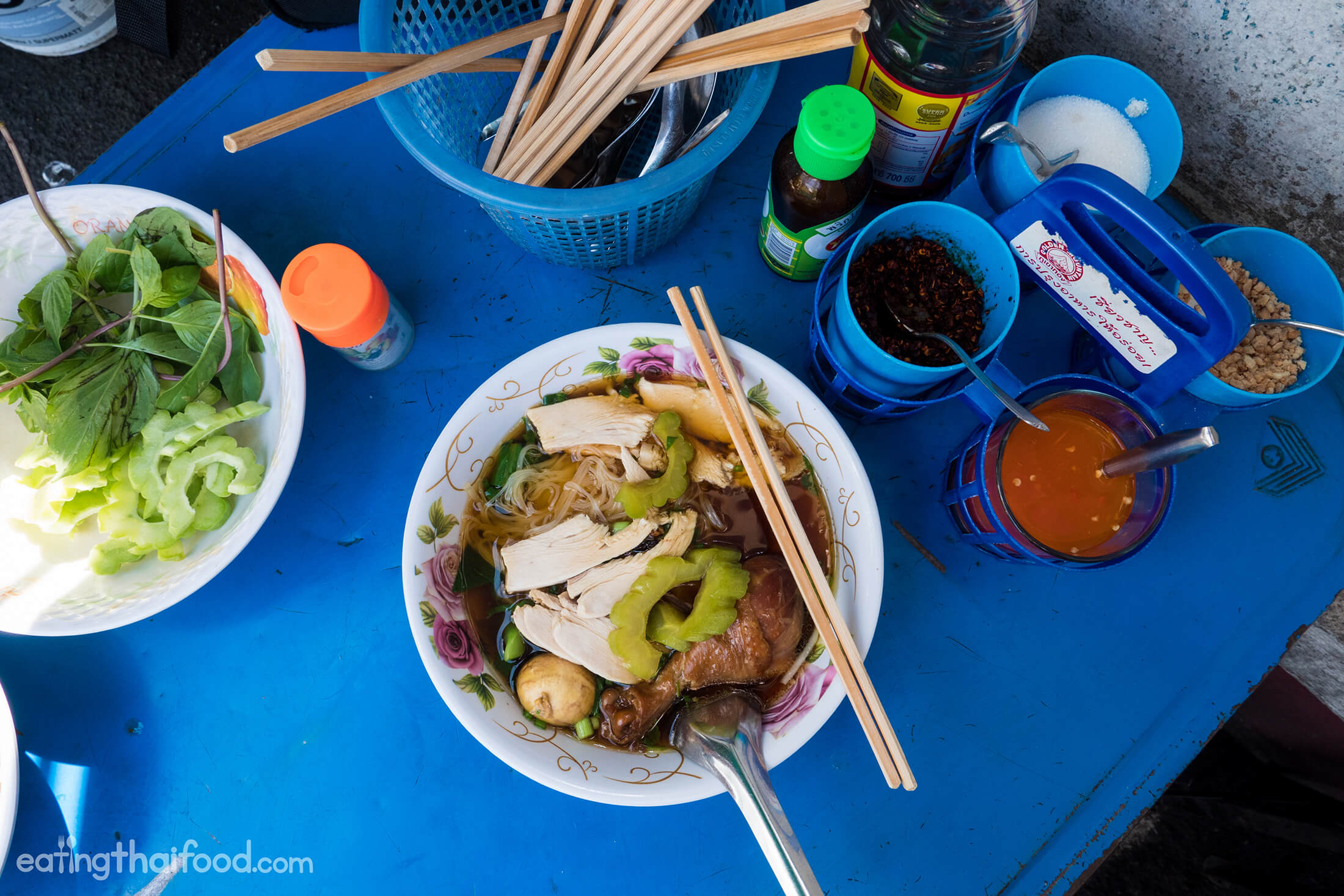 Soup noodles are one of the most commonly available street food dishes you'll find throughout Bangkok. And there are many different types of noodles and soups to try.
For a great comforting bowl of soup noodles, kuay teow gai (ก๋วยเตี๋ยวไก่), or Thai chicken noodles, always hits the spot.
The reason I enjoy it so much, is because it's often eaten with slices of raw bitter melon, fresh sweet basil, and lots of dry chili flakes and vinegar to garnish.
Located on Ekkamai Soi 12 in Bangkok, there's a legendary Thai chicken noodle stall, that's actually a street food bicycle, and they serve a fantastic bowl of noodles.
Kuay Teow Gai Khlang Soi Charoen Chai (ร้านก๋วยเตี๋ยวไก่กลางซอยเจริญใจ)
The actual full name of the stall is Kuay Teow Gai Khlang Soi Charoen Chai (ร้านก๋วยเตี๋ยวไก่กลางซอยเจริญใจ), and although that's a bit of a long name, all it really means is chicken noodles on the side of Charoen Chai road.
I was originally scrolling though Khun Pongtap's Instagram feed, who is an actor in Thailand, and he posted a photo of a bowl of noodles here. So I was in the Ekkamai area running some errands, and Ying and I decided to check it out.
The street food bicycle is quite well known in the Ekkamai area of Bangkok, and as soon as they setup, there's almost a continual line of customers.
While at many street food stalls in Bangkok you sit down at a table and a waiter / waitress will come to take your order, at this chicken noodle stall, you have to queue up and wait in line, order your bowl of noodles, and then find a seat.
When Ying and I arrived, at about 10:30 am, well before the main lunchtime rush, there were about 5 people in front of us already.
The wait didn't take long, and in just a few minutes I had a steaming hot bowl of kuay teow gai (ก๋วยเตี๋ยวไก่) in front of me.
Sen mee haeng gai (เส้นหมี่แห้งไก่)
Ying ordered sen mee haeng gai (เส้นหมี่แห้งไก่), the dry version with sen mee (thin rice vermicelli noodles) and chicken.
He quickly blanched the noodles, drained them of excess water, seasoned them with a few different sauces, sliced up some chicken to put on top, and added on a few scoops of bean sprouts and cooked bitter melon.
Kuay teow gai sen lek pisayt peum nang peum kai awn (ก๋วยเตี๋ยวไก่เส้นเล็กพิเศษเพิ่มน่องเพิ่มไข่อ่อน)
I ordered a bowl of kuay teow gai sen lek pisayt peum nang peum kai awn (ก๋วยเตี๋ยวไก่เส้นเล็กพิเศษเพิ่มน่องเพิ่มไข่อ่อน).
Again, this sounds like a bit of an intense name, but it really is just all the names of ingredients that I got in my bowl of chicken noodles – chicken noodles with sen lek (medium sized rice noodles), the special version (usually meaning bigger size with extra noodles and an extra piece of chicken), with a chicken leg, and finally an extra not fully developed egg (an ovary chicken egg).
Price – 50 THB for the bowl
Thai chicken noodles
Kuay teow gai
He didn't make it too fast, but took his time to make sure he added all the necessary ingredients, all the correct seasonings, and then finally finished it off with a spoonful of hot chicken broth.
The aroma of the star anise and chicken broth filled the humid air.
It's not the only reason I eat noodles in Thailand, but a major reason why myself, and many Thais enjoy eating soup noodles is because you get to season them however you like – to your own taste.
Something I loved immediately at Kuay Teow Gai Khlang Soi Charoen Chai (ร้านก๋วยเตี๋ยวไก่กลางซอยเจริญใจ) is that they had a couple bags of sweet basil and some freshly chopped up bitter melon (bitter gourd) hanging from the power pole, and a few extra bags hanging on someones fence.
You could just grab a few handfuls add them to your bowl, and them move on to find a seat. The owner was really nice and he gave me an extra bowl to fill up with basil and bitter melon.
I think that if you just order a bowl of regular chicken noodles, you'll just get some slices of chicken breast in your soup.
But I would highly recommend pisayt peum nang (พิเศษเพิ่มน่อง), the bigger size with an extra braised chicken drumstick.
The drumstick was really good, nice and soft, but not mushy, and with a braised soy sauce flavor.
Additionally, as I previously mentioned, I also ordered a kai on (ไข่อ่อน), which is an ovary that hasn't been fully developed – basically an egg taken from the inside of a hen before the egg ever hatched.
Kai on (ไข่อ่อน) are really good, they are kind of like the egg yolk and white mixed together, and so the entire thing is creamy, but not nearly as chalky as a fully developed yolk. It's really good.
Seasoning time
Ok, on to the seasoning. On the table of most chicken noodle restaurants in Thailand you'll find chili vinegar, chili flakes, crushed peanuts, sugar, and fish sauce.
I avoid the sugar, but take full advantage of the chili vinegar, chili flakes, and crushed peanuts.
At some street food stalls you'll get just plain dry chili flakes, but here they serve roasted chili flakes – my guess is that the dry chilies are deep fried before they crushed into flakes.
The result is a more fragrant chili, that has a smoky flavor, and is actually pretty spicy. A few scoops of roasted chili flakes and a few scoops of chili vinegar, and I was all set.
The brown colored broth of the soup had a sweet tinge to it, but with a soothing chicken stock undertone. But as soon as I added the chili flakes and vinegar, it transformed into maroon red.
And it was as bursting hot and as flavorful as it looked.
And again, another component of Thai chicken noodles that wouldn't be the same without it, are the fresh sweet basil and the slices of raw bitter melon.
The spicy chicken soup, with a crisp bite of better melon and the refreshing cooling sweet basil, is what really makes Thai chicken noodles so delicious.
Video of the meal:
(Or you can watch the video on YouTube here)
Conclusion
One of the many popular Thai street food noodle soups is kuay teow gai (ก๋วยเตี๋ยวไก่), Thai chicken noodles.
You'll find Thai chicken noodles all over the streets of Bangkok, but if you happen to be in the Ekkamai area, there's a street food bicycle called Kuay Teow Gai Khlang Soi Charoen Chai (ร้านก๋วยเตี๋ยวไก่กลางซอยเจริญใจ), that's famous in the area, and serves a delicious bowl.
Queue up, order your bowl of chicken noodles, garnish with lots of sweet basil and bitter melon, season with chili flakes and vinegar, and enjoy!
While you're in the Ekkamai area, you may want to try one of the best Thai beef noodles shops as well.
Kuay Teow Gai Khlang Soi Charoen Chai (ร้านก๋วยเตี๋ยวไก่กลางซอยเจริญใจ)
Address: Ekkamai Soi 12, Bangkok, Thailand
Open hours: 9:30 am – 3 pm daily, but very busy at peak meal times – and this is street food so these hours are subject to change with no warning.
Price: My bowl of noodles cost 50 THB
ที่อยู่ ซ.เจริญใจ (เอกมัย 12) ถ.สุขุมวิท 63 แขวงคลองตันเหนือ, วัฒนา, กรุงเทพฯ 10110
เปิดบริการ อังคาร – อาทิตย์ 9.30-15.00 น.
ก๋วยเตี๋ยวไก่เส้นเล็กพิเศษเพิ่มไข่ 50 บาท
How to get there: The street food bicycle is located on Ekkamai Soi 12, which is also known as Soi Charoen Chai, very close to Ekkamai International School. From Ekkamai BTS station, it's about a 20 minute walk, or you can jump on a motorbike or taxi.