The Ultimate Street Food Tom Yum Goong in Bangkok (ร้านต้มยำกุ้งบางลำพู)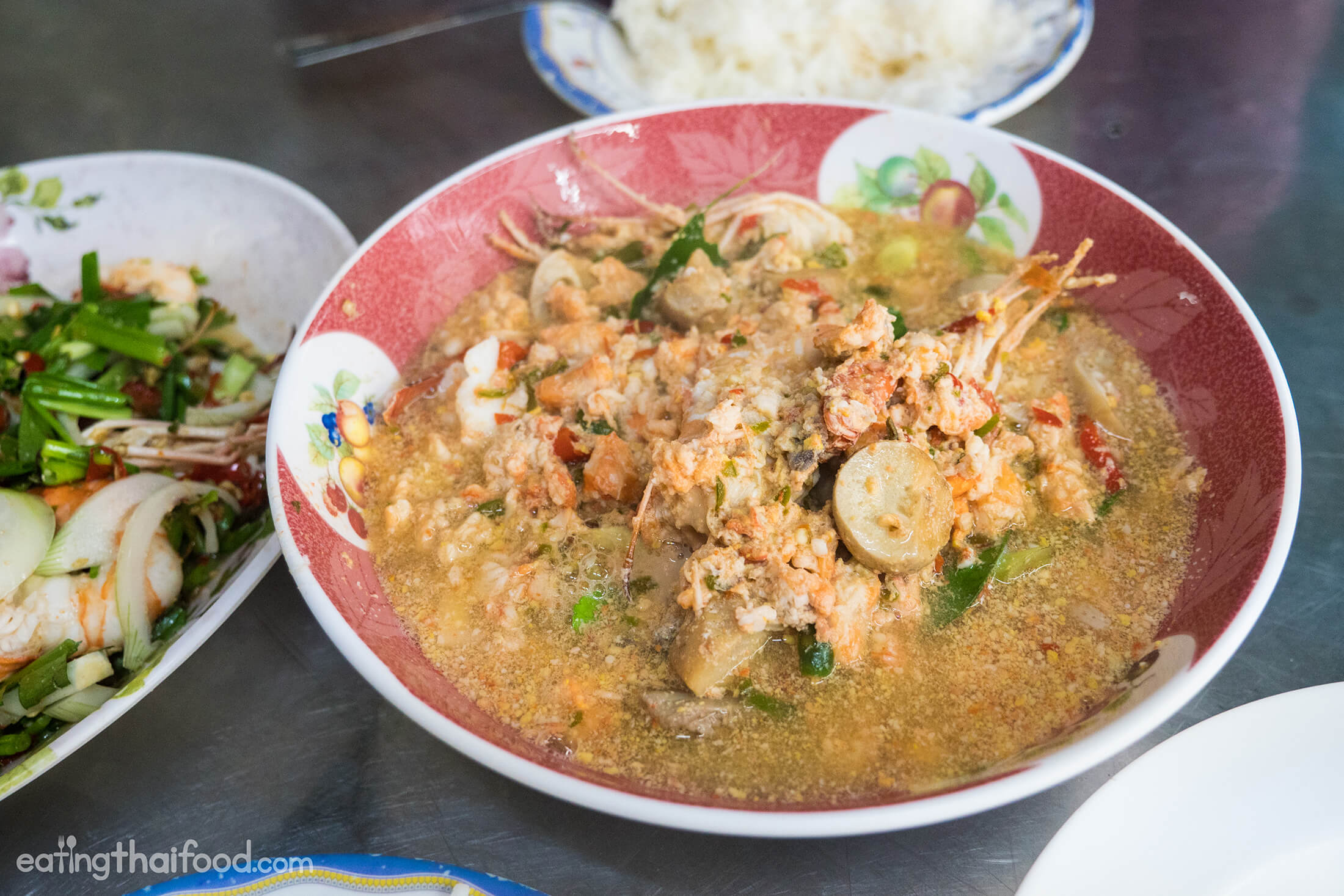 To be honest:
Many street food stalls in Bangkok that look like Tom Yum Goong Banglamphu (ร้านต้มยำกุ้งบางลำพู) serve pretty average, typical Thai food.
But Tom Yum Goong Banglamphu (ร้านต้มยำกุ้งบางลำพู), a well weathered street food stall just two blocks from Khao San road, located on the sidewalk outside of the main Banglamphu car park, is a street food stall that produces some seriously glorious shrimp dishes.
The dish they are most well known for: tom yum goong (ต้มยำกุ้ง).
Ying and I had this idea to go around and explore Bangkok for 2 weeks straight and do as much, and eat as much, as we could for a full 14 days (videos coming soon).
We started out in Banglamphu, which is an old area of Bangkok, and one of the best areas in Bangkok for food in my opinion.
We even decided to stay at a hotel, called Full House Khaosan (highly recommended place to stay by the way), just a stones throw from Khao San Road, and just around the corner from a street food stall known as Tom Yum Goong Banglamphu (ร้านต้มยำกุ้งบางลำพู), on Soi Kraisi.
I'll be straightforward when I tell you, it definitely won't be the prettiest display of freshwater shrimp and seafood ingredients you'll ever see at a Thai street food stall… but it definitely has some character.
The restaurant sets up along the sidewalk, along Soi Kraisi, and at the front of the sidewalk is where all the cooking takes place. There are about 5 or so tables behind the kitchen, where you can grab a table, sit down, and order.
I didn't see any menu at the restaurant, so it could be a bit tricky to order without speaking Thai. But they definitely have tom yum goong (ต้มยำกุ้ง) all the time, which is the main dish to order.
Pla goong (พล่ากุ้ง)
Tom yum goong (ต้มยำกุ้ง)
It's a family run food affair at Tom Yum Goong Banglamphu (ร้านต้มยำกุ้งบางลำพู), and from what I noticed and observed while eating there, it looked like Uncle handled the tom yum goong (ต้มยำกุ้ง) and most of the salads, while Aunty handled the stir fried and deep fried dishes.
Pad pak kana (ผัดผักคะน้า)
To get things started, we began our meal with a plate of simple pad pak kana (ผัดผักคะน้า), stir fried kai-lan with oyster sauce.
The flavor was pretty good and as you can expect from most Thai street food stalls – it was nice and salty, with a good garlicky flavor. It was also stir fried on high heat so it remained crisp, yet lightly wok stir fried.
I didn't know the price until we paid, but f0r 60 THB, it was quite a high price for just a place of pad pak kana (ผัดผักคะน้า), but luckily the other dishes made up for it.
Price – 60 THB
Tom yum goong (ต้มยำกุ้ง)
The main reason to eat at Tom Yum Goong Banglamphu (ร้านต้มยำกุ้งบางลำพู) is for the tom yum goong (ต้มยำกุ้ง) – it would be terrible to go there and not eat it.
At the front of the restaurant they had a big pot of broth with a bunch of herbs floating around, which was the stock for the tom yum.
As soon as they received an order, Uncle would grab a pot, scoop in some of the soup base, fire it up on a burner, add in a bunch of lemongrass, galangal, kaffir lime leaves, crushed Thai chilies, a few mushrooms, coconut shoots, and finally the incredible freshwater shrimp.
Price – 140 THB
The tom yum goong (ต้มยำกุ้ง) arrived at our table, and to me it almost looked like a curry rather than a soup – it was so thick and so creamy.
And what's ever better, rather than adding any evaporated milk for creaminess like many street food stalls do these days in Bangkok, at Tom Yum Goong Banglamphu (ร้านต้มยำกุ้งบางลำพู), all that creamy fatty butteriness, all came from the freshwater shrimp, the way it should be.
The broth of the tom yum goong (ต้มยำกุ้ง) was extremely rich and buttery, and it had a wonderful aromatic aroma of lemongrass and galangal. It was pleasantly sour from lime juice, and also what I really liked was that they included a handful of what I think were julienned coconut shoots, which are similar to bamboo shoots, but more crisp.
Finally, let's move on to the freshwater shrimp, one of my favorite things in the world.
What I loved most about the shrimp was that they weren't overcooked. One of the worst things about tom yum goong (ต้มยำกุ้ง) is getting a bowl where the shrimp are overcooked, with no flavor and a rubbery texture.
Since they specialize in shrimp, they made no mistakes at Tom Yum Goong Banglamphu (ร้านต้มยำกุ้งบางลำพู). The shrimp were medium sized, not the extreme jumbos like in Ayuthaya, but still impressively big.
They were unbelievably juicy, to me they tasted 3/4 cooked, so they were fleshy, yet still moist and juicy all the way through. After puling off the heads of the shrimp, the yellow fatty liver was still oozing like an egg yolk. Amazingly delicious.
The blend of the shrimp with the sour spicy soup was marvelous.
I'm still debating to myself whether I liked the tom yum goong at Mit Ko Yuan (ร้านมิตรโกหย่วน) better or the one here. My wife says here was her favorite, one of the best she's had in a long time. Either way, it's a delicious debate to have.
Pla goong (พล่ากุ้ง)
One of my favorite salads in Thailand is pla goong (พล่ากุ้ง), a shrimp salad that's usually packed full of herbs and chilies, and dressed in a number of different ways, in lime juice and fish sauce being my preferred method.
Using the same freshwater shrimp as used in the tom yum goong (ต้มยำกุ้ง), this time Uncle cooked them slightly, then added in a few heaping handfuls of herbs, including a ton of roughly cut green onions, white onions, sawtooth herb, and crushed Thai chilies, and then mixed in a strong lime juice and fish sauce dressing, with perhaps just a touch of sugar to balance the flavor.
It was also a little soupy, I think they may have added a spoonful of broth to the salad as well.
Again, the freshwater shrimp were cooked perfectly, not overcooked at all. They flesh of the meat was silky and slightly slimy, and as soon as I removed the head, you could see that beautiful yolk liver of the shrimp.
The pla goong (พล่ากุ้ง) had a really good taste as well, nice and sour, salty as most street food is, and then just packed full of herbs.
The sawtooth herb in particular gave the pla goong (พล่ากุ้ง) a lovely earthy green flavor, while the chilies were nice and spicy, and were those types of chilies with a sour tinge to them.
The pla goong (พล่ากุ้ง) definitely wasn't the most refined or pretty version of the dish I've had, but it sure tasted incredible.
Conclusion
Tom Yum Goong Banglamphu (ร้านต้มยำกุ้งบางลำพู) is a Thai street food stall located just a stones throw from Khao San Road in the Banglamphu area of Bangkok, that specializes in shrimp.
Although it's not the prettiest of street food stalls in Bangkok, they manage to pull off one of the ultimate versions of Thai street food style tom yum goong (ต้มยำกุ้ง) in the city.
I also tried the pla goong (พล่ากุ้ง), a shrimp salad full of herbs and dressed in lime juice and fish sauce. It was also delicious.
As much as I wanted to order a third shrimp dish, since it was just Ying and I eating, we made the call that three shrimp dishes of this magnitude would be a little too much for just the two of us.
So unfortunately as much as I wanted to try the goong tod gratiem (shrimp fried with garlic), which looked insanely good, we didn't try it. So that will have to wait for next time.
Tom Yum Goong Banglamphu (ร้านต้มยำกุ้งบางลำพู)
Address: Thanon Kraisi (right in front of the big Banglamphu car park), Talad Yawd Phra Nakhon, Bangkok, Thailand
Open hours: 9 am – 6:30 pm daily
Prices: The main shrimp dishes are 140 THB
ที่อยู่ ถนนไกรสีห์ (หน้าอาคารจอดรถ กทม. ) ตลาดยอด พระนคร กรุงเทพมหานคร 10200
เปิดบริการทุกวัน 9.00 – 18.30 น.
How to get there: Tom Yum Goong Banglamphu (ร้านต้มยำกุ้งบางลำพู) is located just outside the car park garage, on Soi Kraisi, just two roads down from Rambuttri and Khao San.