Dao Talay (ร้านดาวทะเล): Delicious Seafood Restaurant in Cha-Am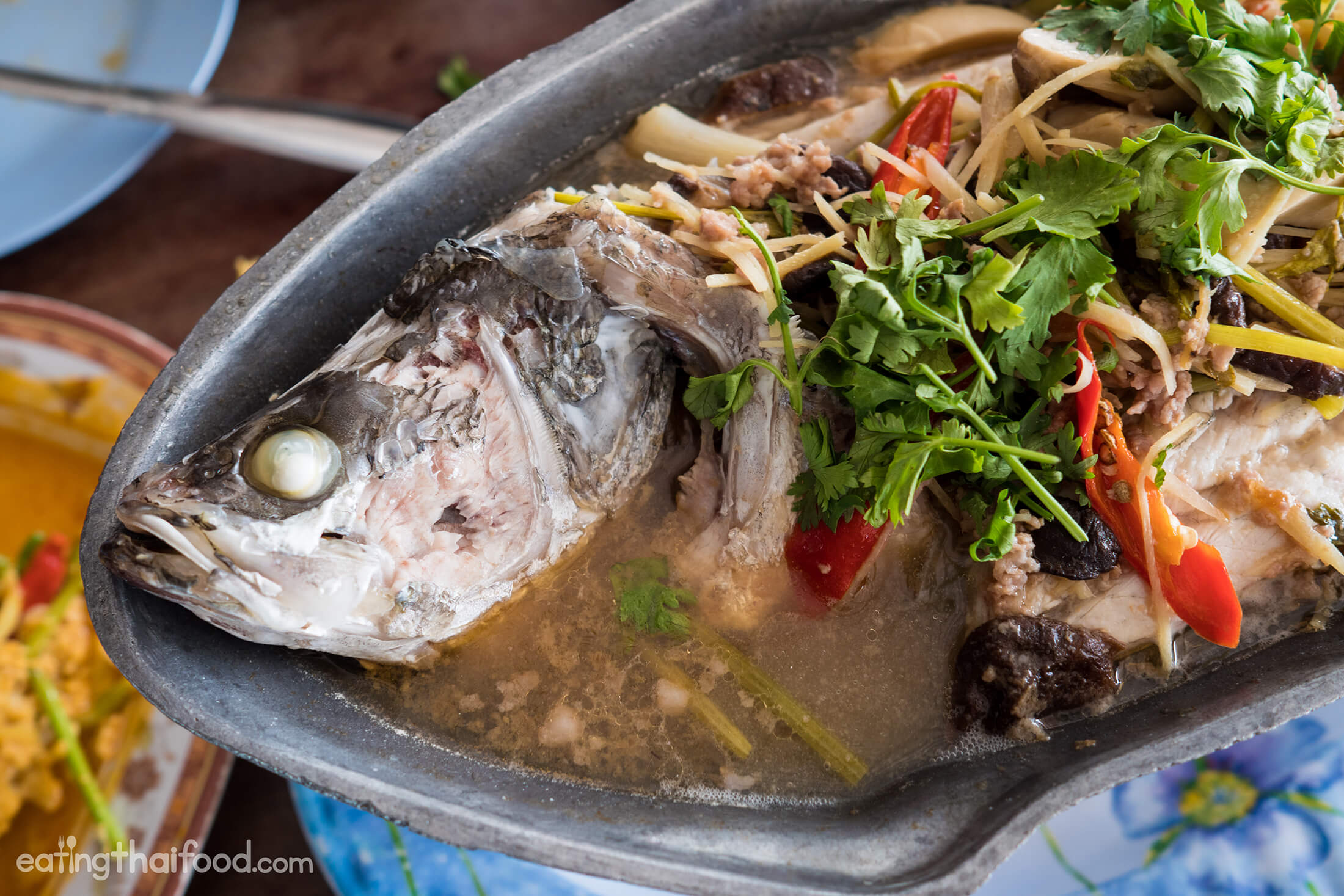 When you're on the beach in Thailand, seafood is something you naturally want to eat.
On a recent day trip to Cha-Am (about 1.5 hours south of Bangkok by road), my wife and I ate at a seafood restaurant called Dao Talay (ร้านดาวทะเล).
In this blog post I'll share with you everything we ate at this excellent Thai seafood restaurant in Cha-Am.
Dao Talay Restaurant (ร้านดาวทะเล)
NOTE: They might also spell their name Daow Talay, or Dao Thale Restaurant.
Cha-Am is a pretty small and sleepy little beach town in Phetchaburi Province, located just up the road from the bigger and more famous Hua Hin.
The town consists of plenty of beach hotels, and quite a lot of touristy restaurants along the beach strip.
If you go to the northern side of Cha-Am still along the beach road, you'll get to the main fish market, and located across the street from the fish market parking lot is Dao Talay Restaurant (ร้านดาวทะเล).
I think this restaurant is often overshadowed by some of the other seafood restaurants that have better sea views.
The restaurant is pretty good size and can accommodate big groups and is open air. You can smell the sea breeze from the restaurant, but you can't sea the ocean… but that's alright because the food makes up for it.
The Menu
One major thing that's worth mentioning is that depending on what day you come to eat at this restaurant in Cha-Am, they may or may not have all the different types of seafood that they offer on their menu.
The reason is because Cha-Am is a popular weekend getaway for local Bangkok residents, and so naturally on the weekends or on holidays, the restaurants get more business and stock more fresh seafood ingredients. On the weekdays, most restaurants in Cha-Am are pretty quiet. But this is good news, so that you know you're getting fresh seafood.
On the quiet weekday I ate at Dao Talay (ร้านดาวทะเล), they didn't have all the different types of seafood available on their menu, but we chose what they did have.
There was no English menu that I saw.
Neua boo pad pongari (เนื้อปูผัดผงกะหรี่)
The first dish that arrived to our table was neua boo pad pongari (เนื้อปูผัดผงกะหรี่), crab meat with yellow curry powder and egg.
It was prepared almost like scrambled eggs or approaching an omelet, except it was loaded with delicious strands of crab, and both green onions and white onions. I'm not totally sure if they used some salted eggs in their recipe, but judging from the yellowness and richness of the sauce, I thought so.
The neua boo pad pongari (เนื้อปูผัดผงกะหรี่) was a little on the sweet side, but really rich and definitely a treat.
Price – 250 Baht
Khao pad boo (ข้าวผัดปู)
I'm a pretty plain rice kind of guy because I like my rice to complement all the other flavorful dishes.
But there is one type of fried rice in Thailand I really enjoy from time to time especially at seafood restaurants: khao pad boo (ข้าวผัดปู), crab fried rice.
This was quite an excellent plate of crab fried rice, nice and dry wihout being too oily.
The key to eating Thai fried rice is squeezing on some lime juice and adding on some prik nam pla (chilis and fish sauce). That combination takes fried rice to the next level.
Price – 50 Baht
Hoy dalub pad cha (หอยตลับผัดฉ่า)
I have to apologize that the shells in the front are empty. Somehow when I was taking the photos, I didn't even notice it! But I can assure you, the clams were still there, but had fallen into the sauce below.
Hoy dalub pad cha (หอยตลับผัดฉ่า), which are hard shell clams, or venus clams, stir fried with fingerroot, chilies, sweet basil, garlic, and kaffir lime leaves, was the dish of the meal.
For me, this was the dish that was worth driving to Cha-Am for.
The clams were plump and not overcooked, with just the right amount of chewiness. The sauce was salty and slightly tangy, filled with the earthy gingery taste of the fingerroot and the the citrus refreshing taste of rough cut kaffir lime leaves.
It was an amazing seafood dish.
Price – 150 Baht
Pla krapong neung buay (ปลากระพงนึ่งบ๊วย)
One of the most common types of fish to order at a Thai seafood restaurants in Thailand is pla kapong neung manao, a steamed barramundi fish in lime juice, chilies, and garlic.
But when I saw pla kapong neung buay (ปลากระพงนึ่งบ๊วย), a steamed barramundi with the salted and sour preserved plum, I was curious to try it.
The fish came in a flaming fish tray, topped with shredded ginger, mushrooms, pieces of preserved plum, cilantro, chilies, and I also noticed some minced pork which they added for flavoring. The sauce was sour and salty, and a bit oily. I loved it.
The only thing was that the fish was a little on the mushy side, but that could have been partly due to the fact that I took so many photos before eating, so it sat in the juice for too long.
Price – 380 Baht
Talay pad prik geang (ทะเลผัดพริกแกง)
Their version of talay pad prik geang (ทะเลผัดพริกแกง) included a mix of different seafood, all stir fried with curry paste. The paste almost tasted more like a nutty massaman curry as opposed to a Thai red curry paste.
This dish was alright but not my favorite of the meal.
Price – 180 Baht
Hoy jaw boo (หอยจ้อปู)
You know when you're just about done ordering a meal, and you're on the fence about ordering one more dish, and then you decide to just go for it? That's how it was when we ordered the hoy jaw boo (หอยจ้อปู), it was a last minute hungry decision.
It turned out to be extremely good.
The hoy jaw boo (หอยจ้อปู) are little bite sized Thai Chinese fritters of meat and seafood wrapped in bean curd and deep fried. At Bangkok's Au Ou Bangrak they make a famous version with shrimp, but these were made with minced pork and crab.
I have to say they were dangerously delicious.
Greasy and crispy, and full of meat juices. The hoy jaw boo (หอยจ้อปู) were served with a sweet plum sauce to contrast the saltiness. They were really good, especially when hot and fresh.
Price – 150 Baht
Total price
There were 4 of us who ate this seafood meal in Cha-Am, and our total bill came to 1,320 Thai Baht ($36.91 USD).
We also had a plate of stir fried mixed vegetables (ผัดผักรวม pad pak ruam), but I didn't include any photos of it in this blog post.
Conclusion
Cha-Am is a nice little beach town south of Bangkok.
Right across the street from the Cha-Am fish market, and within a sandy parking lot, is Dao Talay (ร้านดาวทะเล), an excellent seafood restaurant. They don't have an ocean view, but they do serve delicious seafood.
The next time you visit Cha-Am, if you're looking for good Thai seafood in a friendly environment, Dao Talay (ร้านดาวทะเล) is a great choice.
Dao Talay Restaurant (ร้านดาวทะเล)
Address: Thanon Ruam Jit (North Cha-Am), Petchaburi 76120
Open hours: 10 am – 10 pm on Monday – Friday, and 8:30 – 10 pm on Saturday and Sunday
Phone: 086-091-4455
Directions: The restaurant is located in north Cha-Am across the street from the fish market pier (here's the map).
ที่อยู่ ถนนร่วมจิตร (ชะอำเหนือ วัดเนรัญชรา) อำเภอ ชะอำ เพชรบุรี 76120
โทร. 086-091-4455
เปิดบริการ จันทร์ – ศุกร์ 10.00 – 22.00 น. เสาร์ – อาทิตย์ 8.30 – 22.00 น.
[cta color="blue"]Do you like the photos on my blog? Check out the camera and gear I use here.[/cta]