Authentic Thai Red Curry Paste Recipe (พริกแกงเผ็ด)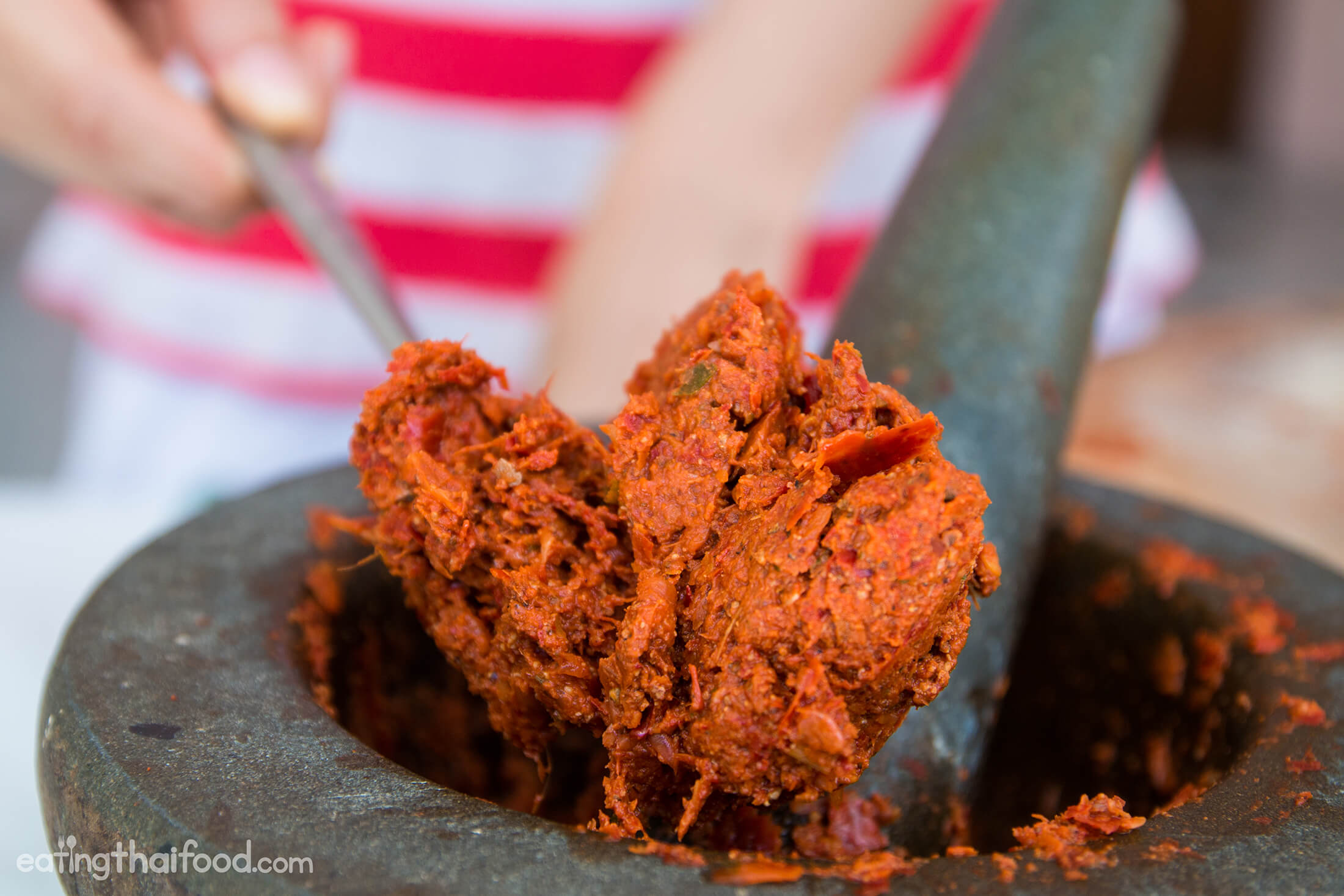 Thai curry pastes:
They are one of the most ESSENTIAL components, or foundations of Thai cuisine; Pastes form the base of many dishes, from soups, to curries, to stir fries.
In Thailand you'll find curry pastes available at all markets, fresh, but produced in mass quantities.
They are normally piled high in rounded cone shapes, and you can buy by them by the 100 grams.
In other countries you can normally buy Thai curry pastes in cans or tubs, Mae Ploy is one of the most famous brands.
BUT… after I made this fresh curry paste, I have to tell you, NOTHING compares to the flavor of Thai curry paste when you make it yourself from fresh ingredients.
Believe me, you'll taste the difference.
There are many different types of Thai curry paste blends, but in this recipe, we'll be making Thai red curry paste (พริกแกงเผ็ด in Thai it's called prik gaeng ped).
I think the best and most rewarding way to make this Thai paste recipe, is by pounding all the ingredients by hand using a mortar and pestle, known as a krok in Thai.
This slow method ensures all the oils from the chilies and garlic are fully released, but it does definitely take a lot of work.
But alternatively, you could pulse everything in a food processor or blender if you need to.
Shallots and red spur chilies
Kaffir limes
What ingredients are in Thai red curry paste?
As long as you have all the ingredients handy, it's not all that complicated to make Thai red curry paste. The biggest challenge is pounding them all into a buttery paste (if you do it by hand).
The base of Thai red curry paste is dry red spur chillies (prik haeng met yai พริกแห้งเม็ดใหญ่ – which is dried prik chee fa), which are not very spicy, but are extremely fragrant.
I used 8 big dry spur chilies for this recipe.
The other ingredients included in this recipe:
8 dry red spur chiles (พริกแห้งเม็ดใหญ่)
3 teaspoons white pepper corns (พริกไทยขาว)
1/2 teaspoon jeera powder (also known as cumin powder  ยี่หร่า)
1/2 teaspoon coriander powder (ลูกผักชี)
10 – 15 cloves garlic (กระเทียม)
1 tablespoon fresh coriander roots (รากผักชี)
1 tablespoon sliced lemongrass ( ตะไคร้)
shallots (หอมแดง)
1 tablespoon sliced galangal (ข่า)
1/2 the peel of 1 kaffir lime (ผิวมะกรูด)
1/2 teaspoon shrimp paste (กะปิ)
1/2 teaspoon salt (เกลือ)
It's a powerhouse of healthy herbs and spices. With all this flavor, you could definitely make some healthy or even vegetarian Thai dishes.
Prik Thai khao (พริกไทยขาว), or white peppercorns, are one of the main ingredients in this Thai red curry paste. Compared to black pepper, it has a mild and almost sweeter flavor.
Using the whole peppercorns will ensure you preserve the best flavor of the pepper, but if you can only get the ground powdered version, it should still work fine.
Kaffir limes are some of the most beautiful things in the world to me.
I love their wrinkly skin, and as soon as you slice off some of the peel, an immediate and incredible citrus fragrance will overwhelm you.
When you slice off the peel, cut it very shallow, you want to try to slice off as little of the white pith as possible, and only get the good green skin.
Dry spices first
For the first part of this Thai red curry paste recipe (พริกแกงเผ็ด), it's best to keep your dry and wet ingredients separate at first.
The first thing I did was pound 3 teaspoons of white peppercorns until they turned to powder (about 5 minutes) and then added 1/2 teaspoon of cumin powder and 1/2 teaspoon of coriander powder.
Once the dry spices are ready, empty them out of the mortar and set them aside in a small bowl (now, we won't use them until the end).
Next start pounding everything
For the dry red spur chillies (prik haeng met yai พริกแห้งเม็ดใหญ่), you want to first soak them in water for 10 – 15 minutes to soften them up, and then drain them.
I used 8 big chilies, and cut them into 1 centimeter pieces, and added them to the mortar along with 1/2 teaspoon of salt.
It's best to first pound the chilies and salt until quite fine and the oils are fully released from the chilies (about 5 – 10 minutes).
Thai red curry paste recipe
This is the hard work!
Once your chilies are looking and smelling good, you can then go ahead and chop up all the rest of your ingredients, the garlic, shallots, lemongrass, coriander roots, galangal, and kaffir lime peel, and start pounding away.
Keep on pounding…
You're going to sweat…
Pounding the paste by hand will take some time, patience, and elbow grease, but the end result is so worth it.
It took me about 15 – 20 minutes until all the ingredients were fully pounded into a paste.
You're looking for a buttery oily consistency with no chunks. It should almost look like a tomato sauce.
When you've got a nice paste, then you can add in 1/2 teaspoon of shrimp paste, which is going to add some saltiness to your Thai red curry paste (พริกแกงเผ็ด).
Curry paste before shrimp paste
Curry paste after shrimp paste
The final step is to go back to your dry spices and mix in your bowl of white pepper which is already mixed with cumin and coriander powder.
Your red curry paste will turn a little less deep red and more of an orangey red in color due the white colored pepper and spices.
Make sure everything is pounded out and mixed all the way through.
But, before you get started cooking, make sure you watch the video recipe first:
(If you can't see the video, watch it here: http://youtu.be/8o6KqwnSpWE)
Thai Red Curry Paste Recipe (พริกแกงเผ็ด Prik Gaeng Ped)
Time: About 45 minutes (unless you use a blender or food processor, then 10 minutes)
Recipe size: This recipe will make about 8 – 10 tablespoons of Thai red curry paste
Cooking utensils: mortar and pestle – a big stone one works the best
Flavors: Spicy, salty, fragrant (not meant to be eaten straight, but as the base of other dishes)
Eat it with: Use in a variety of Thai curries and stir fry dishes.
Be sure to check more of my authentic Thai street food recipes by clicking here.
WARNING: Pounding chilies with your hand can make your hand burn (like it's on fire!). If you have gloves, it's a good idea to wear them making this recipe (even though I didn't), or pounding any curry paste by hand.
Authentic Thai Red Curry Paste Recipe (พริกแกงเผ็ด Prik Gaeng Ped)
Pastes are one of the foundational component of Thai cuisine, used as the base for many Thai soups, curries, and stir fry dishes. This is a recipe for an authentic version of Thai red curry paste (พริกแกงเผ็ด prik gaeng ped) which can be used to cook a number of different dishes. I like to prepare my curry paste using a Thai mortar and pestle, but alternatively you could use a food processor or a blender to speed up the process. Take the time to make your own Thai curry paste, and you'll be impressed by the fresh fragrant flavors. Watch the
video here
, and
read the full recipe here
.
Recipe type:
Thai curry paste
Serves:
About 8 - 10 tablespoons of paste
Ingredients
3 teaspoons white pepper corns
½ teaspoon cumin powder
½ teaspoon coriander powder
8 dry red spur chilies (soaked in water for about 10 minutes to soften them)
½ teaspoon salt
10 - 14 small cloves of garlic
5 small shallots (Thai shallots are the size of grapes, so it's about 2 tablespoons worth)
1 tablespoon finely sliced lemongrass
1 tablespoon finely sliced coriander roots
1 tablespoon finely sliced galangal
Skin of ½ kaffir lime
½ teaspoon of shrimp paste
Instructions
The best (and most strenuous) way to make Thai curry pastes is using a
mortar and pestle
(known in Thai as a krok). However, if you don't have one, or if you want to save time and elbow grease, you can use a blender or food processor to make this red curry paste recipe.
First we're going to pound the dry ingredients. Add 3 teaspoons of white pepper corns to your mortar and pound it until it's a fine powder.
Add ½ teaspoon of cumin and ½ teaspoon of coriander to the pepper and mix it all thoroughly, and then set them aside in a small bowl.
Note: If you only have pre-ground white pepper, you can eliminate the first step and just mix these 3 spices together in a small bowl.
Take 8 dry spur chilies (prik chee fa haeng), soak them in water for a few minutes to rehydrate them, then drain the chilies. Cut off their stems, and you can then chop them into small centimeter pieces. Some people take out the seeds to make their red curry paste less spicy, but in my opinion you've got to keep the seeds.
Add the chopped dry chilies to the mortar along with ½ teaspoon of salt and start pounding. Keep on pounding for about 5 - 10 minutes until most of the chilies are nice and broken, the oils are coming out, and it's starting to looks almost tomatoey.
Step back over to your chopping board and peel about 10 - 14 cloves of garlic. I used a type of Thai garlic, which is small and extra pungent variety, but using regular garlic will work fine too. If the cloves are really big, use about 8.
Next peel 5 small shallots (Thai shallots are really small, about the size of a grape), so if you have big shallots you might need just 2 or 3. Chop them into small pieces.
Take 1 stalk of lemongrass, pull off and discard the outermost leaf, and then slice it from the bottom into small slivers. You want enough for 1 tablespoon.
Take the fresh coriander roots from about 3 stalks, cut off the roots, slice them into small pieces, and again you want about 1 tablespoon worth of coriander roots.
Take your galangal, and if you can find baby galangal that's not too old, it will be softer, but whatever you have is alright. Again, slice it into pieces and you want enough for 1 tablespoon worth.
Next take a fresh kaffir lime and slice off only the green skin. You want to slice off the skin very delicately, making sure you get mostly green, not cutting off any of the white pith. I used the skin from about ½ of the kaffir lime.
Toss all of those ingredients into the already pounded chilies.
Pound and pound and pound until you've got a buttery, oily, and extremely fragrant Thai red curry paste. This should take anywhere from 15 - 30 minutes, and yes it's tough work, but it's so worth it (again, you can alternatively use a blender or food processor).
When your paste is buttery and smooth, go back to your bowl of white pepper and dry spices, and mix it into the paste. You don't need to pound hard now, just mix it all in and smooth it out.
Final step is to add in just ½ teaspoon of shrimp paste. Pound your paste altogether and make sure the shrimp paste is fully mixed in.
Notes
It takes some work, but the end result of this fresh Thai red curry paste will not disappoint your taste buds.
Once you taste the flavors of a curry paste you made yourself, you won't go back to using it from a can - it's such a fresh and amazing blend of flavors.
Watch the video here.
Final Thai red curry paste
Best to cook and eat fresh
You could go out and buy Thai red curry paste (prik gaeng ped พริกแกงเผ็ด) from the store, but I'm here to tell you, the flavor is 10 times better when you make it fresh (ok maybe not 10 times, but anyway, it's way better and fresher).
If you're serious about making Thai food, getting a good handle on Thai curry pastes is a must.
With Thai red curry paste here are some dishes you can make:
Thank you very much for reading (and watching) this recipe. Please leave a comment to let me know how it turns out, I'd love to hear from you!