Ah Ou Bangrak (ร้านอาอู๋ บางรัก) – Upscale Chinese Street Food in Bangkok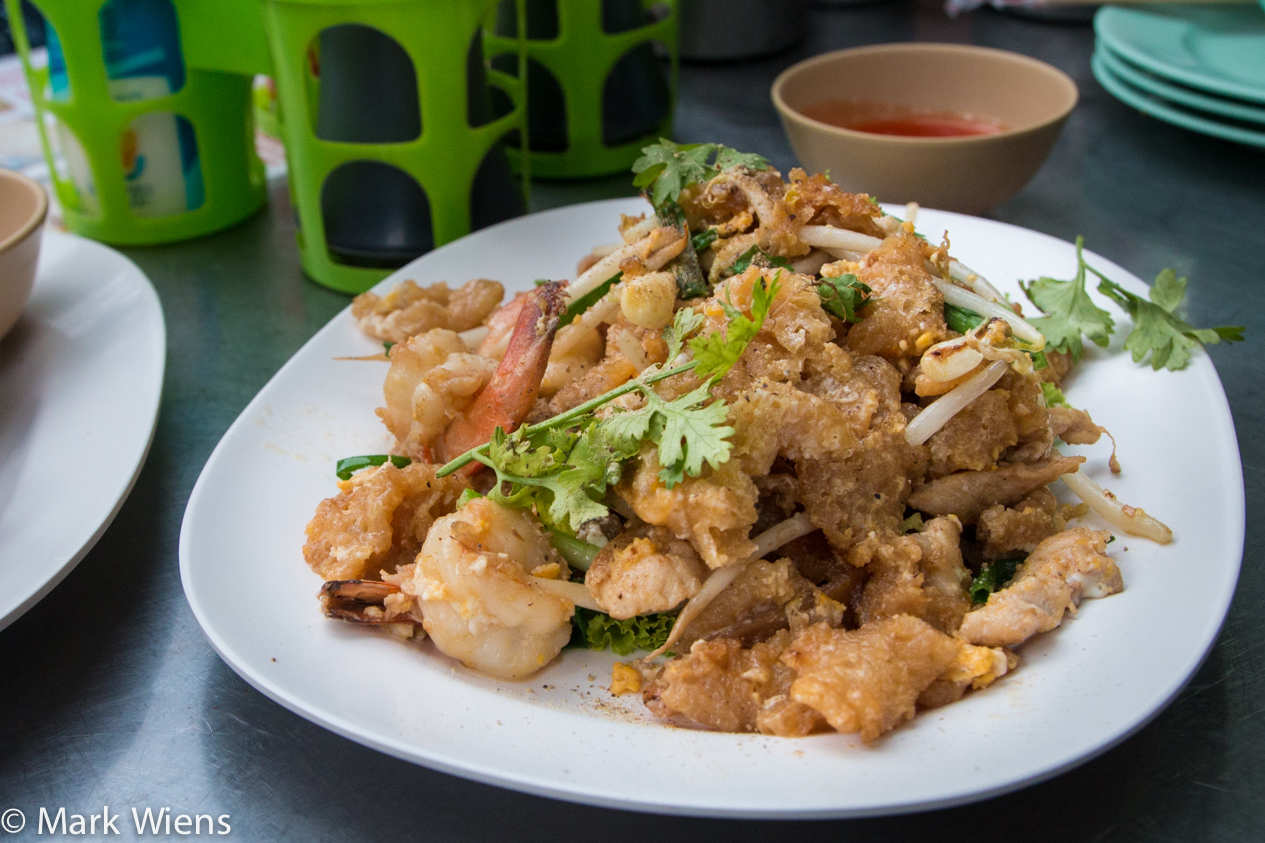 Upscale is not a word you typically associate with street food.
But in Bangkok, where street food reigns supreme, there are a number of sidewalk restaurants that serve upscale, high quality food on the streets.
I like to think that you'd get the same ingredients as in a nice sit down restaurant, but while the nice sit down restaurant marks up their prices for the facility and atmosphere, the upscale street food stalls use the same ingredients, but don't have to profit off the ambiance.
Ah Ou Bangrak (ร้านอาอู๋ บางรัก), just like Somsak Boo Op, is the type of street food restaurant where people roll up in Mercedes and BMWs.
They serve Thai Chinese food, mostly seafood dishes, and it's a real treat to eat there.
Ah Ou Bangrak (ร้านอาอู๋ บางรัก) only opens at night, and they start serving around 5:30 pm.
I like to arrive at restaurants for dinner right as they open, one because the food is nice and fresh, and two because I like to take advantage of good light before the sun goes down (yes, I am that obsessed with taking food photos and videos).
The restaurant is located right next to the entrance to the Ramada Plaza Bangkok Menam Riverside, right on southern Charoen Krung road, and just up the street from Asiatique.
Just about everyone who sits down at Ah Ou Bangrak (ร้านอาอู๋ บางรัก) automatically orders a plate of  hoy jaw (หอยจ้อ), which are like little deep fried bites of minced pork mixed with bits of shrimp, wrapped in bean curd, and then deep fried.
At the restaurant they have someone frying these little things full time since they are so popular.
Hoy jaw (หอยจ้อ) is a typical Thai Chinese dors d'oeuvre. They came served with a dipping sauce that tasted a lot like honey.
They were crispy on the outside, and actually sort of mushy on the inside. I have to say that they were not my favorite, good for what they are, but it's not my texture of choice.
Price – 160 THB
The menu is packed full of interesting and unique Thai Chinese dishes.
I was hoping to try pad kra pao made with sea cucumber (which is on the menu), but unfortunately, they said it wasn't sea cucumber season… so will have to wait for next time.
There's just about any type of seafood variety you could desire.
At normal street food restaurants in Bangkok, I stay far away from kra por pla (กระเพาะปลา), fish maw, as they often substitute pig skin for the real thing (so if you see fish maw soup for 40 THB per bowl, you can assume it's fake).
But the real thing is a different story; Real fish maw is awesome.
At Ah Ou Bangrak (ร้านอาอู๋ บางรัก) they serve the real thing.
We orderd kra por pla pad haeng (กระเพาะปลาผัดแห้ง), fish maw stir fried dry. It included some shrimp, bean sprouts, and I think an egg was mixed in.
Price – 200 THB
Fish maw, also known as a swim bladder, is a balloon like organ in certain types of fish that helps them stay floating.
I don't have a clue how it's harvested, or which fish this one came from, but all I know is that the real thing is delicious. It almost acts, and has the texture of a soft sponge – it soaks up all the flavor – and is nice and soft and fluffy.
The whole dish almost tasted like kuay teow kua gai, but with fish maw instead of noodles.
The kra por pla pad haeng (กระเพาะปลาผัดแห้ง) was one of my favorite dishes of the meal.
The tao hoo nam daeng (เต้าหู้น้ำแดง), a dish of tofu in a Chinese style gravy with bits of seafood mixed in, was served in a pot.
The name of the dish in Thai is called tofu with red water, but there was no red water in this dish, I think they just call the gravy soup by that name.
Price – 200 THB
The pieces of egg tofu were sliced into chunks, deep fried so they had a slight skin on them, and then submerged into the thick gravy. The gravy was full of goodies like bits of crab, shrimp, and slices of ham.
Finally, tao hoo nam daeng (เต้าหู้น้ำแดง) was finished with fresh green onions, and a generous hit of pepper, which for myself, gave it an awesome touch.
The tofu was silky soft and the black pepper came through nicely, I really liked it.
Another dish I was excited to try at Ah Ou Bangrak (ร้านอาอู๋ บางรัก) was pao hu sen pad nor mai farang (เป๋าฮื้อเส้นผัดหน่อไม้กุ้งสด), razor clams (also sometimes known as sea asparagus) fried with asparagus and mushrooms.
This was the most expensive, or most upscale dishes we ordered during our meal, but it was so worth it.
The razor clams were thick and flavorful, like gummy worms, but clam flavored. AWESOME.
Price – 600 THB
Finally, and yes, our table was so full, that the owner of the restaurant came by and started putting the sauces on the seat of an extra chair, we got mee Hong Kong pad haeng (หมี่ฮ่องกงผัดแห้ง), Hong Kong style fried noodles.
The noodles were thin, and fried nice and dry, and not oily either.
It included shrimp, bits of crab, chicken, and what I loved most about it was the slight char to some of the noodles from the high heat of the wok, and the texture, where some noodles were slightly chewy and crispy and others were soft.
The mee Hong Kong pad haeng (หมี่ฮ่องกงผัดแห้ง) was delicious.
Price – 120 THB
Food and atmosphere wise, I was completely at home and thoroughly enjoyed our evening feast at Ah Ou Bangrak (ร้านอาอู๋ บางรัก).
I goes down as one of my favorite meals of the year so far.
Watch the full video of our meal…
(If you can't see the video, watch it here: http://youtu.be/smmV5wAvgAA)
The Bottom Line
Ah Ou Bangrak (ร้านอาอู๋ บางรัก) serves fantastic upscale Thai Chinese street food in Bangkok.
Apart from the hoy jaw (หอยจ้อ), which I just don't care for too much personally, everything else was marvelous.
I especially loved the stir fried fish maw, the razor clams, and the Hong Kong style fried noodles (Ok, I loved everything we ordered).
I also thought the price was a pretty good deal for the quality of the food. Like I said before, when you eat upscale street food here, the prices are high because of the ingredients, not the atmosphere – and I like that.
If you enjoy Thai Chinese food, and especially love seafood, you should go check out Ah Ou Bangrak (ร้านอาอู๋ บางรัก).
Ah Ou Bangrak (ร้านอาอู๋ บางรัก)
Address: Soi Charoenkrung 72/4, Charoenkrung Rd., Wat Phraya Krai, Bang Kho Laem, Bangkok 10120
Open hours: 5 pm – midnight daily
Prices: Anywhere from 200 – 500 THB per person
ที่อยู่ ซอยเจริญกรุง 72/4 แถวโรงแรมแม่น้ำ ถนนเจริญกรุง, บางคอแหลม บางโคล่ กรุงเทพมหานคร 10120
โทร. 084-006-6142 , 085-912-6409 , 02-673-1602
เปิดบริการ ทุกวัน 17:00-00:00 น.
How to get there:
Ah Ou Bangrak (ร้านอาอู๋ บางรัก) is located on Charoen Krung Road, south of Saphan Taksin, very near to Asiatique, and just outside the Ramada Plaza Menam Riverside, and a short distance from the Chatrium Riverside (if you stay here, you should check out this restaurant for sure). You can either take the BTS to Saphan Taksin, and jump in a bus or taxi to get to the restaurant, or go directly to Charoen Krung Soi 72/4 by taxi.

View Bangkok Eating Thai Food Map in a larger map