Best Restaurants in Bangkok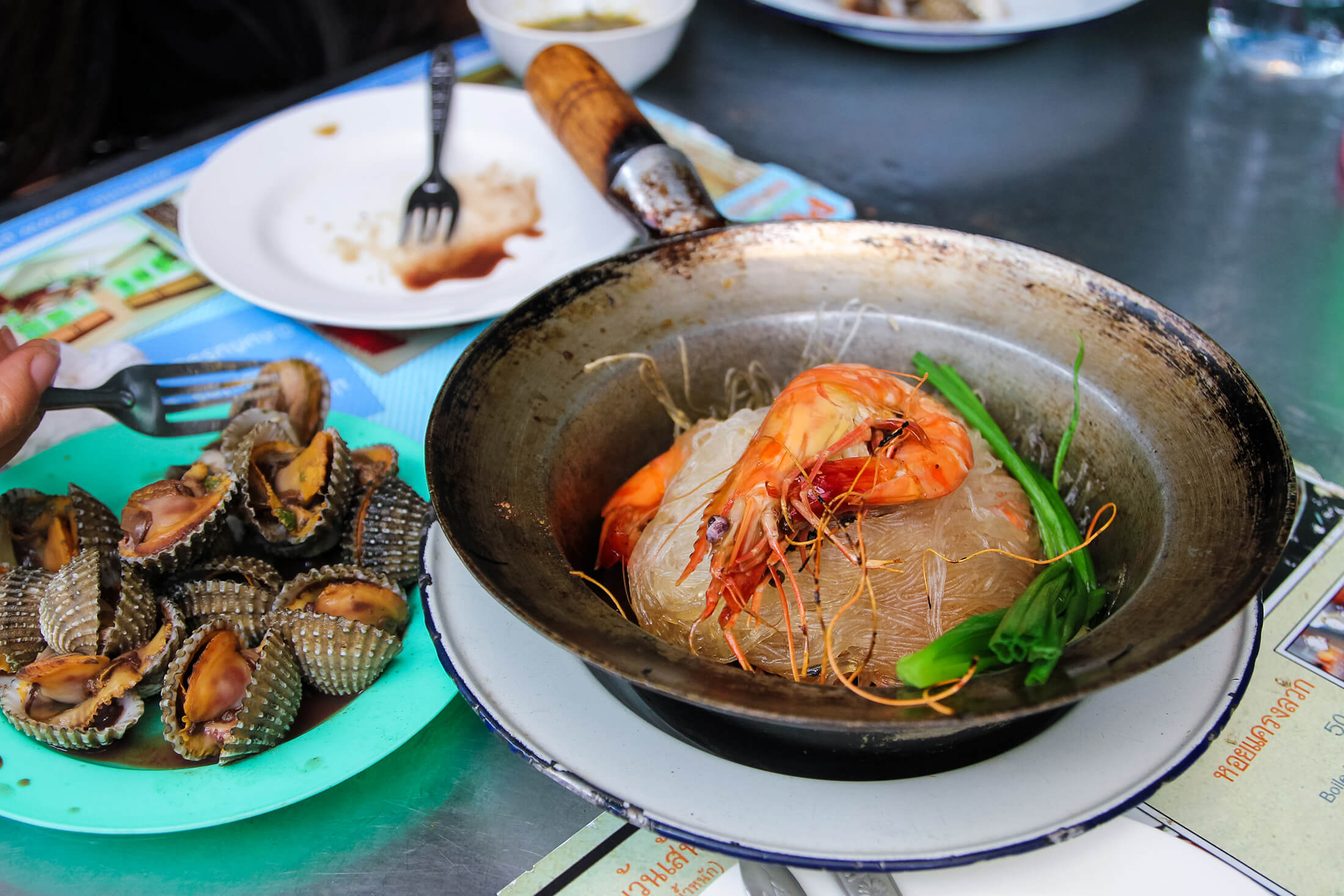 Bangkok is the biggest and most influential city in Thailand.
From street food to high end restaurants, and from Thai food to international, Bangkok is a paradise for any food lover.
One of the things I love most about Bangkok is that it's a city made up of people from all over Thailand, and so Thai food from around Thailand can be found somewhere in Bangkok.
If you're looking for some of the best local restaurants in Bangkok, you're in the right place.
There's no way I can say I've even come close to eating at all the restaurants in the city, but I can say that since 2009, I've dedicated a lot my time (and my stomach) to eating Thai food, and hopefully through this blog and through the post below, you'll find some amazing Thai food.
Listed below are some of my all-time favorite places to eat in Bangkok – the ones I keep coming back to for more and more meals.
But keep in mind that you can also find Bangkok restaurants on the blog page here, where you can search by location or by food type and also see the latest restaurants reviews from Bangkok.
Every restaurant I've listed on this page are restaurants that I've blogged about already, so this is a just a resource page where I've gathered the best of the best to make things more organized and easier for you to follow.
I will continue to update this list of best restaurants in Bangkok as I keep exploring the mouthwatering food Bangkok has to offer.
Get updates (for FREE)!
Join over 22,532 other Thai food lovers who get exclusive updates about the best Thai food by e-mail:
By signing up, you'll also get a FREE copy of the "Bangkok $1 Menu" guide and also receive occasional Thai food tips that aren't posted on the blog.
Here's how I've categorized the restaurants for this page:
Street Food
Local Thai Restaurants
Sit-down Thai Restaurants (higher end)
International Restaurants
Ok, let's get into the restaurants now.
Street food stalls in Bangkok
One of my many favorite quick street food dishes in Thailand are egg noodles with dumplings and slices of pork (a Thai Chinese dish), and at Uan Bamee Giew (อ้วน บะหมี่เกี๊ยว (กวางตุ้ง) they make some seriously good bowl. The noodles are freshly made daily, and along with delicious noodles, all the toppings like the bbq pork, crispy pork skin, and choi sum, are excellent.
Kuay Jab Uan Pochana (ก๋วยจั๊บ อ้วนโภชนา) is a street food stall in Yaowarat, Bangkok's beautiful Chinatown. They specialize in a dish called kuay jab nam sai (ก๋วยจั๊บน้ำใส), which is wide rice noodle rolls in a soup that flavored wonderfully with black pepper in a rich pork broth. A normal bowl of kuay jab nam sai (ก๋วยจั๊บน้ำใส) comes with pieces of pork belly, liver, lungs, intestines, and all those glorious bits of the pig. If you visit Yaowarat when you're in Bangkok, you should eat this flavorful noodle soup.
This famous street food stall in Banglamphu, located just a stones throw from Khao San Road, is one of the best places to eat tom yum goong in all of Bangkok. It doesn't look like much from the outside, but the creamy rich shrimp based tom yum they serve will blow your mind with its flavor and richness. Along with tom yum goong, they also serve excellent shrimp salad (pla goong พล่ากุ้ง) and fried shrimp with garlic.
Doy Kuay Teow Reua (ต้อยก๋วยเตี๋ยวเรือ) is located near Victory Monument in Bangkok and serves delicious bowls of Thai boat noodles, known better as kuay teow reua (ก๋วยเตี๋ยวเรือ), rice noodles in a rich pork based soup broth. They not only serve boat noodles, but also some decent moo satay, or Thai pork satay. You could also try the boat noodles alley, but I think Doy, is much more flavorful.
Larb Bpet Yasothon (ร้านลาบเป็ดยโสธร (ตรงข้ามสุสาน) is a hugely popular Isan street food stall that sets up in the evening in the Silom area of Bangkok. Starting at about 5 – 6 pm, business and office workers come to hang out, have drinks and eat lots of delicious food. Their som tam (green papaya salad ส้มตำ) is especially delicious, fresh shredded papaya and sour and spicy dressing. Also try their grilled chicken wings (gai yang ไก่ย่าง) and their tom saap moo (sour Isan soup ต้มแซบหมู).
Ah Ou Bangrak (ร้านอาอู๋ บางรัก) is a street food restaurant, but they serve the level of food that you might find at a sit-down Thai Chinese restaurant, and it's delicious. They are known mostly for their stir fried seafood dishes (which are wonderful), but their Hong Kong style fried noodles (pictured หมี่ฮ่องกงผัดแห้ง), are also very tasty. I haven't tried everything on the menu yet, but so far, probably my personal favorite dish to eat at Ah Ou Bangrak (ร้านอาอู๋ บางรัก) is their version of kra por pla pad haeng (กระเพาะปลาผัดแห้ง), which is fish maw stir fried with egg.
Hoy tod (หอยทอด), or a crispy shell-fish (usually oyster or mussels) pancake / omelet, is one of the Bangkok street food classics. Nai Mong Hoy Tod (นายหมงหอยทอด) is a restaurant located in Yaowarat Chinatown that specializes in this extremely delicious treat. You can either order the mussels or the oyster version, but I'd highly recommend the oyster version. A sticky pancake batter is first fried in lots of lard (yes the real deal!) until it turns as crispy as a chip, then it's laid on a bed of bean sprouts, before being topped by a handful of oysters. It's not the healthiest thing you could eat in Bangkok, but it sure is a treat every now and then.
Khao Gaeng Jake Puey (ข้าวแกงเจ๊กปุ้ย) is a curry stall that sets up in the evening right along the hectic Charoen Krung Road in Bangkok's Chinatown (Yaowarat). It's a Thai rice and curry stall, so you just need to show up, and then see what's available for the day. Some of their most famous usual dishes include kaeng kari moo (แกงกะหรี่หมู), pork curry in a coconut milk sauce, and pad boo (ผัดปู), stir fried crab. Not only is the food delicious at Khao Gaeng Jake Puey (ข้าวแกงเจ๊กปุ้ย), but the Bangkok street food environment is nearly perfect.
One of my favorite Thai rice and curry restaurants in all of Bangkok is Khao Gaeng Ruttana (ข้าวแกงรัตนา) located at the historic Nang Loeng Market. Before lunch, starting around 11 am, a host of different Thai curries and dishes are set up on display, and you can either get curry for takeaway, or order whatever you see, then grab a table and eat there. The food is outstanding.
Somsak Boo Op (สมศักดิ์ ปูอบ) is one of the best street food restaurants in Bangkok that specializes in a Thai Chinese dish known as goong ob woon sen (กุ้งอบวุ้นเส้น), mung bean vermicelli noodles with shrimp, or the crab version. I think this is the best version I've ever had in Bangkok. The vermicelli is flavored beautifully with a wonderful flavor of coriander root and black pepper, and juicy prawns. Somsak Boo Op (สมศักดิ์ ปูอบ) is extremely popular in Bangkok, so it's best to go early to make sure you find a seat and they have enough food.
Khao Kluk Kapi Niyngow (ข้าวคลุกกะปินายหง่าว) is an awesome street food stall in Bangkok that mainly serves one of my favorite Thai dishes: khao kluk kapi (ข้าวคลุกกะปิ), or rice fried with shrimp paste with a variety of toppings. The rice is light and fluffy, and they add just the right amount of shrimp paste to flavor the rice. On top of the rice, they include shredded green mango, candied pork, Chinese sausage, chilies, shallots, omelet, dry shrimp, and a few other small vegetables. Khao kluk kapi (ข้าวคลุกกะปิ) is a wonderful dish, and this place does it well.
Hia Wan Khao Tom Pla (ร้านเฮียหวานข้าวต้มปลา) serves a big and soothing bowl of Teochew style rice soup with a mix of seafood or fish. The seafood is always extraordinarily fresh and good quality, and their portion sizes are quite generous as well. It's great place to come if you're looking for Thai food that's not too spicy, but that focuses on quality seafood. This restaurants is street food, but expensive street food, and high quality.
Local Thai Restaurants in Bangkok
There's a huge genre of restaurants in Bangkok that fit somewhere in the middle of street food and sit down restaurants.
Some call them shophouse restaurants and others call them local Thai restaurants. Whatever you want to call them, these are not at all fancy, but you also don't have to normally suck in bus fumes, and I think they are the location of some of the best food gems in the entire city.
My mouth starts to water just thinking about Soei (ร้านเส่ย) – it's definitely one of my favorite all-time restaurants in all of Bangkok, and if you love strong flavors, you'll also love this restaurant. The chef and owner of the restaurants was a former rugby player and sports coach, and after games and practices, he would often invite his teammates over for an evening of marvelous eating and drinking (he would cook). His teammates loved his cooking so much, that he eventually opened his own restaurant along the railroad tracks at Samsen. What I love most about eating at Soei (ร้านเส่ย) is that the chef doesn't hold back on flavors and won't compromise his taste. Dishes are packed full of lime juice, chilies, lemongrass, and holy basil. You'll also find some unique items on the menu, including deep fried mackerel faces, an incredible treat.
Of all the restaurants in Bangkok I've eaten at, this one probably serves some of the spiciest overall food in the city, and that's why Ran Gaeng Pa Sriyan (ร้านแกงป่า ศรีย่าน) has been a favorite restaurant of mine for many years. The restaurant serves a combination of food from around Thailand, some of which are northern Thai style, packed with chilies and herbs. In Thai, the name of the restaurant is "Jung Curry," and so Thai jungle curry (gaeng pa แกงป่า) is one of their specialties, and a dish you don't want to miss. Another dish I love to eat at Ran Gaeng Pa Sriyan (ร้านแกงป่า ศรีย่าน) is nok sab pad kee mao (นกสับผัดขี้เมา), minced quail stir fried with herbs and a bunch of chilies.
Banglamphu is an old area of Bangkok that's home to a lot of classic and delicious restaurants. One of the places I always love to eat is Khao Tom Bawon (ข้าวต้มบวร), a garage style restaurant where you can get a host of stir fried dishes, salads, and braised dishes. One of their most famous Thai dishes is raw blue crab marinated in lime juice and topped in a heap of chilies and garlic. They also make simple comforting dishes, like a Thai minced pork omelet, exceptionally well.
Located near the Giant Swing (Sao Chingcha), Mit Ko Yuan (ร้านมิตรโกหย่วน) is a classic longstanding restaurant that serves a mixture of Thai Chinese food, plus even some Western influenced Thai dishes. They serve one of my favorite versions of tom yum goong (ต้มยำกุ้ง) in Bangkok, and even simple dishes like stir fried vegetables, are perfectly prepared.
Yusup Pochana (ยูซุปโภชนา) is a restaurant that serves Thai style Muslim halal food. Some of their famous dishes include variations of khao mok (Thai biryani), mataba (stuffed roti), and a variety of different delicious curies. Probably the dish that I love the most at Yusup Pochana (ยูซุปโภชนา) is their kuruma peh (กุรุหม่าแพะ) a goat curry that tastes similar to a north Indian curry. I still dream about it. Yusup Pochana (ยูซุปโภชนา) is located it bit far outside of central Bangkok, so keep in mind that it's a bit of a mission to get here – but I think it's worth it.
Compared with the giant north and northeastern parts of Thailand, southern Thailand is not nearly as big in both land size and population. Southern Thai food is known for being spicy, and many of the dishes are curry based with plenty of seafood in the mix. Lan Luam Dtai (ร้านรวมใต้) is one of my all-time favorite southern Thai food restaurants in Bangkok, and every-time I'm in the Siriraj area of Bangkok, I make it a point to eat here. The restaurant is set up as rice and curry style, so you just point and choose which dishes you want, all of which are pre-prepared. Goong pad sataw (กุ้งผัดสะตอ), shrimp stir fried with curry paste and stink beans, kua kling (คั่วกลิ้ง), a dry meat curry, are always satisfying options.
Located in northern Bangkok, in the Lat Phrao area of town, Zong Pet Paloe (ซ้งเป็ดพะโล้) is a huge open air Thai restaurant that specializes in Thai style braised duck. They also have a full menu of different stir fried dishes, and some stews and other braised soups as well. I was quite satisfied with my plate of pet paloe (เป็นพะโล้) which was succulent and juicy. If you're a chicken feet fan, you might want to try their kha gai super (ขาไก่ซุปเปอร์ chicken feet soup), which is incredibly tasty.
If you love beef, Heng Chun Seng (ร้าน เฮ้งชุนเส็ง) is one of the best restaurants in Bangkok for you. They specializes in serving Thai flaming fire pots full of beef and soup, which is eaten with rice. The beef is deliciously cooked, and what I love is that soup that comes with water morning glory and packed with crispy garlic for flavor.
Pad Thai Thip Samai, also known as Ghost Gate Pad Thai (ผัดไทยทิพย์สมัย (ผัดไทยประตูผี)) is one of the most famous names of Pad Thai in Bangkok. Every night you can see a huge gathering of both local Thais and foreigners hungrily waiting to devour one of Thailand's most famous dishes. I'm personally not a huge fan of Pad Thai and I don't eat it too often, but I think Pad Thai Thip Samai (ผัดไทยทิพย์สมัย (ผัดไทยประตูผี)) is alright. One of their most famous plate is Pad Thai Haw Kai Goong Sot (ผัดไทห่อไข่กุ้งสด), pad Thai made with shrimp, and wrapped in a blanket of egg.
Soi 6 Pochana (ร้านซอย 6 โภชนา), a restaurant located near Chulalongkorn University, is one of my favorite restaurants in Bangkok for roast duck. Along with roast duck, their char siu and their roast pork belly are exquisite. But the ultimate dish that you have to order at Soi 6 Pochana (ร้านซอย 6 โภชนา) is bet yang pad ka prao, roast duck stir fried with holy basil.
Tom yum goong happens to be one of my favorite dishes in all of Thailand, and at P'Aor (ร้านพี่อ้อ) they serve a pretty good version of tom yum soup with noodles (kuay teow tom yum goong nam khon ก๋วยเตี๋ยวต้มยำกุ้งน้ำข้น). The tom yum soup here is incredibly rich and flavorful and creamy from the oily liver of river prawns, and it has a very well balanced sweet, sour, and spicy flavor.
Located directly across the street from the King Power Shopping Center, this old shop house Isaan food restaurant consistently serves delicious food. It's not the best place in Bangkok for Isaan food, but it's always good, and the atmosphere is pretty clean and friendly. Along with the classic Isaan dishes like som tam, and kaw moo yang, another dish that I don't miss ordering at Rod Ded Isan restaurant (ร้านอีสานรสเด็ด) is their mungbean noodle salad (yam woon sen ยำวุ้นเส้น), which is one of the best mixes in Bangkok.
The jacuzzi of slow bubbling beef at the front of the restaurant is what will initially amaze you as you enter Wattana Panich (วัฒนาพานิช), one of the most famous places to eat Thai beef noodles in Bangkok. The beef noodles are very tasty, and a bowl includes your choice of rice noodles, swimming in their oily rich beef broth with chunks of slow braised tender meat, and a few bean sprouts for texture. I like to add a bunch of chili flakes and a few spoons of vinegar to my beef noodles. In addition to beef noodles, Wattana Panich (วัฒนาพานิช-ก๋วยเตี๋ยวเนื้อ) also serves a marvelous bowl of goat noodles, which are quite rare to find in Bangkok. It's almost like a goat stew, with noodles, and chunks of incredibly tender goat.
Royal Thai food is hard to come by, and Krua OV is one of the best restaurants in Bangkok that prepares a traditional selection of Thai dishes, including some that were previously served in the Royal Courts of Thailand. Krua OV (ครัว OV) oddly looks almost like a Denny's restaurant from the outside, but step inside and the restaurant has a charming feel like a colonial paste, but with delicious food. One of my favorite dishes to eat at Krua OV (ครัว OV) is the pla duk foo pad prik king (ปลาดุกฟูผัดพริกขิง), a fluffy deep fried catfish salad with accents of ginger. Another interesting dish you don't want to miss, only available during the hot summer months is khao chae (ข้าวแช่), iced jasmine scented rice served with a variety of condiments.
Man Muang (ม่านเมือง) is a northern Thai food restaurant located on the outskirts of Bangkok, but if you love northern Thai food, it's well worth the effort to get here. The restaurant is housed in an old house, so it has an antique feel to it. On the menu, they have nearly the full range of northern Thai dishes, plus a few extra unique dishes. The food is flavorful, full of spice and herbs, and I think it's one of the top northern Thai restaurants in Bangkok.
Located right in the middle of Bangkok's Wang Lang Market (one of the finest food markets in Bangkok) is Som Tam Sida (ส้มตำสีดา), a wonderful Isaan restaurant. They serve all sorts of northeastern Thai dishes, including green papaya salad and grilled meats. It's a great place to sit down for an Isaan meal while walking around Wang Lang Market.
Saeng Chai Pochana (ร้านแสงชัยโภชนา) is a Thai Chinese seafood and khao tom restaurant located along Sukhumvit road. Most of what they serve is a bit on the salty and oily side, and it tastes extremely good, especially with a beer to wash things down. It's a great restaurant to enjoy with some friends, hang out, and enjoy the delicious flavors. I particularly enjoy their deep fried fish dishes.
This former hotel chef now has his own local restaurant and he does both delicious Thai and even Western food. What to eat: Pad makua muang (stir fried purple eggplant ผัดมะเขือม่วง), Panang fettuccine, Neau yang (grilled beef เนื้อย่าง), cheesy spinach
Download the "Bangkok $1 Menu" now (it's free)!
Sit-down Thai restaurants (Higher End)
Paste is one of my favorite restaurants in Bangkok for high end Thai cuisine. They serve a style called "modern Thai," with an aim to serve Thai food in a modern way, but sticking with traditional Thai ingredients and not going towards fusion, which many higher end Thai restaurants tend to do. One of the signature dishes at Paste is the master stock poached organic pork (หมูตุ๋นเสริฟ์กับเกรฟฟรุ๊ตและดอกไม้ไทย), a delicious dish of tender pork. The flavors at Paste are some of the most refined you'll find in Bangkok. Truly a delicious experience.
The Local serves traditional and insanely delicious Thai food, with many of the dishes on the menu from the south of Thailand. Everything is tasty and flavors are prepared the way they are meant to be. For a nice sit down meal, this is among my favorite restaurants in Bangkok. What to eat: Ruam Kam Aroy (รวมคำอร่อย), Gaeng Run Jan (แกงรัญจวนเนื้อ), Pak Miang Pad Kai, Gaeng Kua Gai Bai Som Pan Kee Maa (แกงคั่วไก่ใบส้มแป้นขี้ม้า)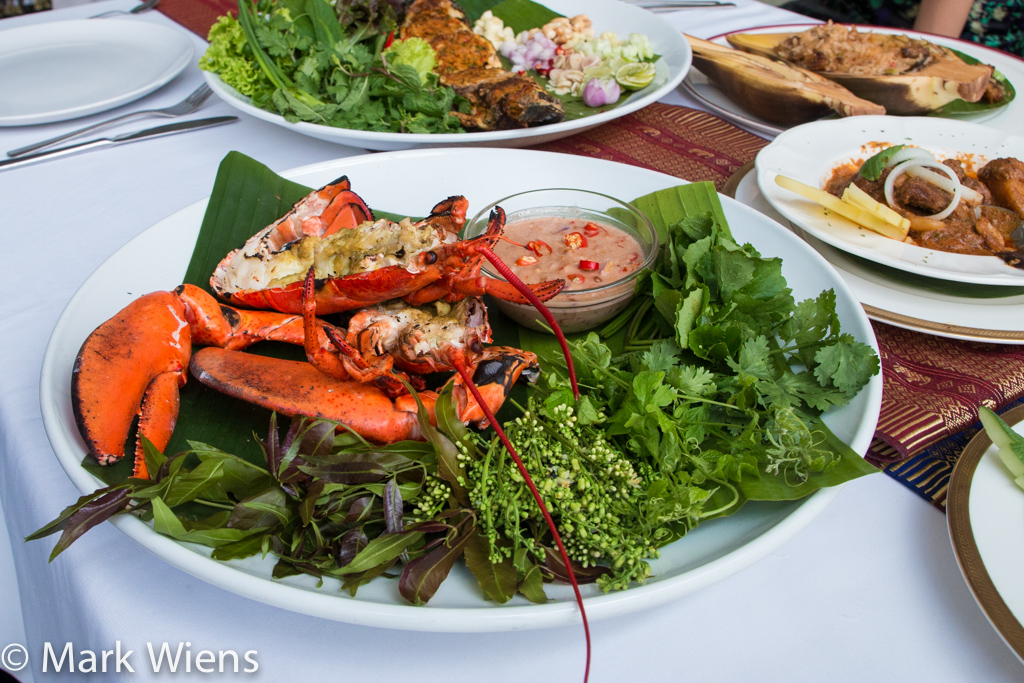 Naj is a high end Thai restaurant in Silom that serves a combination of Royal Thai hard-to-find dishes, plus a few house creations. Everything I've tried is extremely good and I especially enjoy trying their rare specialities.
This restaurant serves local style Thai family dishes, just as the name of the restaurants says, but all using high quality ingredients which are for the most part local and produced sustainably. The prices are not cheap, but the quality, and care of the flavor, is fantastic. I really liked the massaman kae toon (มัสมั่นแกะตุ๋น), massaman with lamb, and braised beef green curry.
International Restaurants in Bangkok
This is one of my go-to restaurants for authentic and proven Teochew Chinese food in Bangkok. Everything I've tried so far has been delicious. What to eat: Gai Chae Lao (ไก่แช่เหล้า boiled chicken with alcohol), or Suan (ออส่วน oyster omelet), pla gow neung see ew (ปลาเก๋านึ่งซีอิ๊ว brown marbled grouper steamed in soy sauce)
Tucked into a little Chinese food haven in the Silom area of Bangkok, Ran Ahan Sua Tao (ร้านอาหารซัวเถา) serves up some seriously comforting Chinese food. What to eat: I especially love the mapo tofu, and the braised eggplant, but everything is quite tasty. They also have Chinese hotpot.
This famous restaurant lives up to its name for fusion Japanese food. The variety of rolls are impressively fresh and tasty. What to eat: Jackie roll, Sushi sandwich, Spicy tuna roll
Good Vietnamese food in Bangkok isn't that easy to come by, but at Vietnamese and More their home cooked Vietnamese food is highly delicious. What to eat: Shrimp and Pork Summer Rolls, Bún Thịt Nướng
Vegetarian Restaurants in Bangkok
Chamlong's Asoke (จำลอง (สันติอโศก) is one of the best all-under-one-roof vegetarian complexes for Thai food in Bangkok. It's an entire food court of so much vegetarian food, you'll have a tough choice deciding what to eat. The food is good, and it's a great laid back atmosphere. If I'm ready for some Thai vegetarian food, this is one of my first choices in Bangkok.
I'm not even close to a vegetarian, but I have to admit, I get excited when I have a chance to eat at this incredible vegetarian food court! What to eat: I think everything is pretty good, but I normally go for the plates of rice and curry and the tasty mushrooms.
You can read more about vegetarian Thai food in Bangkok here.
If you manage to eat through the entire or even half of this list, you're well on your way to becoming a Thai food addict! Enjoy!
Talk to you soon,
– Mark Wiens
Get free updates:
If you're not already signed up, enter your name and e-mail below to join over 22,534 other Thai food lovers.
I'll send you occasional e-mails about the best Thai food:
By signing up, you'll also get a copy of the "Bangkok $1 Menu" guide (for free)!